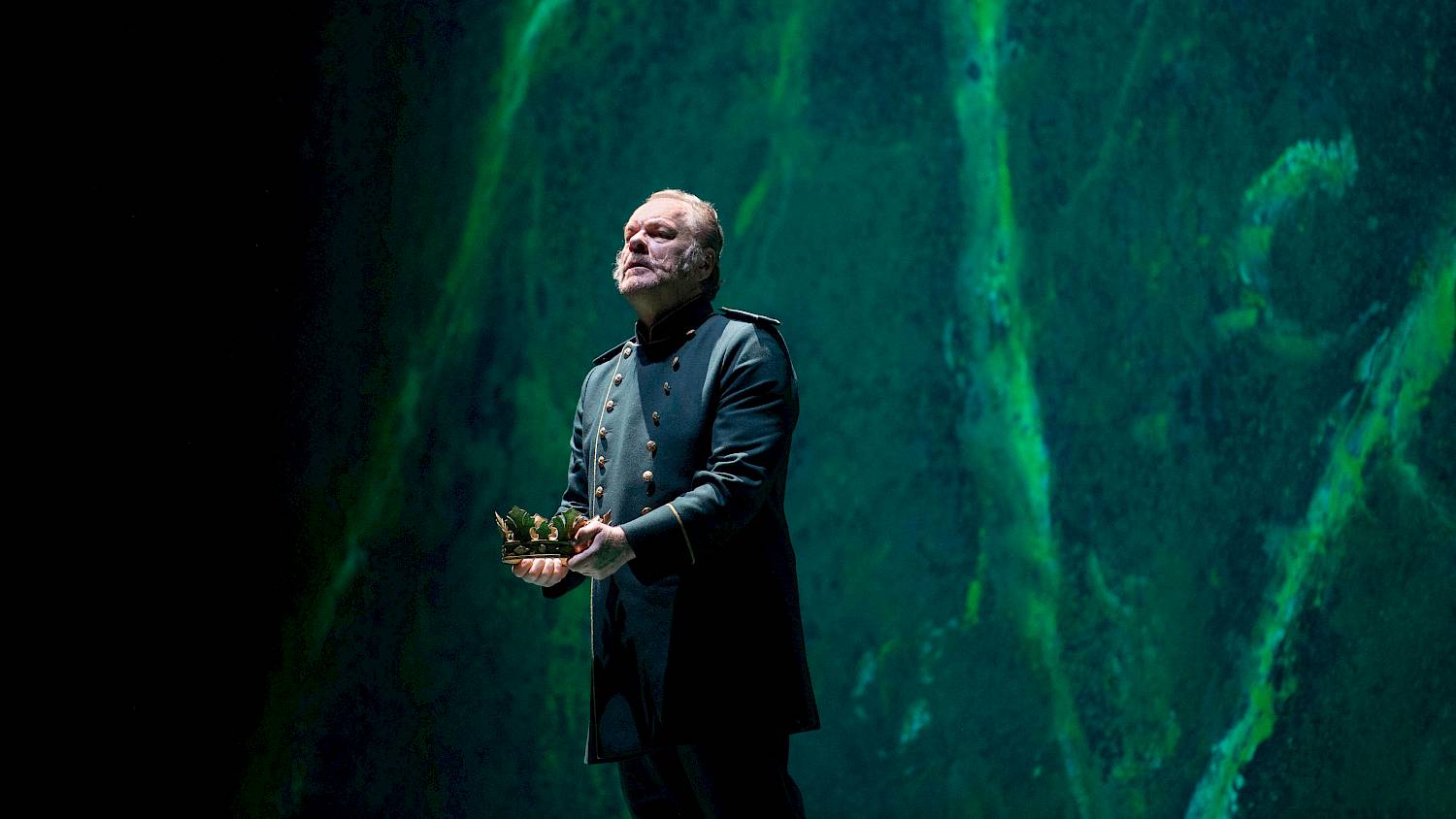 Nabucco
In Nabucco, his third opera, Verdi evoked grand emotions – love, jealousy, hate, and madness – with striking precision and sweeping musical power. The opera inhabits a unique space between dramatic nonfiction and an intimate family tragedy, featuring grand ensemble passages and massive choral scenes.
With the disarming simplicity of the «Va pensiero», the prisoners' choir, Verdi created a hit that still touches people today, and has even become the second Italian national anthem.
Andreas Homoki, the Opernhaus Zürich's proven Verdi director, presents the gripping story of the rivalry between Babylonian half-siblings Fenena and Abigaille amidst the madness and recovery of Babylon's king, Nabucco. Michael Volle celebrated his role debut as the megalomaniac Nabucco with this production, accompanied by Anna Smirnova as Abigaille, the king's power-hungry daughter, and Georg Zeppenfeld as Zaccaria. Veronica Simeoni and Benjamin Bernheim, who also made role debuts with his production, play the lovers Fenena and Ismaele. Fabio Luisi, the General Music Director of the Philharmonia Zurich, conducts.

A production by Accentus Music in co-production with NHK and SWR, in cooperation with Arte and Opernhaus Zürich.
Cast
Fabio Luisi Musical director
Andreas Homoki Producer
Wolfgang Gussmann Stage design
Wolfgang Gussmann, Susana Mendoza Costumes
Thomas Bruner Assistant stage designer
Franck Evin Lighting designer
Kinsun Chan Assistant choreographer
Janko Kastelic Choir director
Fabio Dietsche Dramaturgy
Michael Volle Nabucco
Benjamin Bernheim Ismaele
Georg Zeppenfeld Zaccaria
Anna Smirnova Abigaille
Veronica Simeoni Fenena
Stanislav Vorobyov Der Oberpriester des Baal
Omer Kobiljak Abdallo
Ania Jeruc Anna
Philharmonia Zürich
Chor der Oper Zürich
Chorzuzüger
Zusatzchor des Opernhauses Zürich
Backstage
Director Andreas Homoki and General Music Director Fabio Luisi talk about Verdi's «Nabucco»
What you always wanted to know about the Opernhaus, but were afraid to ask
Skin to skin. Always in a group. In the choir room, in the dressing room – and of course on stage. In this short movie we accompany members of the Zurich Opera Chorus. Three cheers for the collective!