Bruckner Package
Symphony No. 4 in E-flat major «Romantic»
Anton Bruckner described his Fourth Symphony as «Romantic», and under this name it soon became his most popular work. Introduced by an idyllic horn call motif, the Fourth Symphony – Bruckner's first in a major key – is characterized by a warm, natural, luminous underpinning. Both the slow movement, with its funeral march character, and the sometimes frighteningly-dark and powerful final movement are in stark contrast to the symphony's initial
warmth. As was often the case, Bruckner revised the symphony numerous times in the run-up to its premiere, which was given by the Vienna Philharmonic in 1881. Fabio Luisi recorded the 1878 version, with the finale from the 1880 version, with the Philharmonia Zürich. This version has long-since established itself as the official concert version of Bruckner's Fourth Symphony.
Sinphony No. 8 c minor
Fabio Luisi, General Musical Director of the Philharmonia Zürich, calls Anton Bruckner a "master builder by musical means" and compares his monumental Eighth Symphony with a "gigantic cathedral". The original version of the symphony, completed in 1887, was not well understood by Bruckner's contemporaries, and the criticism of his friends led him to revise the work considerably. However, Fabio Luisi is convinced by the perfection of the original version - which he has now recorded in the studio with the Philharmonia Zürich - and finds that the musical primal forces inherent in this symphony are particularly well expressed in this version. In the Philharmonia Zürich, an opera orchestra, Luisi sees the ideal orchestra for Bruckner's symphonies: only opera orchestras have the necessary, rich experience with the compositions of Richard Wagner, of which Bruckner's sound is decisively shaped.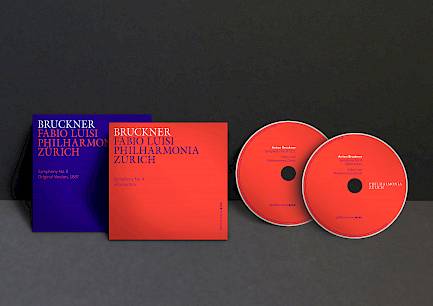 ​​​​
Fabio Luisi Conductor
Philharmonia Zürich
Anton Bruckner
Symphony No. 4 in E-flat major
«Romantic»
CD 77.44 min
Booklet: German, English, French
Sinphony No. 8 c minor
Original version, 1887
Double-CD 92.18 min
Booklet: German, English, French
CHF 40
inkl. VAT., plus CHF 5 shipping cost
Please note that any customs duties may apply to deliveries abroad.