Song recital
Dagmar Manzel -
MENSCHENsKIND
Solos Dagmar Manzel

Piano Frank Schulte

Contrabass Arnulf Ballhorn

Guitar Ralf Templin

Chansons by Friedrich Hollaender
The song recital take place at Bernhard Theater.
Supported by

May 2019
Song recital Dagmar Manzel - MENSCHENsKIND
Song subscription, Bernhard Theater
Song recital Dagmar Manzel - MENSCHENsKIND
Abstract
Song recital Dagmar Manzel - MENSCHENsKIND
The German revue and sound film composer Friedrich Hollaender's texts and melodies heavily influenced Berlin's 1920s cultural scene. With her program entitled MENSCHENsKIND, Dagmar Manzel, accompanied by Frank Schulte (piano), Arnulf Ballhorn (bass), and Ralf Templin (guitar), revives the electrifying atmosphere of this era. Dagmar Manzel, Berlin's operetta and theater star, exerts an irresistible pull on audiences. Like no one else, she slips, chameleon-like, into each role, taking on the likeness of a cheeky brat or a worldly woman. For 18 years, this born-and-bred Berliner was one of the formative faces of Berlin's Deutsches Theater, and she's also known as a police commissioner on the seminal Tatort-television show. Manzel's homage to Hollaender premiered five years ago the Komische Oper.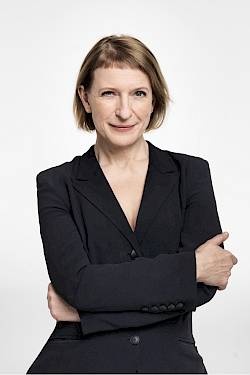 Dagmar Manzel, Sopran
Dagmar Manzel
Dagmar Manzel studierte Schauspiel an der Hochschule für Schauspielkunst Ernst Busch in Berlin. Feste Engagements führten sie ans Staatsschauspiel Dresden und ans Deutsche Theater Berlin, wo sie mit Regisseuren wie Thomas Langhoff, Heiner Müller und Frank Castorf zusammenarbeitete. Sie gewann zahlreiche Preise, wie etwa den Goldenen Vorhang (Publikumspreis des Berliner Theaterclubs) für Eine Frau, die weiss, was sie will! und für Die Perlen der Cleopatra an der Komischen Oper Berlin sowie für Glückliche Tage am Deutschen Theater Berlin, den Adolf-Grimme-Preis, den Bayerischen Fernsehpreis, den Preis als Schauspielerin des Jahres 2002 der Fachzeitschrift «Theater heute», den Deutschen Fernsehpreis, den Deutschen Filmpreis, den Faust 2014 und den Deutschen Hörbuchpreis 2014. 2002 übernahm sie die Titelrolle in Thomas Schulte-Michels Inszenierung von Jacques Offenbachs Operette Die Grossherzogin von Gerolstein am Deutschen Theater Berlin, 2008 spielte sie die Hauptrolle in Schulte-Michels' Inszenierung von Offenbachs Operette La Périchole am Berliner Ensemble. An der Komischen Oper war sie in Sweeney Todd (Mrs. Lovett), Im Weissen Rössel, Sieben Songs/Die sieben Todsünden, MENSCHENsKIND, Kiss me, Kate, Anatevka und Ball im Savoy zu erleben. Seit 2015 spielt sie im Franken-Tatort die Hauptkommissarin Paula Ringelhahn. Dagmar Manzel hat zudem zahlreiche Hörspiele eingesprochen. 2017 erschien ihr Buch Menschenskind. Eine Autobiographie in Gesprächen mit Knut Elstermann beim Aufbau Verlag.
Song recital Dagmar Manzel - MENSCHENsKIND
28 May 2019
Eine Frau, die weiss, was sie will!
27 Apr 2019