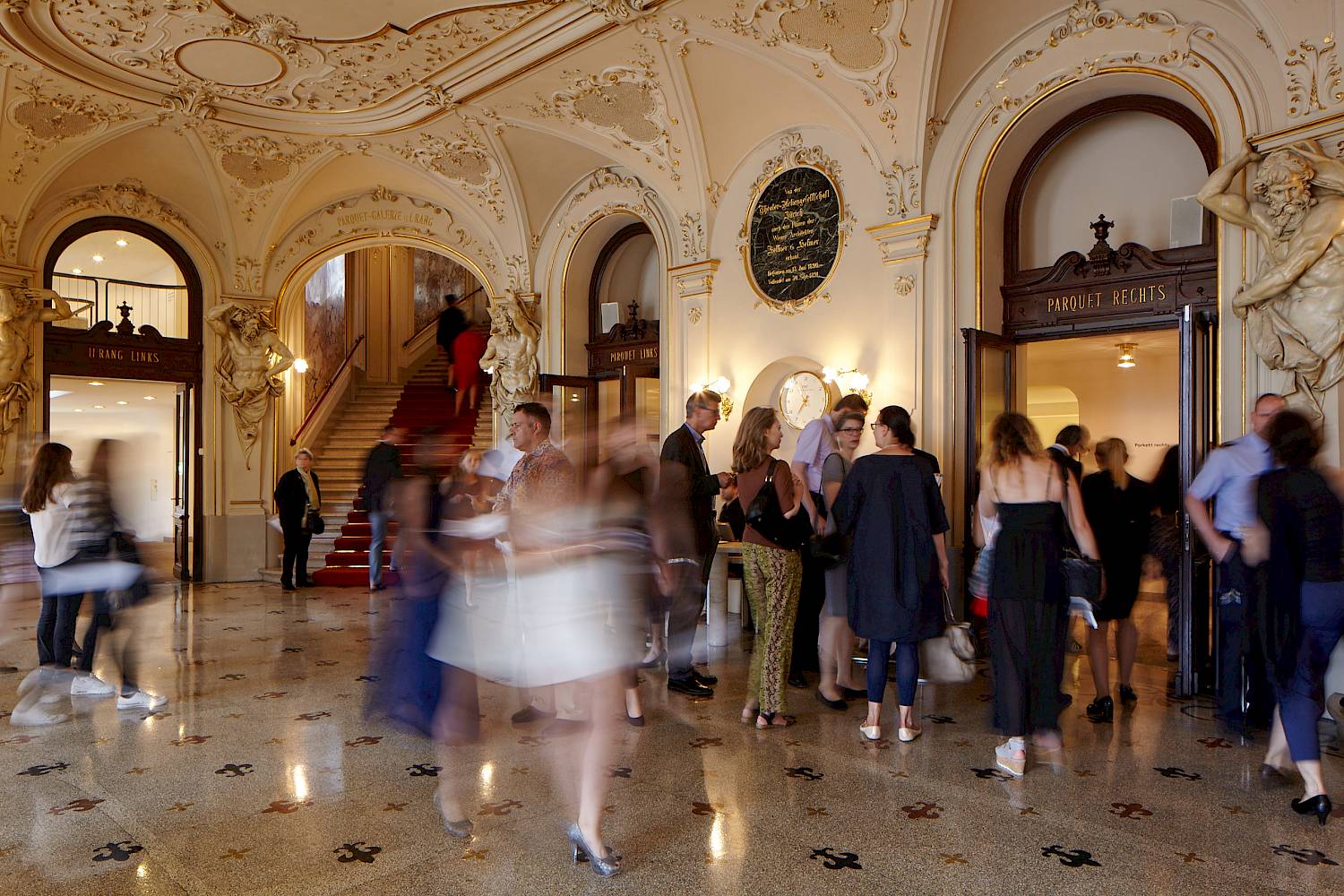 Your visit
We have put together a comprehensive public health protection plan, which aligns with FOPH (BAG) regulations in place.
In order to help protect yourself and others, we kindly ask you to observe the protective measures during your visit to the Opernhaus. Thank you in advance for your support.
Parking
Use the Parkhaus Utoquai at Färberstrasse 6, the Parkhaus Hohe Promenade on Rämistrasse or the Parkhaus Opéra. Both are only a few minutes' walk away from the Opera House.

Tram
The Opera House is conveniently located a few steps away from Stadelhofen Station and Bellevue. It can be reached directly by trams numbers 2 and 4 (tram stop: "Opernhaus") and 11 and 15 (tram stop: "Stadelhofen").
Timetable: www.vbz.ch

Rail
From Zurich Main Station, either on the urban railway to Stadelhofen or on the number 4 tram (towars Tiefenbrunnen) to "Opernhaus".
Timetable: www.sbb.ch

Airport
Directly from the airport on the urban railway to Stadelhofen or Zurich Main Station and then the tram number 4 towards Tiefenbrunnen, you can get off directly at the stop "Opernhaus".
The Studiobühne is also located in the main building of the Opera House. The entrance is above the Box Office.
The Zurich Opera House performs all operas in the original language. Performances are generally given with German and English surtitles. In view of the architecture of the Opera House, please be aware that the surtitles are a service from which not all seats can benefit to the same degree. Our box office will be pleased to advise you on T +41 44 268 66 66.
No replacement tickets will be provided for performances not attended. In general, tickets cannot be returned. Tickets can be given to the Opera House Box Office to be sold on commission. However, the Opera House can give no guarantee that it will sell or reimburse the ticket. A commission fee of CHF 10 per seat will be charged. Alternatively, you can donate your ticket to the Club Jung and thus enable a young person to visit Zurich Opera House free of charge.
The cloakroom fee is included in the ticket price.
There is no dress code at Zurich Opera House. You should dress to feel at ease. However, consistently with the festive setting, visitors are generally elegantly dressed. Particularly on special occasions, such as gala performances and premières, black tie and evening dresses are by no means out of place.
Picture, sound and video recordings
For copyright reasons, pictures, sound and video recordings are not permitted.
Should you have lost something, please contact the head office of the Opernhaus Zürich:
T +41 44 268 64 00 or Enable JavaScript to view protected content..
Kulturzüri - An agenda for cultural events
The online cultural-agenda kulturzüri.ch shows the cultural array of Zurich Region in a practical overview. From dance and theater, art exhibitions, music and literature up to parties - all cultural events are listed. The Zurich Opera House with its wide program may not be missing!
To the Website of Kulturzüri.ch.
Have fun exploring!