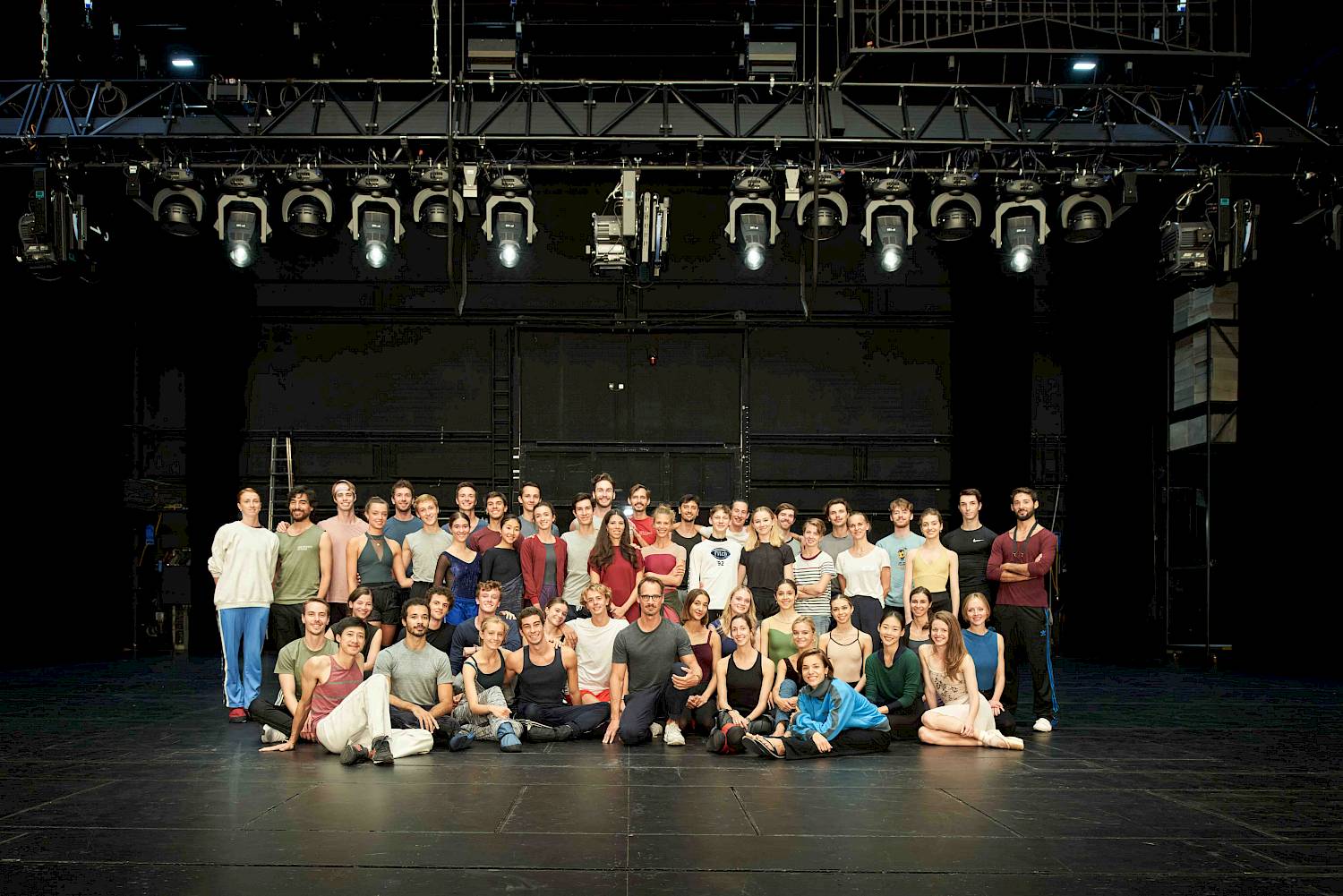 Ballett Zürich
Ballett Zürich - a portrait
Ballett Zürich is Switzerland's largest professional ballet company. The ensemble is in residence at the Opernhaus Zürich, where the 36 dancers in the company perform a significant portion of the Opernhaus program. They have also made a name for themselves at international guest performances, including celebrated appearances in Russia, Israel, Mexico, Columbia, Spain, Germany, and at the Edinburgh Festival in Scotland.
The company emerged from the former Ballett des Stadttheaters Zürich and was shaped by its artistic directors Nicholas Beriozoff, Patricia Neary, Uwe Scholz, Bernd Bienert, and Heinz Spoerli.
Christian Spuck has been the Artistic Director of Ballett Zürich since the 2012/13 season. The company has maintained its established ensemble tradition under his direction, while simultaneously setting new artistic goals. Spuck has made certain the entire stylistic range of ballet as an art form is on display in Zurich, and to that end, premiering new works has played a vital role for the company. Wayne McGregor, Edward Clug, Marco Goecke, Douglas Lee, and Filipe Portugal have all created pieces for the company. As a choreographer, Christian Spuck not only explores new avenues for full-length narrative ballet, but he also devotes himself to cross-genre forms of expression. A prime example of this is the Oper and Ballett Zürich co-production of Verdi's «Requiem». Ballett Zürich repertoire's stylistic diversity, which features classical repertoire and modern dance, is evidenced by the many internationally renowned choreographers that have choreographed for the company, including William Forsythe, Sol León/Paul Lightfoot, Douglas Lee, Martin Schläpfer, Jiří Kylián, Wayne McGregor, Marco Goecke, Edward Clug, Mats Ek, and Crystal Pite. As of the 2023/24 season, Cathy Marston will be the new director of Ballett Zürich.
In 2016, Alexei Ratmansky's reconstruction of the original 1895 Petipa/Ivanov «Schwanensee» choreography received enthusiastic international response. Christian Spuck's ballet «Winterreise» was awarded with the renowned «Prix Benois de la Danse» in 2019. Spuck's production of Helmut Lachenmann's «Das Mädchen mit den Schwefelhölzern» was named «Production of the Year» by «tanz» magazine in 2020. That same year, Ballett Zürich was also named «Company of the Year».
The Junior Ballett was established in 2001. It features fourteen young dancers from around the world who train together with the members of the Ballett Zürich, dance with them for select repertoire performances, and regularly perform programs specially put together just for them. Since 2012, the «Junge Choreografen» series has taken place biennially, and focuses on promoting young choreographic talent.
Performances by Ballett Zürich are accompanied by a comprehensive supporting program, which includes exploratory matinees in the run-up to a premiere, pre-performance introductions, ballet talks, and a variety of special children's, youth, and school projects. In 2014, a project in which secondary school students examined Prokofiev's «Romeo und Julia» ballet music as dancers and filmmakers was met with an enthusiastic response. A follow-up project in 2017 tackled Stravinsky's «Le Sacre du printemps».

Ballet director
Christian Spuck
Operation director
Medea Chiabotti
Office management
Leslie Krumwiede
Production manager
Mikel Jauregui
Dramaturgy
Michael Küster
Public relations
Marion Maurer
Ballet masters
Jean-François Boisnon, Eva Dewaele, Daniel Otevrel
Ballet répétiteurs
Christophe Barwinek, Luigi Largo
Ballet and dance education
Bettina Holzhausen
Guest ballet masters
Louise Bennett, Yannick Boquin, Lucia Geppi, Cynthia Harvey, Olga Kostritzky, Raffaella Renzi
Conductors
Hans-Peter Achberger, Paul Connelly, Benjamin Schneider, Robertas Servenikas, Victorien Vanoosten
Choreographers
Bryan Arias, Craig Davidson, William Forsythe, Itzik Galili, Johan Inger, Sol León, Paul Lightfoot, Hans van Manen, Juliano Nunes, Crystal Pite, Christian Spuck, Louis Stiens, Jo Strømgren
Stage design
Bryan Arias, Craig Davidson, Keso Dekker, Rufus Didwiszus, William Forsythe, Johan Inger, Sol León, Paul Lightfoot, Juliano Nunes, Christian Spuck, Jo Strømgren, Jay Gower Taylor, Jörg Zielinski
Costumes
Bregje van Balen, Linda Chow, Keso Dekker, Itzik Galili, Stephen Galloway, Johan Inger, Sol León, Paul Lightfoot, Issey Miyake, Juliano Nunes, Emma Ryott, Alana Sargent, Buki Shiff, Louis Stiens, Yumiko Takeshima
Lighting
Erik Berglund, Tom Bevoort, Alan Brodie, Joop Caboort, William Forsythe, Itzik Galili, Martin Gebhardt
Since its inception in 2001, the Junior Ballet has established itself as the third form of artistic advancement at the Opernhaus Zürich, next to the International Opera Studio and the Orchestra Academy. Young dancers from all over the world are given the opportunity to make the transition from the end of their ballet education to their entry into the full professional life. In the context of an engagement lasting no longer than two years, they work together with the members of the Zurich Ballet to dance with them in selected performances of the repertoire and thus collect the stage experience necessary for a dancer's run. This season, the Junior Ballett will be presenting Impulse, with choreographies by Bryan Arias, Craig Davidson und Juliano Nunes.
Season 2020/21:
Speak for Yourself – Choreography by Sol León/Paul Lightfoot, Emergence – Choreography by Crystal Pite and One Flat Thing, reproduced – Choreography by William Forsythe
Tel Aviv, The Israeli Opera
22, 23, 24, 25 Jun 2021
Anna Karenina – Ballet by Christian Spuck
Ludwigsburg, Forum am Schlosspark
10, 11 Jul 2021
To the travel diary of the guest performance in the last season 2018/19:
St. Petersburg
To the travel diaries of the guest performances in the last season 2017/18:
Moscow
Hong Kong
Tel Aviv
For ticket requests please contact the ticket office: + 41 44 268 66 66 or buy tickets in our webshop.
Ballet office
Falkenstrasse 1
8008 Zurich
Enable JavaScript to view protected content.
Phone: +41 44 268 64 63
Please direct you requests regarding auditions to:
Enable JavaScript to view protected content.