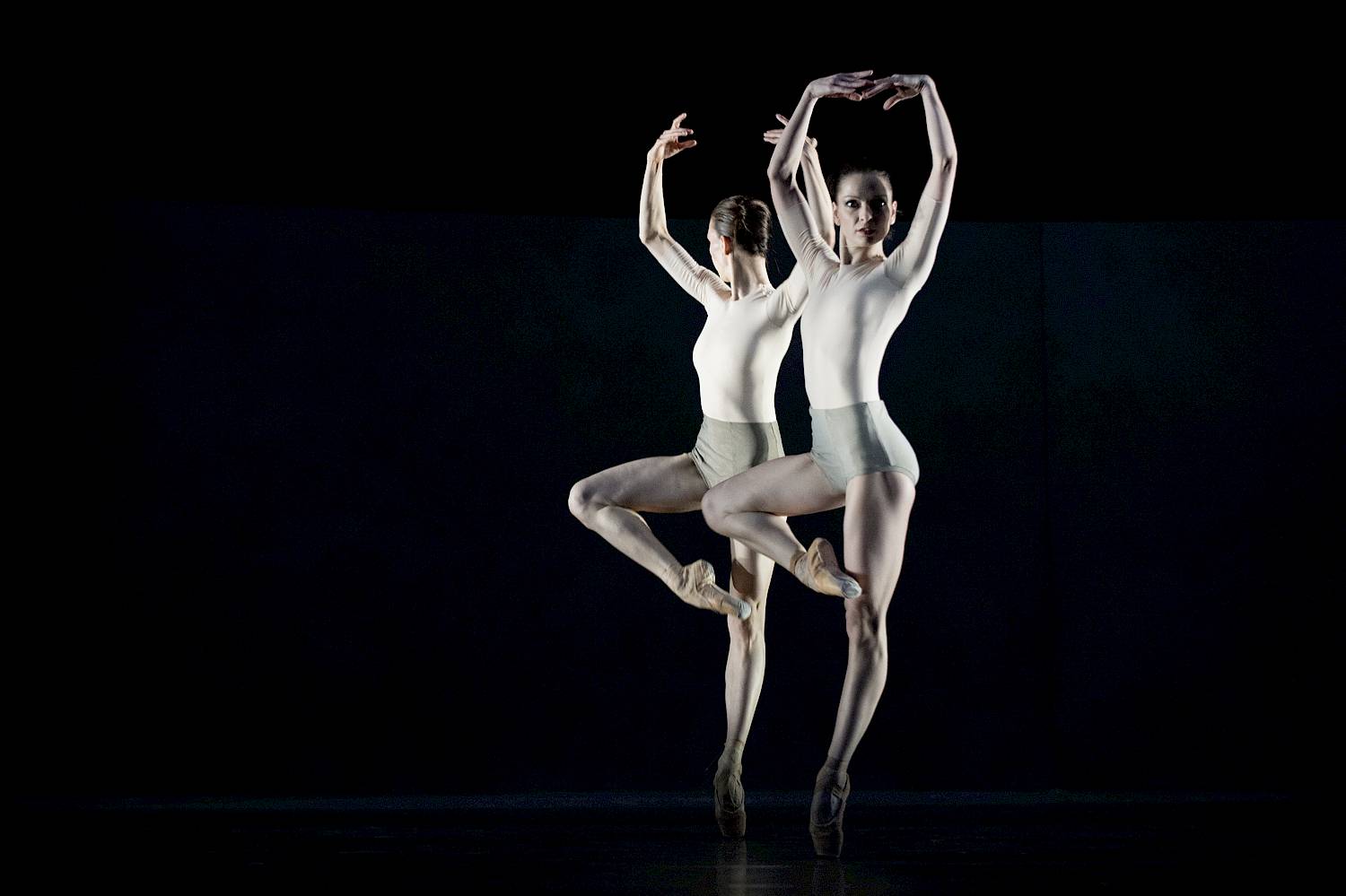 Ballett Zürich
Ballett Zürich - a portrait
Switzerland's largest professional ballet company has been directed by Christian Spuck since the 2012/13 season. Resident at Zurich Opera House, the 36-strong ensemble not only features prominently in the Opera House's programme; its international guest performances are also regularly acclaimed.
Formerly the Ballet of the Zurich City Theatre, the company was shaped by its directors Nicholas Beriozoff, Patricia Neary, Uwe Scholz and Bernd Bienert. Within a few short years, Swiss choreographer Heinz Spoerli, Ballet Director from 1996 to 2012, established the company as one of the leading European ballet ensembles.

Under the direction of German choreographer Christian Spuck, the company continues to cultivate its established traditions and to tread new artistic paths, continuously developing the genre of traditional narrative ballet using innovative choreographic techniques. The dancers also dedicate their energies to contemporary, abstract dance. Internationally renowned choreographers such as William Forsythe, Paul Lightfoot, Sol León, Douglas Lee, Martin Schläpfer, Jiří Kylián, Wayne McGregor, Marco Goecke and Mats Ek work in Zurich, ensuring that the company's repertoire remains stylistically varied. In the Young Choreographers series, members of the ensemble assume personal artistic responsibility.

The Junior Ballet was established in 2001 as an institution aimed at promoting talented young dancers, giving fourteen young dancers from all over the world the opportunity to enjoy a supervised transition from the end of their training to full entry into professional life. During an engagement lasting no more than two years, they train together with the members of Ballett Zürich, dance with them at selected performances from the repertoire, and at a ballet evening arranged especially for them once every season. They thus gather the stage experience necessary for a dance career.
Ballett Zürich's performances are accompanied by a comprehensive supporting programme featuring matinees before ballet premières; introductions to works before the performances; regular ballet discussions; and a wide variety of special projects for children, young people and schools.

Ballet director
Christian Spuck
Operation director
Medea Chiabotti
Office management
Leslie Krumwiede
Production manager
Mikel Jauregui
Dramaturgy
Michael Küster
Public relations
Nila Chea
Ballet masters
Jean-François Boisnon, Eva Dewaele, Daniel Otevrel
Ballet répétiteurs
Christophe Barwinek, Luigi Largo
Ballet and dance education
Bettina Holzhausen
Guest ballet masters
Yannick Boquin, Lucia Geppi, Cynthia Harvey, Johanna Hwang, Ibrahim Önal, Raffaella Renzi, Ethan Stiefel
Choreographers
Patrice Bart, Marco Goecke, Jiří Kylián, Sol León/Paul Lightfoot, Goyo Montero, Crystal Pite, Filipe Portugal, Christian Spuck, Louis Stiens
Conductors
Pavel Baleff, Paul Connelly, Michail Jurowski, Emilio Pomàrico
Stage design
Rufus Didwiszus, Jiří Kylián, Sol León/Paul Lightfoot, Filipe Portugal, Christian Schmidt, Michael Simon, Luisa Spinatelli, Michaela Springer, Jay Gower Taylor
Costumes
Linda Chow, Jiří Kylián, Sol León/Paul Lightfoot, Goyo Montero, Christopher John Parker, Emma Ryott, Buki Shiff, Luisa Spinatelli, Michaela Springer, Louis Stiens, Joke Visser
Lighting
Tom Bevoort, Alan Brodie, Joop Caboort, Martin Gebhardt, Udo Haberland, Jiří Kylián, Michael Simon, Reinhard Traub
Since its inception in 2001, the Junior Ballet has established itself as the third form of artistic advancement at the Opernhaus Zürich, next to the International Opera Studio and the Orchestra Academy. Young dancers from all over the world are given the opportunity to make the transition from the end of their ballet education to their entry into the full professional life. In the context of an engagement lasting no longer than two years, they work together with the members of the Zurich Ballet to dance with them in selected performances of the repertoire and thus collect the stage experience necessary for a dancer's run. This season, the Junior Ballett will be presenting Kreationen, choreographies by Louis Stiens, Goyo Montero and Filipe Portugal

Ballet Zurich
DANCE OPEN
International Ballet Festival
Alexandrinsky Theatre
St. Petersburg
17th of April 2O19
Junior Ballet
Linbury Studio Theatre
Royal Opera House, Covent Garden
London
18th-19th of June 2O19
Das Opernhaus Zürich ist mit 600 Mitarbeiter/innen aus Kunst, Technik und Administration und seinen 12 Neuproduktionen sowie 20 Wiederaufnahmen mit über 300 Veranstaltungen pro Jahr eines der meist bespielten Opernhäuser des deutschsprachigen Rau­mes. Unter der Leitung von Intendant Andreas Homoki, Generalmusikdirektor Fabio Luisi und Ballettdirektor Christian Spuck stehen hier weltweit führende Solisten, Dirigenten, Choreografen und Regisseure für einen vielseitigen und hochkarätigen Spielplan. Das Ballett Zürich ist mit 36 Tänzerinnen und Tänzern die grösste professionelle Ballettcompagnie der Schweiz. Zusammen mit dem Junior Ballett und seinen 14 Mitgliedern zeigt das Ballett Zürich am Opernhaus zwischen 50 und 60 Vorstellungen und bringt jährlich drei Premieren und vier Wiederaufnahmen heraus. Darüber hinaus wird die Compagnie regelmässig zu internationalen Gastspielreisen eingeladen. Ballettdirektor Christian Spuck pflegt die gewachsenen Traditionen des Ensembles und setzt neue künstlerische Akzente. Die international renommiertesten Choreographen arbeiten regelmässig mit der Compagnie und machen in Zürich Ballett als Kunstform in seiner ganzen stilistischen Bandbreite erlebbar.
Wir suchen zum nächstmöglichen Zeitpunkt eine/n
Referent/in Presse- und Öffentlichkeitsarbeit
Ballett Zürich (100%)

In dieser Funktion sind Sie Teil der Abteilung Marketing/Kommunikation und zuständig für die Medienarbeit sowie für den Bereich Social Media und deren kontinuierliche strategische Weiterentwicklung. Sie sind erste/r Ansprechpartner/in für Medienvertreter/innen und gestalten durch gezielte Kontaktpflege und Vertrauensaufbau das Image des Balletts Zürich entscheidend mit.
Zu Ihren Hauptaufgaben zählen:
Intensive Kontaktpflege zu lokalen, überregionalen und internationalen Medienschaffenden
Strategische und nachhaltige Positionierung des Balletts Zürich in der Medienlandschaft
Erstellung von redaktionellen Beiträgen und Presseinformationen
Organisation und Betreuung von Film- und Fototerminen, Interviews und Medienkonferenzen
Stetiges Aufspüren von interessanten Geschichten und Aufhängern für die Berichterstattung über das Ballett Zürich und dessen Aktivitäten und Akteure
Medienbeobachtung sowie Auswertung und Dokumentation der medialen Berichterstattung
Konzeption und Durchführung der Social Media Kommunikation
Unterstützung der Pressesprecherin Oper in verschiedenen Projekten sowie mediale Betreuung des Eröffnungsfestes und des Opernballs.
Wir suchen eine offene, sympathische  Persönlichkeit mit Begeisterung für Ballett und Tanz. Sie haben ein Studium abgeschlossen und waren bereits im Bereich Medienarbeit/Kommunikation für eine Kulturinstitution tätig.  Sie verfügen über gute Kontakte zu Medienschaffenden und haben Ihr exzellentes Sprachgefühl und Ihre Textsicherheit in Deutsch und Englisch bereits unter Beweis gestellt. Sie sind eigeninitiativ, kreativ und dienstleistungsorientiert und bringen sich gerne in Teams ein. Eine selbständige Arbeitsweise, Belastbarkeit und Durchsetzungsstärke zeichnen Sie ebenso aus wie ein überzeugendes, gewinnendes Auftreten und absolute Vertrauenswürdigkeit. Auf flexible Arbeitszeiten auch an Wochenenden und Feiertagen können Sie sich einstellen.
Bei Interesse richten Sie bitte Ihre schriftliche Bewerbung mit drei Textproben bis zum 26. August 2018 an:
OPERNHAUS ZÜRICH AG
Monica Varallo, Personalassistentin
Falkenstrasse 1
CH-8008 Zürich
Enable JavaScript to view protected content.
For ticket requests please contact the ticket office: + 41 44 268 66 66 or buy tickets in our webshop.
Ballet office
Falkenstrasse 1
8008 Zurich
Enable JavaScript to view protected content.
Phone: +41 44 268 64 63
Please direct you requests regarding auditions to:
Enable JavaScript to view protected content.