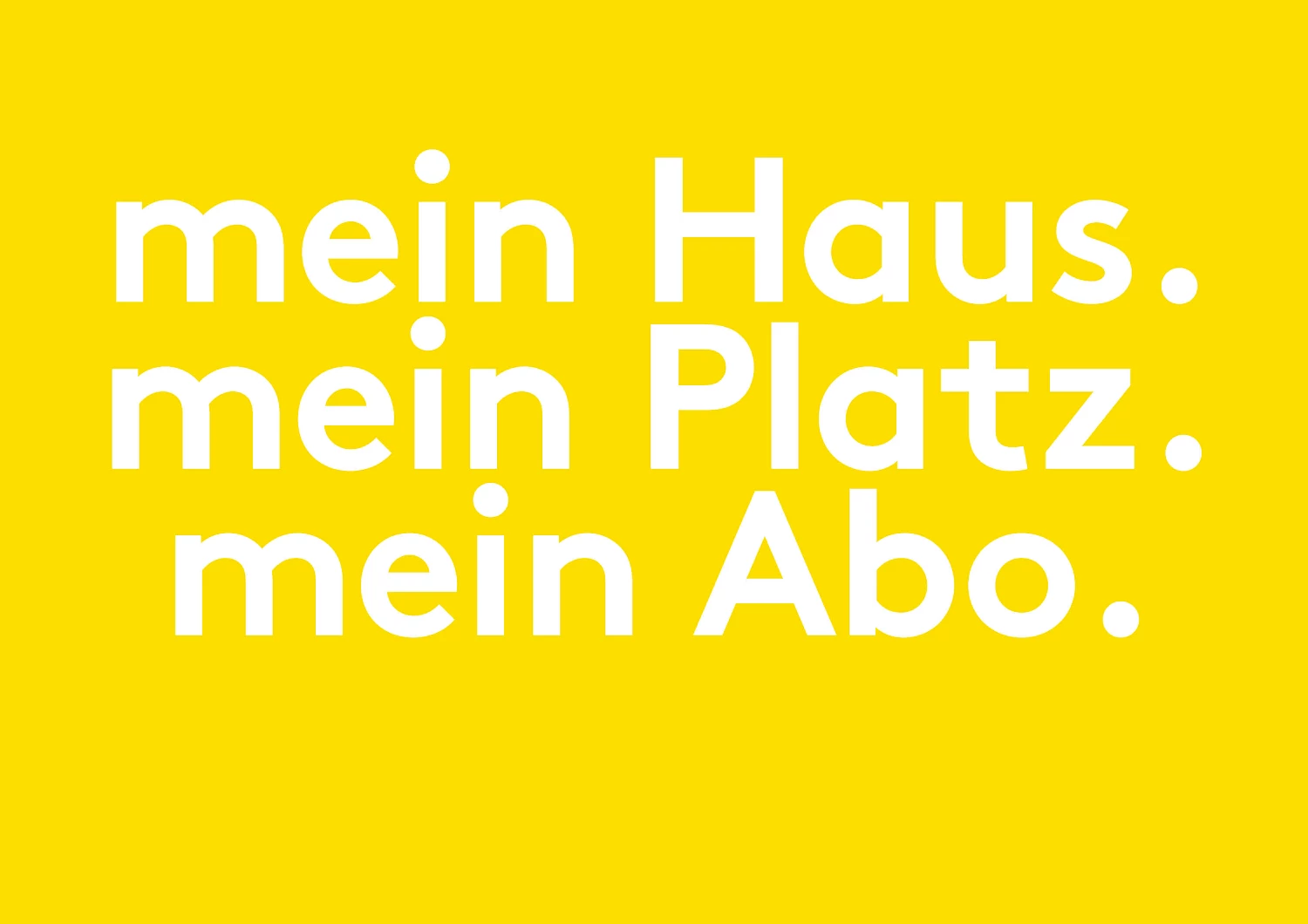 Subscriptions
As a Zurich Opera House subscription holder, you enjoy many advantages
Convenience
With a subscription, you have fixed seats without having to queue at the Box Office. You choose your seats before general advance tickets sales begin. In the case of subscription cycles, you may be allocated a seat different from your regular one for certain performances.
Savings
Compared with regular ticket prices on general sale, we guarantee you savings of about 10% (except for the Première A and Lieder subscription). If you would like to order individual tickets in addition to your subscription, you will also benefit from a 10% discount off up to four tickets per performance in price categories A-F , P and Q.  For the individual subscriptions an average price is applied.
Information, hot off the press
The despatch of the bimonthly programme is included in the price of your subscription. You can order it here.
Exclusively informed
The Director and Ballet Director invite you to an exclusive presentation of the seasonal programme. Afterwards you will have the opportunity to ask your questions.
Ticket pre-sales
You may order tickets before they are released for advanced ticket sales. We will contact you with more information in due time.
The subscription cycles are available for days of the week or genres, and in all price categories.
Order your subscription online.
You will find all subscriptions for the 2023/2024 season here:
]
Subscription prices 23/24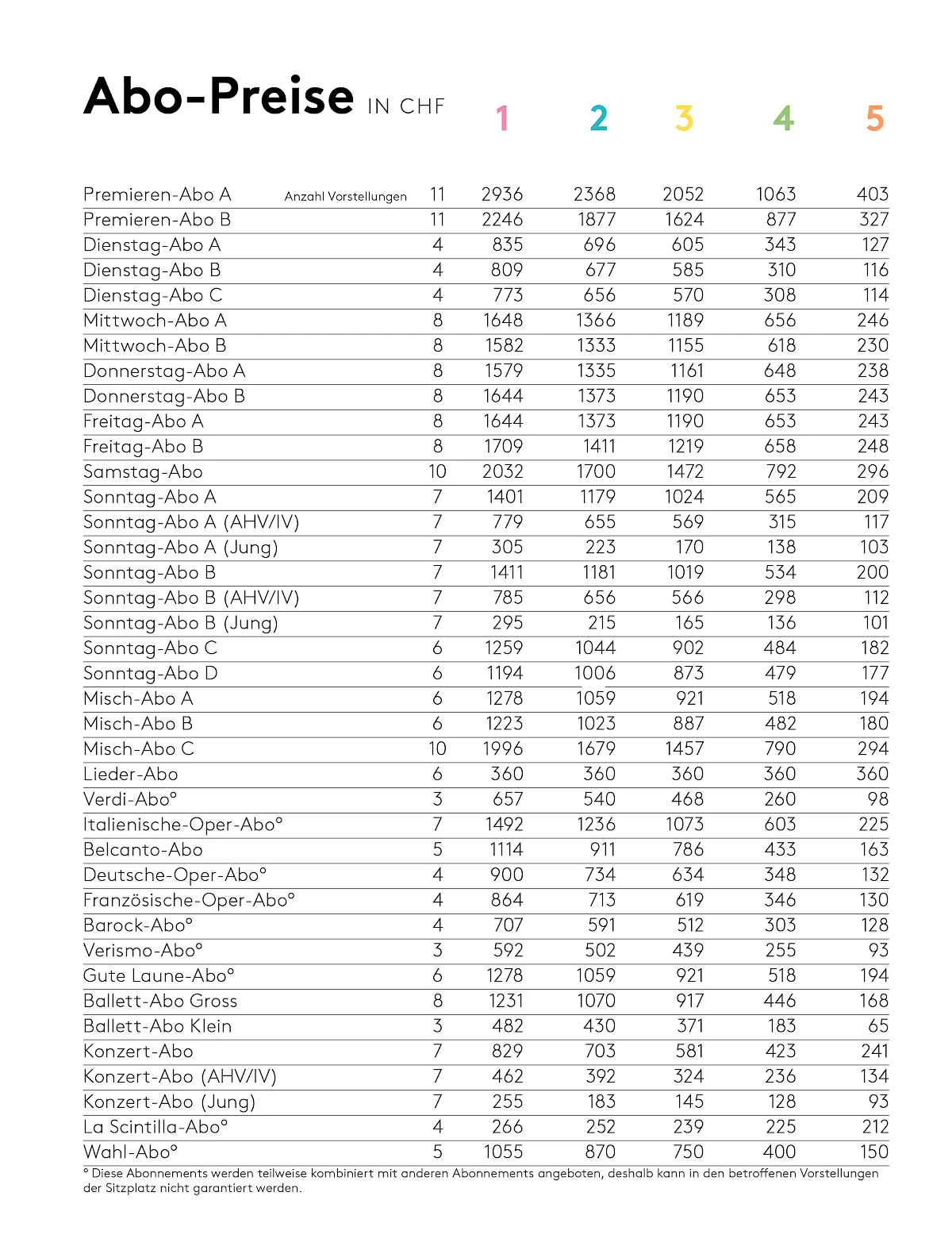 Download the order form for subscriptions as pdf here (only available in German).
Please send this order form by e-mail to or printed and signed by post to Opernhaus Zürich AG, Billettkasse, Falkenstrasse 1, CH-8008 Zürich.
Subscription conditions 22/23
Subscription prices
Subscription prices are based on the ticket prices of the performances in question, less a subscription discount of approximately 10% (excluding Première subscription A and song recitals subscription). The service fee for subscriptions is included in the price.
Familiy subscriptions
Parents who have purchased a Sunday Afternoon or Concert subscription can buy the same subscription for their children under the age of 16 at student rates.
Subscriptions for senior citizens/the disabled
Recipients of old-age and disability pensions are eligible for a 50% discount on Sunday Afternoon and Concert subscriptions. If subscriptions are given to persons who are not the recipients of old-age or disability pensions, the difference to the normal price must be paid and a valid ticket obtained at the Box Office before the performance.
Renewal of existing subscriptions
If the subscription contract according to the invoice that we send to you in April 2022 is not cancelled in writing by 30 April 2022, it will be considered valid – recognising the conditions of the subscription – for the 2022/23 season. Your subscription card and tickets will be sent to you in August 2022.
Subscription holders wishing to alter their subscriptions are asked to communicate their requests by letter to the Opera House's Subscription Service, Falkenstrasse 1, CH-8008 Zurich or by e-mail to . In such cases, please be sure to return the invoice together with the paying-in slip so that we can send you a new invoice. Please do not make any advance payments.
You will be informed of the seats allocated to you and receive the final invoice from June 2022.
New subscritptions
Those interested in applying for new subscriptions are requested to inform the Opera House's Subscription Service of their desired subscription(s) in writing, either by using the order form or the online form. Applications will be processed in the order in which they arrive. New subscription holders will be informed of their seat allocation and receive their invoices by May 2022.
Subscription tickets
You will receive your subscription ID card for continuing subscriptions, or tickets, for the subscription performances of your choice in August 2022. Subscription tickets are transferrable. A processing fee of CHF 10 per seat will be charged in the event of loss of the subscription ID card.
Non-attendance and subsctiption substitution
No refunds will be made for non-attendance. Exchanges for a replacement performance of the same production will be allowed with a fee of CHF 10 per seat, provided that a suitable seat is available. The exchange can be made from September 2022 at the earliest. If the substitute performance is in a higher price category, the difference must be paid.
Changes without prior notice
We expressly reserve the right to make changes without prior notice to prices, performances and casts, postpone both the dates and times of performances, and alter the seating plan for artistic reasons or in the event of television recordings. Please consult our monthly schedule or our the production pages of this website for definitive starting times.
Changes of address
Please inform us of any changes of address in writing.
By signing or renewing a subscription, you declare that you agree with these terms and conditions.
We are happy to provide information by e-mail or phone: / +41 44 268 66 66