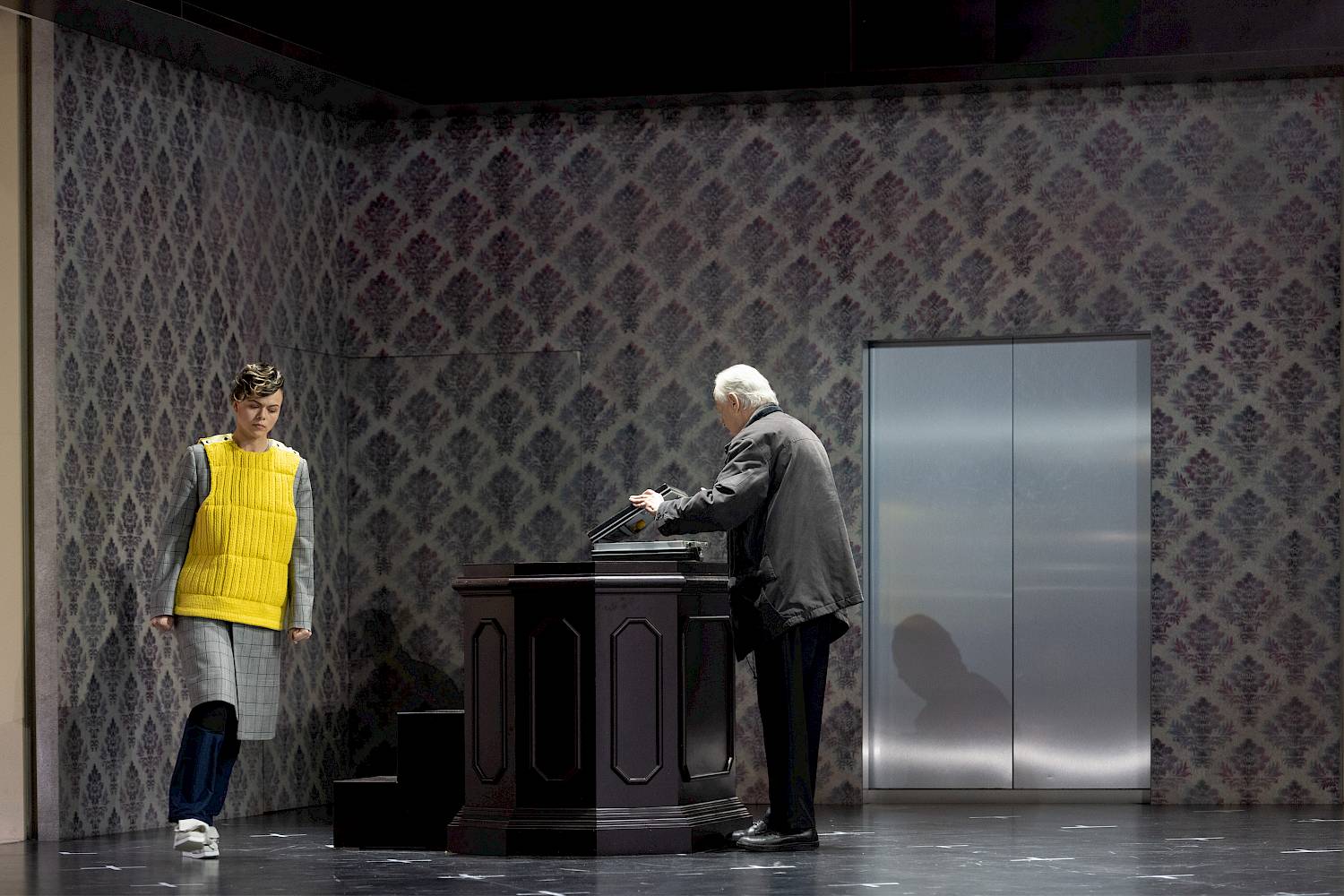 Orphée et Euridice
Video on Demand: Orphée et Euridice
The production is available until 5th April 2021 as Video on Demand.

You can enjoy the streaming of Orphée et Euridice free of charge. If you would like to express your joy and attachment with a donation, you are welcome to do so here. Thank you very much!
Tragédie (Drame-héroïque) in four acts by Christoph Willibald Gluck (1714-1787)
in the version by Hector Berlioz (1859)
Libretto by Pierre-Louis Moline after Ranieri de' Calzabigi
Cast
Musical director Stefano Montanari
Producer Christoph Marthaler
Assistant producer Joachim Rathke
Stage and costume design Anna Viebrock
Lighting designer Martin Gebhardt
Choir director Ernst Raffelsberger
Dramaturgy Malte Ubenauf, Kathrin Brunner
Stage design assistance Anna Scheffel-Brotánková
Costume assistance Iva Ivanova

Orphée Nadezhda Karyazina
Euridice Chiara Skerath
L'Amour Alice Duport-Percier
Blessed and unblessed spirits
Sebastian Zuber
Graham F. Valentine
Bérengère Bodin
Marc Bodnar
Liliana Benini
Raphael Clamer
Bernhard Landau

Philharmonia Zürich
Opera Zürich Chorus
Statistenverein of the Zurich Opera House
Duration approx. 1 H. 35 Min.
With the kind support of Freunde der Oper Zürich
Orpheus is a musician, the personification of deep, archaic amazement at the power of sound. His music enchants not just people, but animals, trees, even stones. When he sings and plays, the wind ceases to blow. Euridice is his beloved. And when she dies, the depths of Orpheus' lamentations know no bounds: they even soften the hearts of the gods. They in turn give in to his entreaties, but in the form of a test: if Orpheus wants Euridice back, he must convince the guardians of Hades to give her back. Furthermore, he must lead her back to the land of the living – in complete silence, and without turning back to look at her. It is an act of self-discipline. But in the maze of Hades, he gives into Euridice, who no longer believes he loves her. Orpheus – against all reason – turns around. In Christoph Willibald Gluck's version of this famous myth, it is this moment that is the expression of earnest humanity and of the endless desire for intimacy. Gluck paints this psychological crisis with unexpected mood shifts and rapid tempo changes; his musical language is at once emotionally charged, yet austere. The 1762 Viennese premiere, sung in Italian, failed to resonate with audiences. But the French version, prepared for Paris in 1774, was a veritable hit. Hector Berlioz, an admirer of Gluck's, reworked the opera in 1859, transcribing the role of Orphée, which was written for high tenor in the French version, for contralto Pauline Viardot.

After Gioachino Rossini's Europe-focused Il viaggio a Reims and Handel's delicate pasticcio Sale, stage director Christopher and set designer Anna Viebrock make their third appearance at the Opernhaus Zürich with Orphée et Euridice. In addition, audiences can look forward to a group of Marthaler figures, who comprise the upper and lower worlds of Gluck's opera, bearing witness to the chain of events. Stefano Montanari, one of the most interesting conductors and Baroque violinists of the new generation, leads the Philharmonia Zürich. Appearing as Orphée is the young Russian mezzo Nadezhda Karyazina, making her debut at the Opernhaus Zürich. At her side as Euridice is the Swedish-Belgian soprano Chiara Skerath.
Trailer «Orphée et Euridice»
Gespräch: «Orphée et Euridice»
Storyline
Mourning Eurydice's death, Orpheus implores the god Jupiter to bring his beloved companion back to life. Should Jupiter refuse, he, Orpheus, will descend into Hades and lead Eurydice out of the realm of the dead himself. Shortly afterwards, Cupid, the god of love, appears to tell Orpheus that his wish for Eurydice to be liberated will be granted. First, however, Orpheus must win over the guardians of Hades, and may on no account set look back at Eurydice as they return.
Orpheus descends into Hades, where he encounters the Furies as they guard the entrance to the realm of the dead. He attempts to appease the wild creatures with his song, and after a while succeeds in doing so.
In Elysium, Eurydice and several other blessed spirits are extolling the beauty of this divine place. When Orpheus first arrives, Eurydice is nowhere to be seen. When she finally appears, she can scarcely contain her joy, but her doubts are raised when Orpheus avoids her gaze. Does he still love her? Why has he taken the journey upon himself if he can no longer set eyes on her?
Orpheus eventually ignores the gods' terms and turns back to look at Eurydice. Hs beloved dies that very same moment. When Orpheus realises this, he decides to kill himself so as to be able to be with Eurydice, whereupon the god Cupid appears once more and leads Eurydice back to life.
Gallery
Szenenbilder «Orphée und Euridice»
Pressestimmen
«Eine Art zweite Wirklichkeit, eine Mischung aus klassischer 
Opernübertragung und surreal anmutendem «Geisterspiel»» 
Neue Zürcher Zeitung, 16.02.2021 
«Diese Inszenierung, seine dritte am Opernhaus Zürich, ist ein echter, lustiger, trauriger Marthaler.» 
Tagesanzeiger, 15.02.2021

«Eine sehr ambivalente Inszenierung, die nachdenkt über unsere 
Sterblichkeit, über unser Leben und die Liebe.»
Deutschlandfunk Kultur, 14.02.2021

«Marthaler ist ein unerhört musikalischer Regisseur. Er lässt die sensationelle Altstimme von Nadeshda Karjasina als Orphée in ihrer ultravioletten Tiefe und ihrer infraroten Wärme wirken, gönnt ihr Ruhe für ihre Wahnsinnskade Ankernz beim Entschluss, in die Unterwelt zu fahren, um die tote Euridice wieder ins Leben zu holen; er schafft Ruhe, damit die harmonischen Ellipsen und figurativen Abbrüche in der Orchestermusik ihre eigene erzählerische Kraft entfalten können.» 
Frankfurter Allgemeine, 16.02.2021