Berlioz
Vivaldi / Verdi
Internationally renowned violinist and conductor Riccardo Minasi and the Orchestra La Scintilla, based at Opernhaus Zürich, enjoy a close working relationship. Together with the ensemble's superb musicians, who specialize in historically-informed performance, Minasi has recorded two very different compositions, both entitled «Vier Jahreszeiten» («Four Seasons»), for Philharmonia Records. In addition to the four famous concerti by Antonio Vivaldi, in which Minasi proves himself to be a brilliant soloist, the recording features ballet music by Giuseppe Verdi, written 125 years later. This pairing gives the ensemble the opportunity to showcase both the breadth of its repertoire and its considerable flexibility.
Verdi on period instruments: a completely new aural experience!
Audio samples
La Primavera I - Allegro

L'Estate II - Adagio

L'Autunno III - Allegro

L'Inverno I - Allegro non molto

L'Hiver

Le Printemps

L'Eté

L'Automne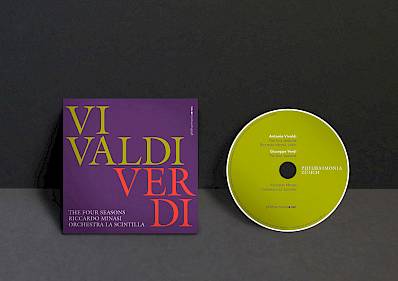 Riccardo Minasi Conductor
Riccardo Minasi Violine
Orchestra La Scintilla
Antonio Vivaldi
The four seasons
Giuseppe Verdi
The four seasons
Ballet music from
«Les vêpres siciliennes»

CD 68.21 min
Booklet: german, english, french
CHF 22
inkl. Mwst., zzgl. CHF 5 Versandkosten
Since orders from abroad sometimes incur disproportionately high customs duties, we recommend purchasing via Amazon for orders outside of Switzerland. The CD Vivaldi / Verdi can be found here.