Tchaikovsky: Sleeping Beauty
Sleeping Beauty was premiered in St. Petersburg with Tchaikovsky's immortal music in 1890. In his version for the Ballett Zürich, Christian Spuck revives the classic in his own artistic style. With a great deal of humor, he addresses the complex process of growing up, relating themes such as generational conflicts with one's parents, the difficulties of becoming a mature adult, and, last but not least, love and sexuality. Whenever possible, he frees the characters from their traditional role clichés. Petipa's original version becomes a model that Christian Spuck occasionally cites yet repeatedly questions and counteracts with irony and occasionally irritating moments.
Robertas Šervenikas Conductor
Christian Spuck Choreografy
Rufus Didwiszus Set Designer
Martin Gebhardt Light Designer
Michael Küster and Christian Spuck Dramaturgy
Michelle Willems Aurrora
William Moore Carabosse
Jan Casier Lilac fairy
Lucas Valente King
Inna Bilash Queen
Elena Vostrotina Governess
Matthew Bates Silver fairy
Cohen Aitchison-Dugas Gold fairy
Dominik White Slavkovsky Blue fairy
Wei Chen Green fairy
Mark Geilings Red fairy
Luca Afflito Four princes
Wei Chen
Kevin Pouzou
Loïck Pireaux
Esteban Berlanga Prince Dösiré
Daniel Mulligan 1. Servant
Ballett Zürich
Junior Ballett
Philharmonia Zürich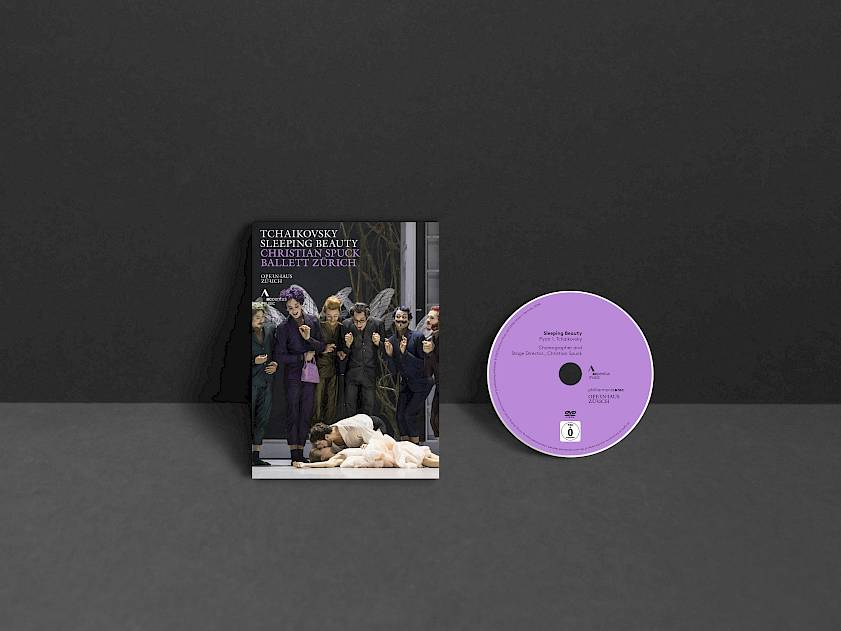 Tchaikovsky
Sleeping Beauty

Recorded live at the Opernhaus Zürich, June 2022
Picture Format NTSC 16:9, Full HD
Sound Formats DTS HD Master Audio, PCM Stereo
Region Code 0
Running Time 126:05
Disc Format DVD 9
DVD:
CHF 32
inkl. Mwst., zzgl. CHF 5 Versandkosten
Please note that any customs duties may apply to deliveries abroad.
Shipping time: approx. 3-4 weeks
As orders from abroad sometimes incur disproportionately high customs duties, we recommend buying via Amazon for orders outside Switzerland. You can find the DVD here.