«Dein ist mein ganzes Herz»
"Always smile and always be cheerful, always satisfied, no matter what happens, smile in spite of your sorrows and a thousand aches and pains," sings Prince Sou-Chong, thus introducing the fundamentally melancholic tone of Das Land des Lächelns (The Land of Smiles), which even has a tragic ending in store. For the new production of this operetta, world class tenor Piotr Beczala returned to the Opernhaus Zürich as Sou-Chong. He has an equal partner in Julia Kleiter, who plays the role of Lisa. Fabio Luisi and Andreas Homoki also know that the genre of operetta requires particular care – which is why they have assumed personal responsibility for this production.
Homoki lets the plot take place in a Paris Variété theater from the 1920s, complete with show staircase and heavy curtains. To emphasize the operatic elements, he condensed the piece, cutting several secondary roles and shortening dialogues.

Fabio Luisi Conductor
Andreas Homoki Stage Director
Wolfgang Gussmann Set Designer
Wolfgang Gussmann, Susana Mendoza Costume Designers
Frank Evin Lighting Designer
Kathrin Brunner Dramaturgy

Piotr Beczala Prince Sou-Chong
Julia Kleiter Lisa
Rebeca Olvera Mi
Spencer Lang Count Gustav von Pottenstein
Cheyne Davidson Tschang
Martin Zysset Chief Eunuch

Philharmonia Zürich
Chor der Oper Zürich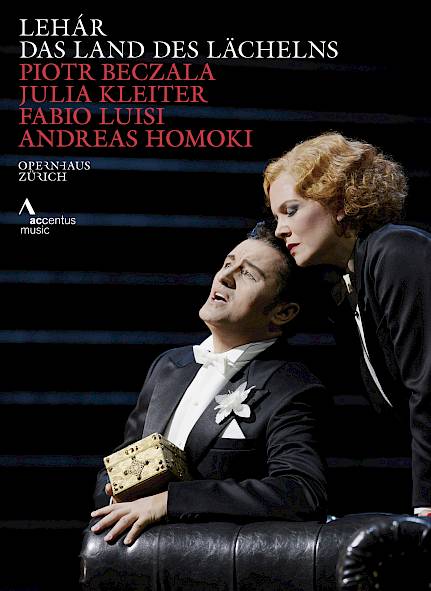 Franz Lehár
Das Land des Lächelns
Recorded at the Opernhaus Zürich, June 2017
in german
Subtitles: German, English, French, Korean, Japanese
Running Time 103.07 Min
Picture Format NTSC 16:9
Sound Formats PCM Stereo, Dolby Digital 5.1, DTS 5.1
Region Code 0 (weltweit)
Disc Format DVD-9
FSK 0
DVD:
CHF 32
Blu-Ray:
CHF 45
inkl. VAT., plus CHF 5 shipping cost
Please note that any customs duties may apply to deliveries abroad.
TRAILER