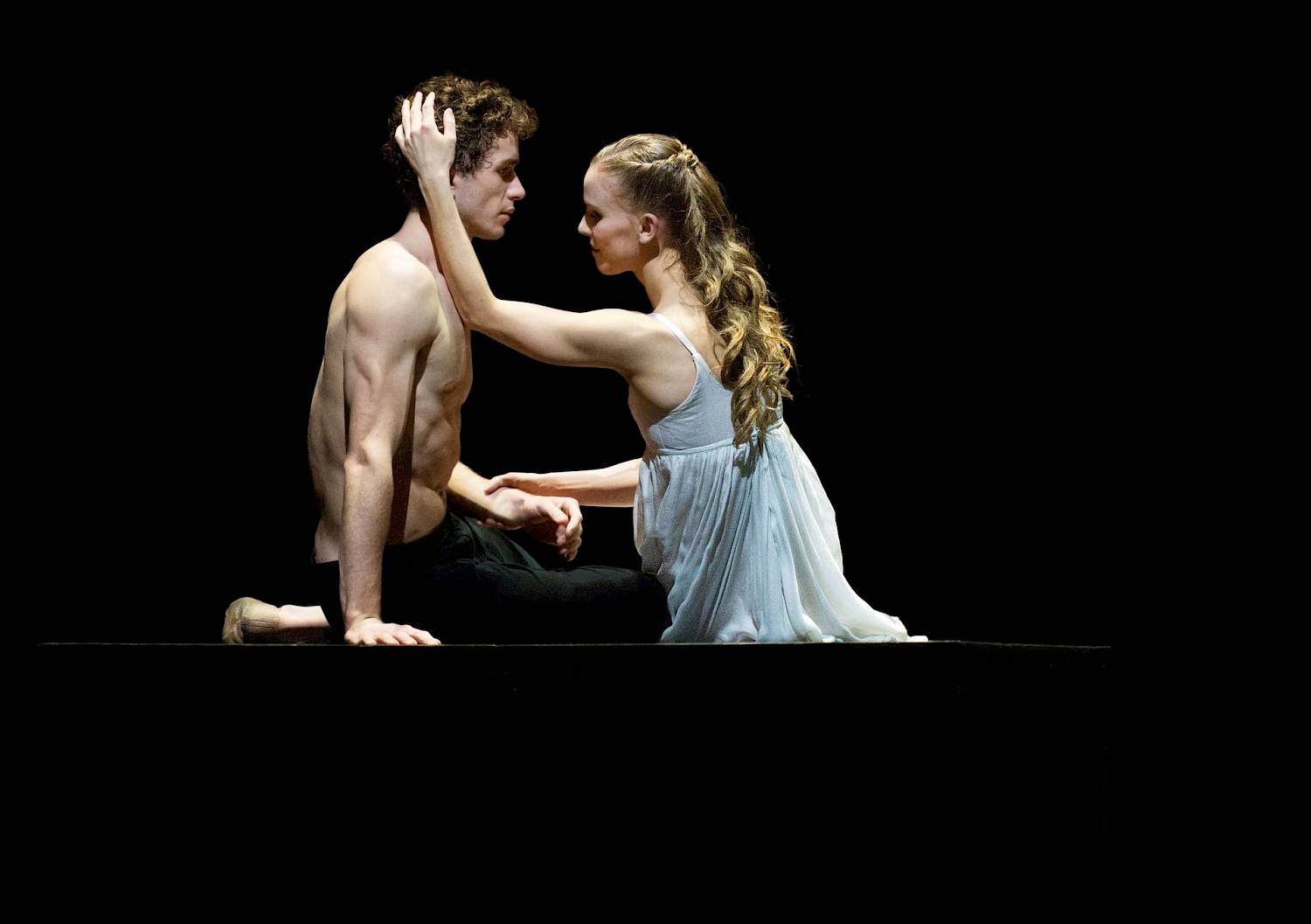 Romeo und Julia
The recording was available from Friday, 26 June 18:00 to Sunday, 28 June 24:00.
In Shakespeare's famous tragedy Romeo and Juliet, the power of love enables two young people to rise above themselves to overcome all obstacles. However, because they come from two families engaged in a mortal feud, their union is ill-starred from the very beginning. In the end, Romeo and Juliet pay for their love with their lives.
Shakespeare's play has inspired generations of artists to adaptations like scarcely any other work. In his colourful, passionate music, the Russian composer Sergei Prokofiev brilliantly captured the clash of love and hatred, and the proximity of tenderness and violence. Although Moscow's Bolshoi Theatre initially rejected the ballet as insufficiently dance-like, it has now become an indispensable fixture in the international ballet repertoire. Christian Spuck's production has been celebrated not only in Zurich, but also at guest performances given by Ballett Zürich in Tel Aviv, Bogotá and Stuttgart. Inspired by Prokofiev's vivid music and the timeless quality of Shakespeare's tragedy, the choreographer narrates the most famous love story in world literature using strong images that are full of enthralling theatricality and touching emotion. With a theatre-within-a-theatre situation rooted in the acting tradition and a broad, captivating narrative arc, he creates an immediacy of feeling to which no-one can be immune. Michail Jurowski, a true Prokofiev expert, will be at the rostrum of the Philharmonia Zürich.

This live recording was realized by Accentus Music.
Trailer «Romeo und Julia» - Ballett Zürich
Cast
Christian Spuck Choreography
Michail Jurowski Conductor
Christian Schmidt Set Designer
Emma Ryott Costume Designer
Michael Küster Dramaturgy
Lucas Valente Graf Capulet
Eva Dewaele Gräfin Capulet
Katja Wünsche Julia
Tigran Mkrtchyan Tybalt
William Moore Romeo
Daniel Mulligan Mercutio
Christopher Parker Benvolio
Jan Casier Paris
Filipe Portugal Pater Lorenzo
Elena Vostrotina Julias Amme
What you always wanted to know about the Opernhaus, but were afraid to ask
In this episode Katja Wünsche and Yen Han show how a pointe shoe has to be cut, pricked, squeezed, even beaten up, so that he can make his big entrance.