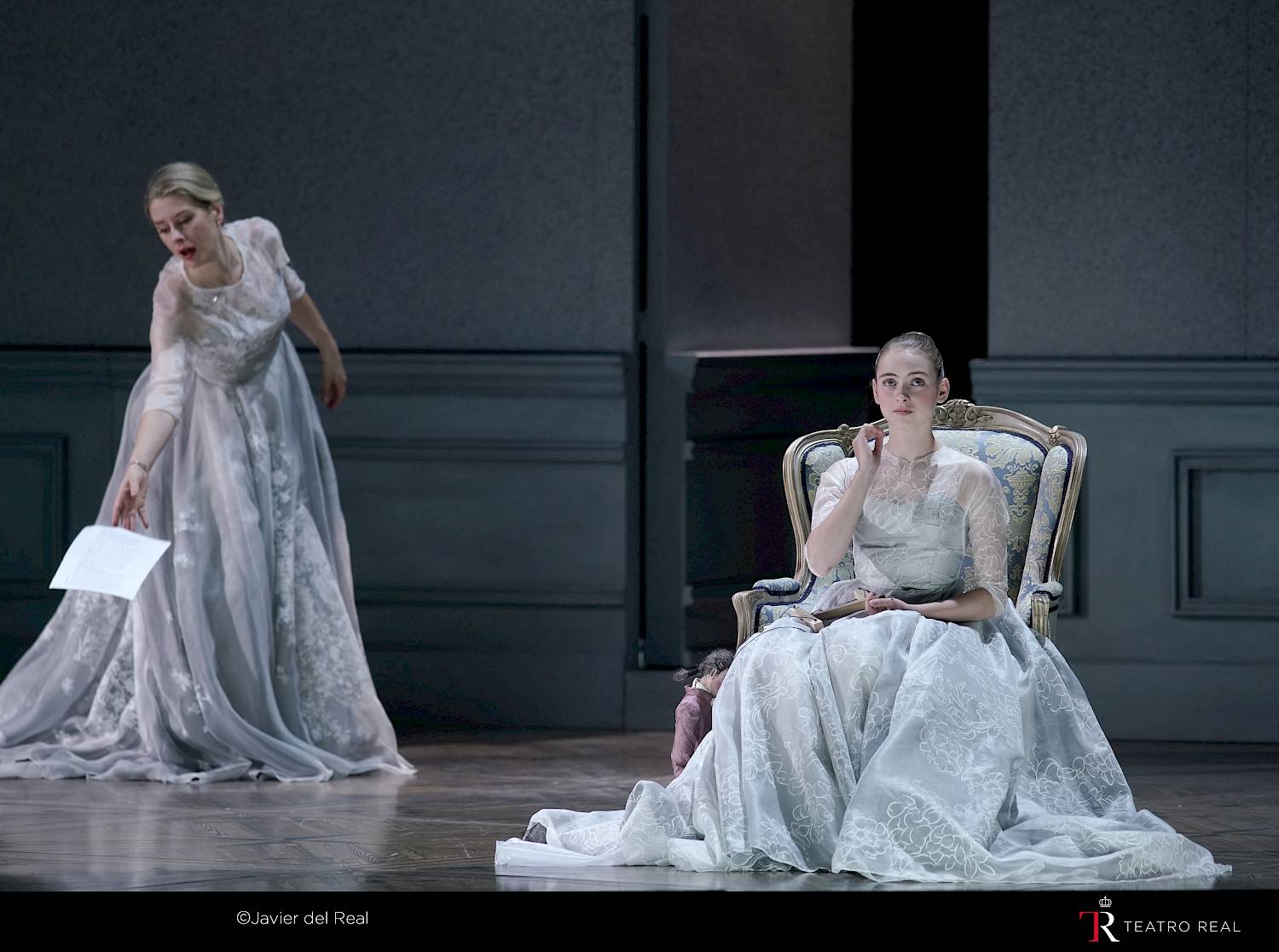 Capriccio
Capriccio
The recording from 2019 from the Teatro Real will be available for free as Video on Demand until Whit Monday 24 May 2021 here.
You can enjoy the streaming of Capriccio free of charge. If you would like to express your joy and attachment with a donation, you are welcome to do so here. Thank you very much!
A conversation piece for music in one act by Richard Strauss (1864-1949)
Libretto by Joseph Gregor, Richard Strauss, and Clemens Krauss
after an idea by Stefan Zweig
Cast
Musical director Markus Poschner
Producer Christof Loy
Stage design Raimund Orfeo Voigt
Costumes Klaus Bruns
Lighting designer Franck Evin
Choreography Andreas Heise
Die Gräfin Madeleine Malin Byström
Der Graf Josef Wagner
Flamand Norman Reinhardt
Olivier André Schuen
La Roche Christof Fischesser
Die Schauspielerin Clairon Theresa Kronthaler
Monsieur Taupe John Graham-Hall
Eine italienische Sängerin Leonor Bonilla
Ein italienischer Sänger Juan José de León
Der Haushofmeister Torben Jürgens
Diener Emmanuel Feraldo, Pablo García López, Manuel Gómez Ruiz, Gerardo López, Tomeu Bibiloni, David Oller, Sebastià Peris, David Sánchez
Gräfin / Tänzerin Elizabeth McGorian
Orchestra del Teatro Real
Is the text more important? Or is it rather the music that dominates? The question of the value relationship between sound and word in opera is as old as the genre itself – and at the heart of Richard Strauss' conversation piece Capriccio. It is his last opera, written when he was nearly 80. Capriccio, however, is anything but dry discourse about the dominance of language or music in opera. Rather, it is an ambiguous game that virtuously links the characters' discussions of art with their erotic entanglements. In a salon near Paris, a theater director, a poet, a composer, and actress, and the count who loves her passionately discuss the nature of various artistic genres. The count suggests performing an opera about the very topic of their discussion, about themselves, about «the events of the day today, what we experienced». In the middle of it all, though, is the widow Countess Madeleine, the count's sister. Her love is the object of desire, the prize at the center of the artistic competition between the poet Olivier and the composer Flamand. But as much as she feels herself attracted to them both, the Countess leaves her choice unmade – just as with the finale of the work to be performed in Capriccio. In the Countess, Strauss once again created a grand, complex female figure. With her mysterious, enigmatic aura and her ironic, melancholy, insightful poise, she is a woman that hews closely to her predecessors Arabella and the Marschallin in Rosenkavalier.

«In your salon, Countess, the hours go by without aging!» the actress Clarion remarks. With director Christof Loy, the figures in Capriccio are if as caught in a time warp; his production follows the Countess' self-reflection down all its paths of intricacy, becoming a dizzying play on the play within a play.
We show a recording from the Teatro Real in Madrid, where the opera premiered in 2019. As a co-production between Madrid and Zurich, Capriccio would also have been shown with a modified cast at Zurich Opera House on the Whitsun weekend in 2021. All the decorations were created in Zurich.