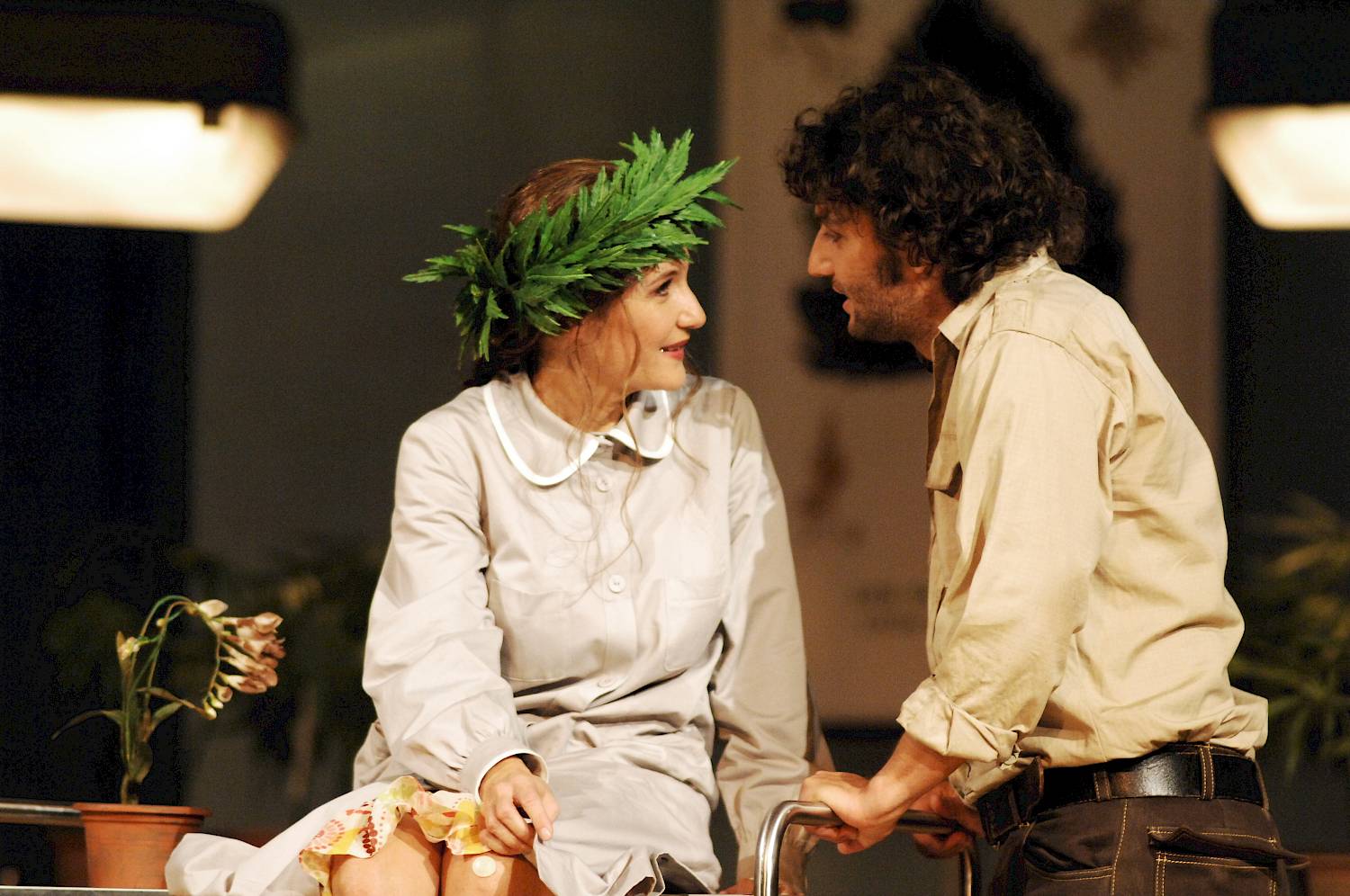 Königskinder
Opera by Engelbert Humperdinck
Königskinder
Video on Demand of the recording of «Königskinder» from 2010 will be available here free of charge until Sunday, April 25, 2021 at midnight.
You can enjoy the streaming of Königskinder free of charge. If you would like to express your joy and attachment with a donation, you are welcome to do so here. Thank you very much!
Cast
Musical direction Ingo Metzmacher
Director Jens-Daniel Herzog
Set design Mathis Neidhardt
Chorus rehearsal Ernst Raffelsberger
Lighting design Jürgen Hoffmann
Königssohn Jonas Kaufmann
Gänsemagd Isabel Rey
Spielmann Oliver Widmer
Hexe Liliana Nikiteanu
Holzhacker Reinhard Mayr
Besenbinder Bogusław Bidziński
Sein Töchterchen Marie-Térèse Albert
Ratsältester Kai Florian Bischoff
Wirt Tomasz Sławiński
Wirtstochter Anja Schlosser
Schneider Miroslav Christoff
Stallmagd Wiebke Lehmkuhl
Torwächter Pablo Ricardo Bemsch, George Humphreys
Eine Frau Susanne Grobholz
Orchester der Oper Zürich
Chor des Opernhauses Zürich
Presented by


«Humperdinck's fairytale opera «Königskinder» never fails to delight me. It is one of the underrated operas of the 19th century. This production at the Opernhaus Zürich, conducted by Ingo Metzmacher and directed for the stage by Jens-Daniel Herzog, makes that clear in the best possible ways. And Jonas Kaufmann as king's son is an ideal casting.»

Andreas Homoki
Engelbert Humperdinck's «Königskinder» has always been in the shadows next to his incomparably more famous fairytale opera «Hänsel und Gretel» – unjustly so, as the former is a subtle, multi-layered masterpiece. Premiered in 1910, the opera tells the tale of the fate of two uprooted royal children, whose love fails in the face of a harsh social reality. Here, our two protagonists don't live happily ever after. Despite the influence of his idol Richard Wagner, Humperdinck was able to create his own musical language: a mixture of folksong-like sounds, sweeping melodies, and dramatic force. Conductor Ingo Metzmacher made his successful debut at the Opernhaus in 2007 with «Königskinder». The production's revival three years later – which was recorded and released as a DVD – prompted the Neue Zürcher Zeitung to write, «Metzmacher lovingly glories in each of the score's many colors. He keeps the sound light and streamlined, so that its very core is revealed. What intimacy lies there within.» And the performance was all the more superb for its vocal cast. Jonas Kaufmann, then just on the verge of making the switch to the Heldentenor fach, supremely inhabited the role of the king's son. Soprano Isabel Rey, a longtime member of the Opernhaus Zürich ensemble, crafts a touching goose-girl. With its fresh approach and clever intertwining of socially critical and magical elements, Jens-Daniel Herzog's production convinced, without becoming kitsch – and was assisted in doing so by Mathis Neidhart's uniform set, which largely dispensed with any notion of an idyllic natural setting.