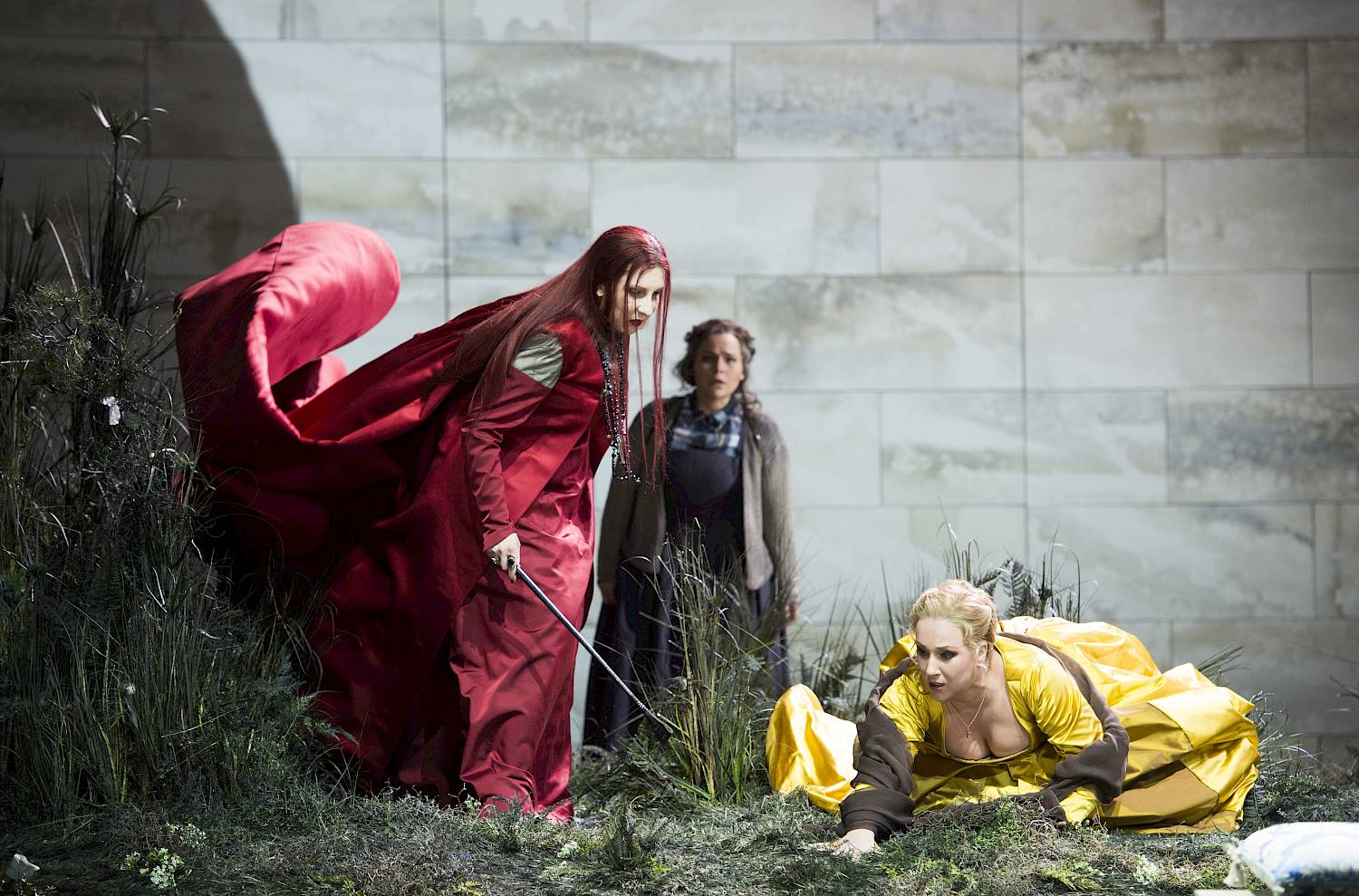 oper für alle digital:
Maria Stuarda
On September 27th we broadcasted the premiere of Maria Stuarda live. You could watch the recording here until September 29th at 24.00 hrs.
When two royal rivals clash as dramatic sopranos, the consequences are deadly. Gaetano Donizetti made the confrontation between Mary Stuart and Elizabeth I the centerpiece of his opera, which was first performed in 1835: The rivals hurl hateful accusations and insults in each other's faces. In Donizetti's bel canto opera, the dispute between the two soprano divas is not only sparked off by their respective claims to the English royal throne, but also by a shared lover, the Earl of Leicester. When he begs for mercy for the Scottish queen, Elizabeth I believes herself betrayed by the man she herself loves and orders Mary Stuart's execution.
American stage director David Alden, who made his debut at the Opernhaus Zürich with this production, treats Donizetti's bel canto opera, with its spectacular vocal parts, with scenic aplomb, lavish imagery, and magnificent scenery. Conductor Enrique Mazzola, who led the premiere series of performances and has meanwhile made successful guest appearances at the Opernhaus Zürich with both Rossini and Donizetti productions, will return for this revival. After her highly acclaimed debut as the Scottish queen, star soprano Diana Damrau will once again take on the title role. And the Georgian soprano Salome Jicia, who has made a name in the Italian repertoire, will appear as Elizabeth I. The young, highly regarded Sicilian tenor Paolo Fanale will make his debut at the Opernhaus Zürich in the role of the Count von Leicester.

«oper für alle - digital» is presented by   

We thank our Infrastructure Partner Telecom   

Cast
Enrique Mazzola Musical direction
David Alden Staging
Gideon Davey Equipment
Martin Gebhardt lighting design
Fabio Dietsche Dramaturgy
Salome Jicia Elisabetta I., Queen of England
Diana Damrau Maria Stuarda, Queen of Scottland
Paolo Fanale Roberto, Earl of Leicester
Nicolas Testé Giorgio Talbot
André Courville Lord Guglielmo Cecil
Siena Licht Miller Anna Kennedy

Philharmonia Zurich
Zurich Opera House Choir
Extras club at the Zurich Opera House
Enrique Mazzola conducts «Maria Stuarda»