Frank Martin
«It seems as if this text became a part of my life», wrote Swiss composer Frank Martin about Rainer Maria Rilkes famous prose poem The Lay of the Love and Death of Cornet Christoph Rilke, on which he based his composition for alto singer and orchestra. Rilkes short text describes the fate of a young soldier in a powerful way, who pointlessly rode off into his death during the Ottoman wars in the 17th century. Frank Martin devoted himself to this poem during Second World War and created a highly expressive and thrilling setting. Philharmonia Records releases a live recording of Frank Martins Cornet at the Zurich Opera House with the Philharmonia Zurich under the direction of Fabio Luisi. The solo part is sung by German alto singer Okka von der Damerau who is particularly known for her interpretations of major Wagner and Verdi roles and her vast concert repertoire.
AUDIO SAMPLE
Reiten (Live)

Der kleine Marquis (Live)

Jemand erzählt von seiner Mutter (Live)

Wachtfeuer (Live)

Das Heer (Live)

Ein Tag durch den Tross (Live)

Spork (Live)

Der Schrei (Live)

Der Brief (Live)

Das Schloss (Live)

Rast (Live)

Das Fest (Live)

Und einer steht (Live)

Bist du die Nacht? (Live)

Hast du vergessen? (Live)

Die Turmstube (Live)

Im Vorsaal (Live)

War ein Fenster offen? (Live)

Ist das der Morgen? (Live)

Aber die Fahne ist nicht dabei (Live)

Die Fahne (Live)

Der Tod (Live)

Im nächsten Frühjahr (Live)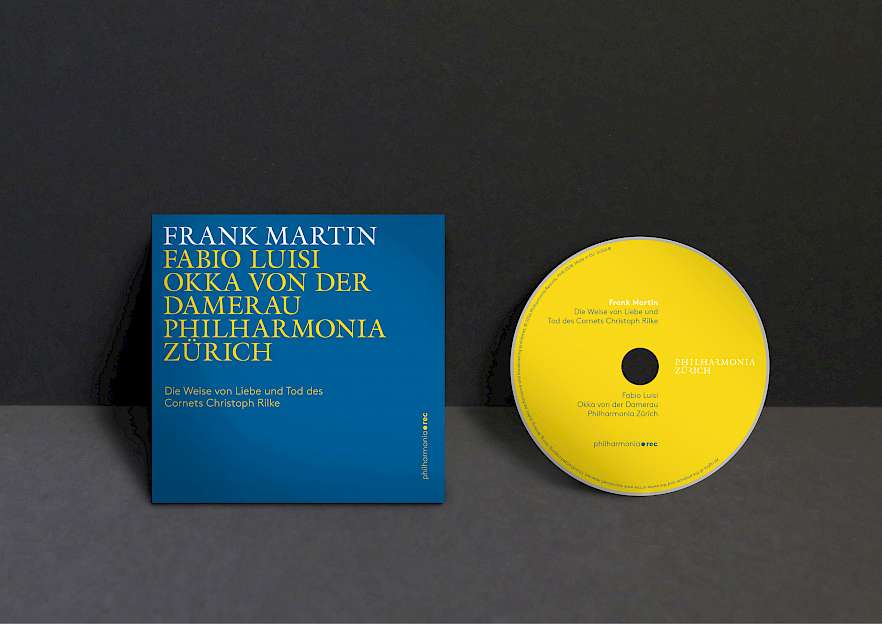 Fabio Luisi Conductor
Okka von der Damerau Alt
Philharmonia Zürich
Frank Martin
The Lay of the Love and Death of Cornet Christoph Rilke

Liveaufnahme aus dem Opernhaus Zürich,
September 2017
CD 59.38 min, DDD stereo
Booklet: Deutsch, Englisch, Französisch
CHF 22
inkl. Mwst., zzgl. CHF 5 shipping costs
Since orders from abroad sometimes incur disproportionately high customs duties, we recommend purchasing via Amazon for orders outside of Switzerland. The CD Frank Martin, Die Weise von Liebe und Tod by Cornet Christoph Rilke can be found here.