Rachmaninov
With only 27 years, French piano player Lise de la Salle already belongs to the internationally most renowned performers on her instrument. From 2013 until 2015, she was invited as «Artist in Residence» to the Opernhaus Zürich where she performed Sergey Rachmaninov's complete works for piano and orchestra together with General Music Director Fabio Luisi and the Philharmonia Zürich. The recordings of the five concerts are now released as a box by Philharmonia Records. Along with Rachmaninov's world famous Piano Concertos No. 2 and 3, the recording also includes the young componist's and piano virtuoso's Opus 1 as well as the 4th Piano Concerto, written in American exile, and the virtuosic «Rhapsody on a Theme of Paganini». With her special talent for the finest tonal nuances, Lise de la Salle is an ideal interpreter of these late-Romantic masterpieces of piano music.
AUDIOSAMPLE
Vivace

Andante

Allegro Vivace

Moderato

Adagio sostenuto

Allegro scherzando

Allegro ma non tanto

Intermezzo Adagio

Finale Alla breve

Allegro Vivace

Largo

Allegro Vivace

Introduction Allegro vivace

Variation 1 (Precedente)

Tema L'istesso tempo

Variation 2 L'istesso tempo

Variation 3 L'istesso tempo

Variation 4 Più vivo

Variation 5 Tempo precedente

Variation 6 L'istesso tempo

Variation 7 Meno mosso, a tempo moderato

Variation 8 Tempo

Variation 9 L'istesso tempo

Variation 10 Poco marcato

Variation 12 Tempo di minuetto

Variation 13 Allegro

Variation 11 Moderato

Variation 14 L'istesso tempo

Variation 15 Più vivo scherzando

Variation 16 Allegretto

Variation 17 Allegretto

Variation 18 Andante cantabile

Variation 19 A tempo vivace

Variation 20 Un poco più vivo

Variation 21 Un poco più vivo

Variation 22 Marziale. Un poco più vivo (Alla breve)

Variation 23 L'istesso tempo

Variation 24 A tempo un poco meno mosso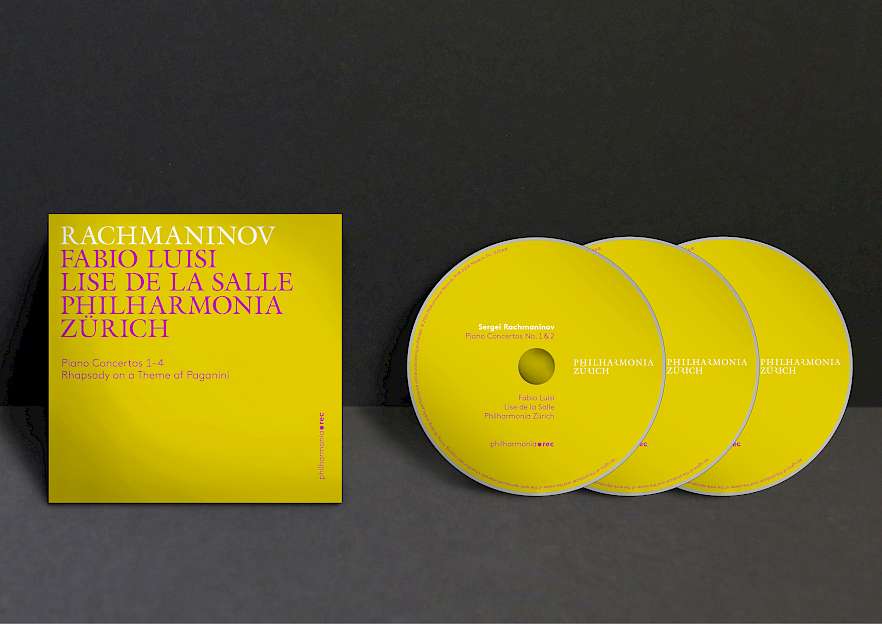 Fabio Luisi Conductor
Lise de la Salle Piano
Philharmonia Zürich
Sergej Rachmaninow
Piano Concertos 1-4
Rhapsody on a Theme of Paganini
Live Recording
3 Compact Discs 159.52 min
Booklet: german, english, french
CHF 35
incl. VAT., plus CHF 5 shipping costs
Please note that any customs duties may apply to deliveries abroad.
As orders from abroad sometimes incur disproportionately high customs duties, we recommend buying via Amazon for orders outside Switzerland. You can find the CD here.
Video