Schubert
With his «Great» symphony in C major, Franz Schubert composed a work of mighty proportions – Robert Schumann, who became aware of the score after Schubert's death, spoke of a "heavenly length". Not until 1839, eleven years after Schubert's early death, the sym phony in C major was played by Felix Mendelssohn Bartholdy in the Gewandhaus in Leipzig for the first time. After the symphonies of Beethoven, Schubert's "Great" is considered to be one of the most important symphonic orchestral work of the early 19th century and is now a part of the core repertoire in all the major symphony orchestras. General Music Director Fabio Luisi has worked on the Schubert's Symphony 2019 with the Philharmonia Zurich. The live recording in the Opernhaus Zürich is now available.
AUDIO SAMPLE
Andante - Allegro non troppo

Andante con moto

Scherzo. Allegro vivace

Allegro vivace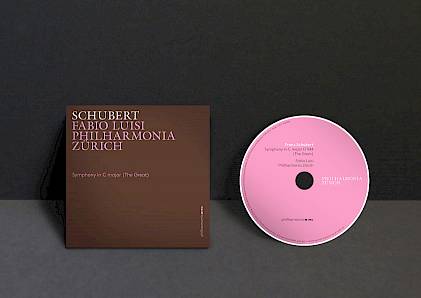 Fabio Luisi Conductor
Philharmonia Zürich
Franz Schubert
Symphony in C major D 944 (The Great)

CD 58.43 min
Booklet: german, english, french
CHF 22
incl. VAT., plus CHF 5 shipping costs
Please note that any customs duties may apply to deliveries abroad.
As orders from abroad sometimes incur disproportionately high customs duties, we recommend buying via Amazon for orders outside Switzerland. You can find the CD here.