Romeo and Juliet's last hours
The story of Romeo and Juliet, who end up paying for their passion with death, has experienced the most varied literary and musical forms since the Renaissance. Vincenzo Bellini's too rarely shown version of the Romeo and Juliet opera I Capuleti e i Montecchi is also far away from Shakespeare's version: it does not tell the story of a tenderly arising love. Instead it is about the last 24 hours in the lives of these two young people. Therefore a melancholy mood hovers over the piece, which develops a catastrophic pull. The highly exciting Zurich production of this bel canto jewel by director Christof Loy and the conducting of Fabio Luisi received an enthusiastic response by the press and the public at the premiere. The two protagonists were also acclaimed: The world star Joyce Di Donato sings the trouser role of Romeo with the young Ukrainian soprano Olga Kulchynska as Giulietta by her side.

Fabio Luisi Conductor
Christof Loy Staging
Christian Schmidt Set and Costume designer
Franck Evin Lighting designer
Jürg Hämmerli Choirmaster

Joyce DiDonato Romeo
Olga Kulchynska Giulietta
Benjamin Bernheim Tebaldo
Roberto Lorenzi Lorenzo
Alexei Botnarciuc Capellio
Gieorgij Puchalski The companion

Philharmonia Zürich
Chor der Oper Zürich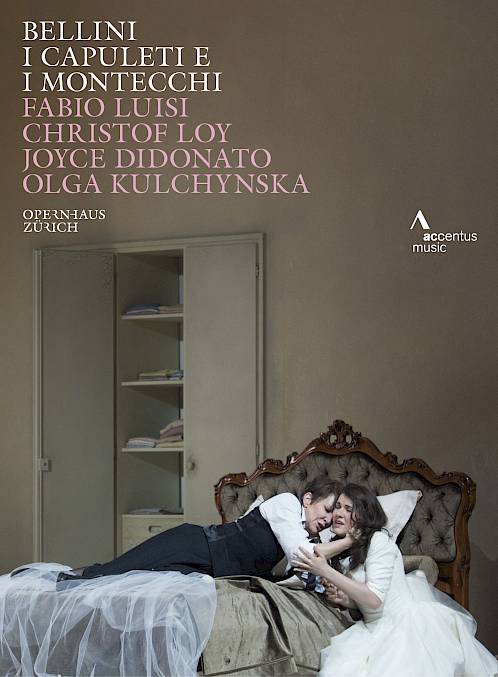 Vincenzo Bellini
I Capuleti e i Montecchi
Recorded live at the Zurich Opera House, June 2015
in Italian
Subtitles: German, English, French
DVD 139.03 min
Picture Format NTSC 16:9
Sound Formats PCM Stereo, Dolby Digital 5.1, DTS 5.1
Region Code 0 (worldwide)
Disc Format DVD-9
FSK 0
DVD:
CHF 32
Blu-Ray:
CHF 45
inkl. VAT., plus CHF 5 shipping cost
Please note that any customs duties may apply to deliveries abroad.