Tchaikovsky: Nutcracker and Mouse King
Thanks to Piotr Tchaikovsky's catchy music, The Nutcracker is one of the most popular works in the ballet repertoire. In his acclaimed version for Ballett Zürich, Christian Spuck returns to the Christmas ballet's original plot and transforms it into a poetical and fantastical production.
E.T.A Hoffmann's darkly romantic fairy tale «Nussknacker und Mausekönig» forms the core of Christian Spuck's work. Conventional ballet productions often neglect and simplify the literary source. Here, both the – often omitted – fairy tale about Princess Pirlipat and the story of the Prince turned into a wooden Nutcracker are part of the ballet.
On stage, Drosselmeier's workshop is transformed into an old revue theatre in which Hoffmann's bizarre figures come to life. In his choreography, Christian Spuck plays with the richness of these figures, with the absurdity and the exaggerated humour of Hoffmann's narrative cosmos, and draws on the sinister fantasy of the German writer.
Christian Spuck's «Nussknacker und Mausekönig» is a game of imagination and reality that skillfully jumps back and forth between several narrative levels and revives all facets of the fairy tale. It was enthusiastically acclaimed during a guest performance of Ballett Zürich at Moscow's legendary Bolshoi Theatre.
Paul Connelly Conductor
Christian Spuck Choreographer and Stage Director
Rufus Didwiszus Set Designer
Martin Gebhardt Light Designer
Buki Shiff Costume Designer
Michael Küster, Claus Spahn Dramaturgy

Ballett Zürich
Junior Ballett
Philharmonia Zürich
Children's Choir and SoprAlti of the Opernhauses Zürich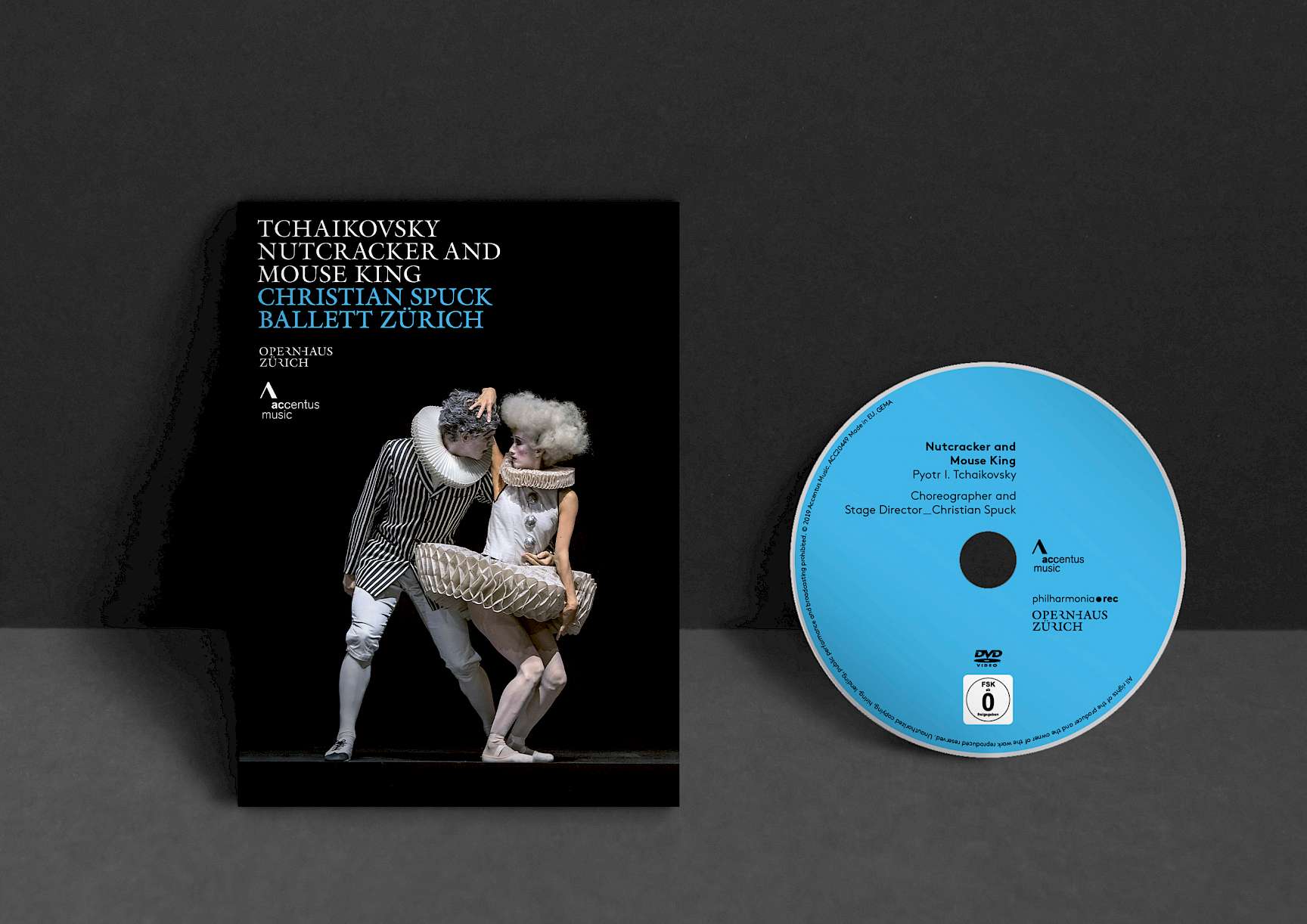 Pyotr I. Tchaikovsky
Nutcracker and Mouse King

Recorded live at the Opernhaus Zürich, April 2018
Picture Format NTSC 16:9, Full HD
Sound Formats DTS HD Master Audio, PCM Stereo
Region Code 0
Running Time 110:21
Disc Format BD 25
Item Number ACC10449
EAN Code 42 6023483 203 7
GLN 42 6023483 000 2
FSK 0
Price Code 2112
DVD:
CHF 32
inkl. Mwst., zzgl. CHF 5 Versandkosten
Please note that any customs duties may apply to deliveries abroad.
As orders from abroad sometimes incur disproportionately high customs duties, we recommend buying via Amazon for orders outside Switzerland. You can find the DVD here.