Verdi: Simon Boccanegra
Intrigue, family tragedies, power struggles - these words aptly describe Verdi's opera Simon Boccanegra. The composer himself once said "The piece is dark because it has to be, but it is gripping." And the opera, in which it is primarily the men who guide the story and in which there is only one female role, has been experiencing a renaissance at the world's great opera houses in recent years.
In December 2020, Andreas Homoki's new production premiered at the Opernhaus Zürich. Christian Gerhaher made his celebrated role debut as Simon Boccanegra - due to a pandemic, only in front of 50 people in the hall and with the orchestra placed in the rehearsal room at Kreuzplatz, 1km away. But the opera was also broadcast live on TV, directed by Michael Beyer. The critics raved: «One experiences facial expressions and gestures almost up close, realizing only in the close-up how involved the protagonists are in the action down to every blink of an eye.» (FAZ)
Conductor Fabio Luisi
Stage Director Andreas Homoki
Set and Costume Designer Christian Schmidt
Lighting Designer Franck Evin
Chorus Master Janko Kastelic
Dramaturgy Fabio Dietsche

Simon Boccanegra Christian Gerhaher
Amelia Grimaldi Jennifer Rowley
Jacopo Fiesco Christof Fischesser
Gabriele Adorno Otar Jorjikia
Paolo Albiani Nicholas Brownlee
Pietro Brent Michael Smith
Philharmonia Zürich
Chor der Oper Zürich
Statistenverein am Opernhaus Zürich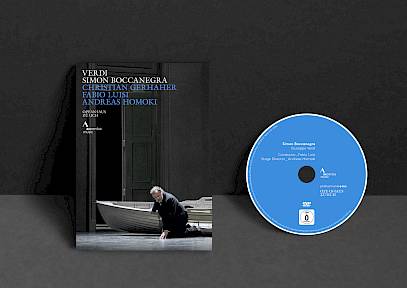 Giuseppe Verdi
Simon Boccanegra

Recorded live at Opernhaus Zürich
December 2020
Bildformate NTSC 16:9
Tonformate PCM Stereo, Dolby Digital 5.1, DTS 5.1
Region Code 0
Laufzeit 142:13
Diskformat DVD 9
DVD:
CHF 32
Blu-Ray:
CHF 45
inkl. Mwst., zzgl. CHF 5 Shipping costs
Please note that customs duties may apply for deliveries abroad.
As orders from abroad sometimes incur disproportionately high customs duties, we recommend buying via Amazon for orders outside Switzerland. You can find the DVD here.