Verdi
Rigoletto
Fabio Luisi conducts the Philharmonia Zurich for the label release
Grand festivities are held at the court of the Duke of Mantua. But the community which enjoys itself no longer knows values and amuses itself out of deadly boredom. The most cynical of all is court jester Rigoletto. He only wants to protect his daughter Gilda against the depraved world. He prohibits her everything – the young woman, however, goes her own way. On the first DVD of the new label Philharmonia Records we present Giuseppe Verdi's popular opera «Rigoletto» live from the Opernhaus Zürich. Therewith, Director Tatjana Gürbaca – chosen as the Director of the Year 2013 by the «Opernwelt» – succeeded in producing a scenically reduced as well as expressively poetic production, acclaimed by press and public alike. Fabio Luisi, general music director of the Opernhaus Zürich and one of the leading interpreters of Italy's opera repertory, stands at the desk of the Philharmonia Zürich.

Conductor__Fabio Luisi
Stage Director__Tatjana Gürbaca
Set and Lightning Designer__Klaus Grünberg
Costume Designer__Silke Willrett
Chorus Master__Ernst Raffelsberger

Il Duca di Mantova__Saimir Pirgu
Rigoletto__George Petean
Gilda__Aleksandra Kurzak
Sparafucile__Andrea Mastroni
Maddalena__Judith Schmid
Giovanna__Julia Riley
Il Conte di Monterone__Valeriy Murga
Marullo__Cheyne Davidson
Borsa__Dmitry Ivanchey
Il Conte di Ceprano__Yuriy Tsiple
La Contessa di Ceprano__Deanna Breiwick
Paggio della Contessa__Dara Savinova
Usciere__Roberto Lorenzi

Philharmonia Zürich
Chor der Oper Zürich
DVD:
CHF 37
inkl. Mwst., zzgl. CHF 5 shipping cost
Please note that any customs duties may apply to deliveries abroad.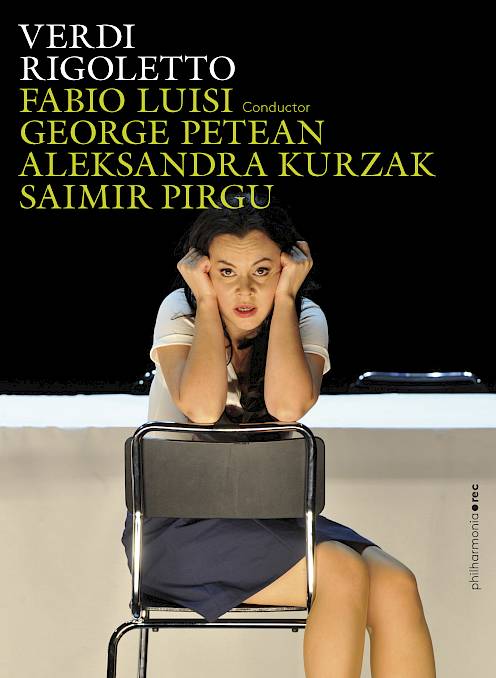 Giuseppe Verdi
Rigoletto
A stage performance of the Opernhaus Zürich, June 2014
In italian
Subtitles: German, English, French
Bonus: Tatajana Gürbaca and Fabio Luisi in conversation with Claus Spahn
DVD 124.39 min + 15.07 min Bonus
Picture Format DVD NTSC 16:9
Sound Formats DVD PCM Stereo, Dolby Digital 5.1, DTS 5.1
Region Code 0 (weltweit)
Disc Format DVD-9
FSK 0
VIDEO
Claus Spahn, dramatic adviser talks to General Music Director Fabio Luisi and to director Tatjana Gürbaca about their Rigoletto production.
https://www.youtube.com/watch?v=l2zCwLJl_SM (403)