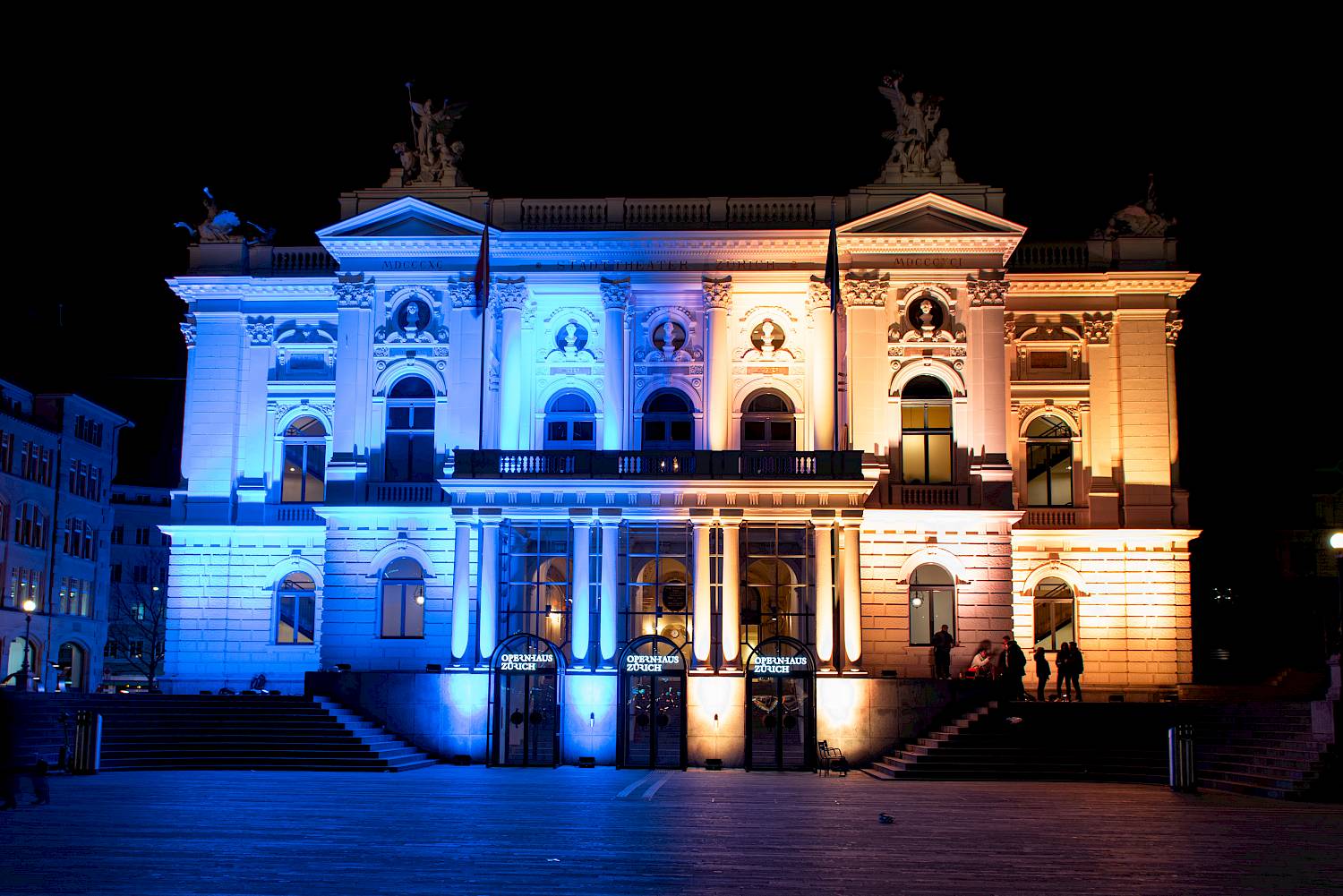 &nbsp
Fundraising Concert for Ukraine
War is happening in Europe. More than a million people are fleeing, mostly women, children, old people. We are all deeply shocked and looking for ways to help. The Opernhaus has been illuminated in the colors of Ukraine every evening for more than a week now. However, it is our wish to go beyond the symbolic - together with you.
On Friday, March 11, we therefore invite you to a fundraising concert. Donations can be made in the amount of  50, 100, 200, 500, and 1'000 Swiss francs, depending on individual financial means. Please make your contribution and help us to raise as much money as possible for the victims of this senseless war! As a thank you for your donation we will treat you to a concert. As a sign of solidarity with Ukraine, the Ukrainian and Russian artists from the Opernhaus will perform arias and songs together with international soloists including Thomas Hampson, Benjamin Bernheim, Rebeca Olvera, Lawrence Brownlee, George Petean, and many others, together with members of the International Opernstudio. All of the artists spontaneously agreed to perform and have waived their fees. The Orchestra La Scintilla will perform Yuri Shevchenko's Wir sind, a version of the Ukrainian national anthem. The work was conceived in 2014, on a cold winter's night spent on the Maidan in Kyiv. Yuri  Shevchenko says about the piece, «It should ring out as a calm and luminous prayer for Ukraine and the whole of the world».  The Chorus will contribute performances of the Chorus of the Refugees Patria oppressa from Verdi's opera Macbeth as well as Ukrainian 
folksongs. The Ballett Zürich will also appear in the program.  
All donations will go to the «Schweizerisches Rotes Kreuz» («Swiss Red Cross»). This financial contribution is intended to provide direct help in this humanitarian emergency.  We are grateful that we can also count on you and your generous donation!

Many thanks for the numerous and generous donations! All tickets have been given away.
To date, donations of around CHF 180,000 have been received and after only six hours all concert tickets were given away. This great gesture of solidarity moves us and our artists from the war region very much. If you would still like to give a donation (without a ticket for the fundraising concert), you can do so here. Here you can also donate to the Swiss Red Cross or read about what the aid organization does in detail.
Konzertprogramm
Yuri Shevchenko
Wir sind (Paraphrase der ukrainischen Nationalhymne für Solovioline und Streichorchester (2014))
Johann Adolf Hasse
Sinfonia op. 3 no 3 in D-Dur (Ouvertüre zu Cleofide)
Orchestra La Scintilla
Leitung und Soloviolione Bartek Niziol

Giuseppe Verdi
Patria oppressa (Chor aus Macbeth)
Chor der Oper Zürich
Leitung Janko Kastelic
A la paterna mano (Arie aus Macbeth)
Tenor Omer Kobiljak

Ukrainisches Volkslied
Schtschedryk  (Wunschlied)
Sopran Lidiya Filevych
Tenor Nazariy Sadivskyy
Klavier Esteban Dominguez Gonzalvo

Ukrainisches Volkslied
Segne, meine Seele, den Herrn
Chor der Oper Zürich
Leitung Janko Kastelic

Georg Friedrich Händel
Why do the nations so furiously rage together? (aus Messiah)
Bariton Cheyne Davidson
Klavier Enrico Cacciari
 
Claudio Monteverdi
Interrotte speranze (aus Monteverdi)
Inna Bilash
Cohen Aitchison-Dugas
Choreografie Christian Spuck

Ukrainisches Lied
Die Mondnacht ist so hell und klar
Bariton Valeriy Murga
Klavier Anna Hauner

Wolfgang Amadeus Mozart
Soave sia il vento (aus Così fan tutte)
Sopran Rebeca Olvera
Mezzosopran Sarah Castle
Bariton Yannick Debus
Klavier Anna Hauner

Frederyk Chopin
Nocturne
Katja Wünsche
 Alexander Jones
Choreografie Christian Spuck

Spiritual
All night, all day
Tenor Lawrence Brownlee
Klavier Marie-Eve Scarfone

Ukrainisches Lied
Ich gehe durch den Garten
Bass-Bariton Ilya Altukhov
Klavier Alina Shevchenko
Pause
Giuseppe Verdi
Dio, che nell'alma infondere amor (Duett Don Carlo/Marchese di Posa aus Don Carlo)
Tenor Benjamin Bernheim
Bariton George Petean
Klavier Andrea Del Bianco

Claudio Monteverdi
Lamento della ninfa (aus Monteverdi)
Michelle Willems
Esteban Berlanga
Jan Casier
William Moore
Choreografie Christian Spuck

Dmitri Schostakowitsch
Gamajun, der Kündevogel (aus Sieben Lieder nach Texten von Alexander Blok)
Sopran Laura Aikin
Klavier Anna Hauner

Gustav Mahler
Lied des Verfolgten im Turm
Bariton Thomas Hampson
Klavier Esteban Dominguez Gonzalvo

Jules Massenet
Adieu notre petite table (aus Manon)
Sopran Sandra Hamaoui
Klavier Marie-Eve Scarfone

Claudio Monteverdi
Si dolce il tormento (aus Monteverdi)
Emma Antrobus
Cohen Aitchison-Dugas
Iacopo Arregui
Choreografie Christian Spuck

Italienisches Partisanenlied
Bella Ciao
Bariton Pietro Spagnoli
Klavier Enrico Cacciari

Kostiantin Dankevych
Nebo bezzoryane (Monolog des Bogdan aus der Oper Bogdan Khmelnytsky)
Bariton Vladislav Tlushch
Klavier Alina Shevchenko