Biber Farina Pachelbel
Italian and German music from the 17th century
With compositions by H. I. F. Biber, G. B. Buonamente, Dario Castello, Johann Pachelbel, J. H. Schmelzer, Tarquinio Merula, J. H. Kapsberger, Biagio Marini and Carlo Farina
October 2023
Biber Farina Pachelbel
1st La Scintilla Concert, La Scintilla subscription
Biber Farina Pachelbel
Abstract
Biber Farina Pachelbel
The first La Scintilla concert of the season, conducted by Riccardo Minasi, features 17th-century works written north and south of the Alps. The composer Carlo Farina plays a connecting role between these two worlds: born in Mantua in 1600, he led a constant itinerant life that has been recorded only in fragments and ends in Vienna in 1639. His journey took him to Dresden, for example, where he was the only Italian employed in the court orchestra at the time. Farina's music mixes Italian and German elements in a singular way. One can hear his Capriccio stravagante, in which he comically imitated animals and instruments. Johann Heinrich Schmelzer's Die Fechtschule and Heinrich Ignaz Franz Biber's La Battalia are in the same imitative tradition. In addition to various works from northern Italy, the programme also includes the famous Canon by Johann Pachelbel.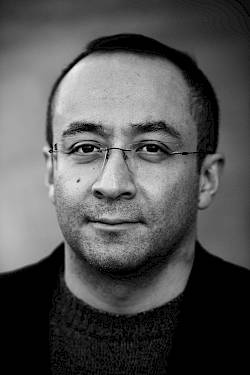 Riccardo Minasi, Music Direction
Riccardo Minasi
Riccardo Minasi wurde in Rom geboren. Er ist Musikdirektor der Opera Carlo Felice in Genua, erster Gastdirigent beim Hamburger Ensemble Resonanz und Künstlerischer Leiter des Orchestra La Scintilla, mit dem er bisher Opern wie Don Giovanni und Die Entführung aus dem Serail, das Musiktheater Monteverdi sowie zahlreiche Konzertprogramme, das Album Mozart mit Juan Diego Flórez und eine CD mit Vivaldis und Verdis Vier Jahreszeiten realisiert hat. Von 2017 bis 2022 war er Chefdirigent des Mozarteumorchesters Salzburg. Von 2012 bis 2015 leitete er das von ihm mitbegründete Ensemble Il pomo d'oro. Riccardo Minasi hat u. a. Aufnahmen mit Joyce DiDonato, Ann Hallenberg und Philippe Jaroussky eingespielt. 2016 war er an vier mit dem ECHO-Klassik ausgezeichneten Alben beteiligt, darunter Haydn-Konzerte sowie Leonardo Vincis Catone in Utica. Als Sologeiger nahm er u. a. die Rosenkranz-Sonaten von Biber auf. Er stand dem Orchestre Symphonique de Montréal als musikhistorischer Berater zur Seite und gab zusammen mit Maurizio Biondi die kritische Ausgabe von Bellinis Norma bei Bärenreiter heraus. Als Dirigent leitete er u. a. das Sinfonieorchester des Bayerischen Rundfunks, das Concertgebouw Orchester, die Staatskapelle Dresden sowie zahlreiche Opernorchester. Als Solist und Konzertmeister ist er u. a. mit dem Orchestra dell'Accademia Nazionale di Santa Cecilia, der Accademia Bizantina, Il Giardino Armonico und Le Concert des Nations aufgetreten. Ausserdem arbeitet er mit MusikerInnen wie Veronika Eberle, Bryn Terfel, Franco Fagioli, Jean-Guihen Queyras, Viktoria Mullova, Reinhard Goebel, Luca Pianca, Christophe Coin und Albrecht Mayer zusammen.
Biber Farina Pachelbel
04 Oct 2023
Così fan tutte
28 Jan; 03, 07, 10 Feb 2024
Wagner Mendelssohn Beethoven
25 Feb 2024
Bach
03 Jun 2024