Song Recital
Anita Rachvelishvili
The program will be announced at a later date.
Supported by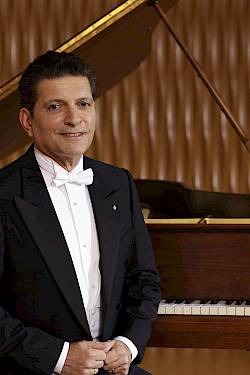 Vincenzo Scalera, Piano
Vincenzo Scalera
Vincenzo Scalera wurde als Kind italo-amerikanischer Eltern in New Jersey, USA, geboren und begann mit fünf Jahren Klavier zu spielen. Er wurde an der Manhattan School of Music ausgebildet und arbeitete als musikalischer Assistent an der New Jersey State Opera. In Italien setzte er sein Studium fort und wurde 1980 als Studienleiter und Pianist ans Teatro alla Scala in Mailand engagiert, wo er Dirigenten wie Claudio Abbado, Riccardo Chailly, Gianandrea Gavazzeni und Carlos Kleiber assistierte. Vincenzo Scalera gastierte bei vielen bedeutenden Festivals, etwa in Edinburgh, Martina Franca, Jerusalem und Istanbul, beim Les Chorégies d'Orange, beim Carinthischen Sommer, den Salzburger Festspielen und beim Rossini Opera Festival in Pesaro und hat dabei berühmte Sängerinnen und Sänger begleitet, darunter Carlo Bergonzi, Andrea Bocelli, Montserrat Caballé, José Carreras, Juan Diego Flórez, Leyla Gencer, Vittorio Grigolo, Sumi Jo, Raina Kabaivanska, Katia Ricciarelli, Renata Scotto, Cesare Siepi und Lucia Valentini Terrani. Zu seiner Diskografie zählen Aufnahmen mit Sumi Jo (La Promessa), Renata Scotto (Complete Songs of Verdi), Carlo Bergonzi (Canzone: The Art of Bel Canto und Carlo Bergonzi in Concert) und José Carreras (Comeback Concerts) sowie die kürzlich veröffentlichte Aufnahme eines Rezitals mit Anita Rachvelishvili. Rezitale mit José Carreras wurden für TV-Übertragungen aufgenommen: In Vienna, In Concert und Comeback Concert in Spain. In der Saison 2020/21 trat er mit Sondra Radvanovsky und Piotr Beczała in einem live gestreamten Konzert der Metropolitan Opera, New York, auf. Als Cembalist ist er im Soundtrack der Verfilmung von La Cenerentola sowie in der weltweit ersten Aufnahme von Il viaggio a Reims zu erleben, beide unter Claudio Abbado. Vincenzo Scalera lehrt derzeit an der Accademia d'Arti e Mestieri dello Spettacolo des Teatro alla Scala in Mailand.
Liederabend Anita Rachvelishvili
04 Apr 2024