Concert and discussion with Helmut Lachenmann
Anton Webern / Johann Sebastian Bach
«Ricercar a 6» from the «Musical Offering» BWV 1079
Helmut Lachenmann
«Kinderspiel» for Piano
Luigi Nono
«Polifonica – Monodia – Ritmica»
Helmut Lachenmann
«Pression» for a Cellist
Anton Webern
Five Pieces for Orchestra op. 10
Helmut Lachenmann
«temA» for Mezzosoprano, Flute and Violoncello
The Studiobühne in the third underground floor of the Opera House can only be reached via 52 stair steps and is therefore not accessible for wheelchair users.
Concert and discussion with Helmut Lachenmann
Abstract
Concert and discussion with Helmut Lachenmann
At this concert, the Ensemble Opera Nova, which consists of members of the Philharmonia Zurich, will play existing works by Helmut Lachenmann and composers to whom he feels especially attached. In conversation with Dramatic Adviser Claus Spahn, Helmut Lachenmann will provide insights into his work as a composer.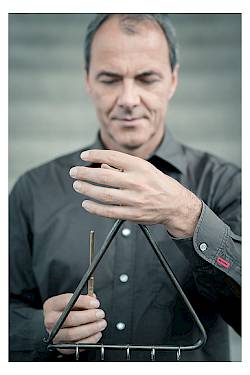 Hans-Peter Achberger, Dirigent
Hans-Peter Achberger
Hans-Peter Achberger studierte Schlagzeug und Dirigieren am Konservatorium Feldkirch und der Musikhochschule Zürich sowie Philosophie und Musikwissenschaften an den Universitäten Freiburg in Breisgau und Zürich. Seit 1995 ist er Solo-Schlagzeuger der Philharmonia Zürich. Als Dirigent, insbesondere der neueren Musik, führten ihn Konzertreisen bis nach Südamerika und Japan. Am Opernhaus dirigierte er zuletzt Gustav Mahlers Lied von der Erde in der Fassung von Arnold Schönberg, ein Programm mit Werken von Yannis Xenakis sowie das Orchesterwerk glut von Dieter Ammann. Zudem widmet er sich am Opernhaus Zürich dem Wiederaufbau des Ensembles Opera Nova.
Concert and discussion with Helmut Lachenmann
08 Nov 2019