News from the Opernhaus Zürich
«GIRL WITH A PEARL EARRING» IST URAUFFÜHRUNG DES JAHRES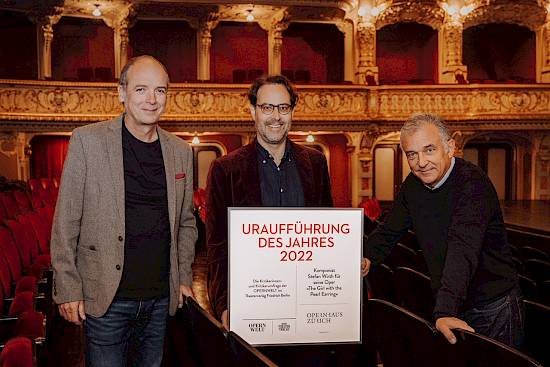 30. September 2022
Das Opernhaus Zürich freut sich über die Auszeichnung «Uraufführung des Jahres» für die Auftragskomposition «Girl with a Pearl Earring». Mit dem Musiktheaterwerk wurde der Schweizer Komponist Stefan Wirth (*1975) beauftragt, der zu den grossen Talenten der jüngeren Generation gehört und damit seine erste Oper überhaupt schrieb. Als literarische Vorlage diente der gleichnamige Roman der US-amerikanischen Bestsellerautorin Tracy Chevalier. Die Malerikone Jan Vermeer war Thomas Hampson. Die junge Amerikanerin Lauren Snouffer sang Griet, das Mädchen mit dem Perlenohrring. Ted Huffman führte Regie. Musikalisch hob Peter Rundel am Pult der Philharmonia Zürich das Werk aus der Taufe.
«Die Oper, das unmögliche Kunstwerk lebt – der neuen Werke wegen, die sie auf die Bühne bringt, wie «Girl with a Pearl Earring». (Jahrbuch Opernwelt 2022) Das renommierte Fachmagazin «Opernwelt» gibt einmal jährlich sein Jahrbuch Oper heraus. Über 40 Kritikerinnen und Kritiker nennen in einer umfangreichen Befragung ihre Highlights der zurückliegenden Opernsaison.
Andreas Homoki (Intendant Opernhaus Zürich):
«Über die Auszeichnung «Uraufführung des Jahres» freuen wir uns besonders, da wir mit «Girl with a Pearl Earring» den Beweis antreten konnten, dass eine avancierte Musiksprache in der Lage ist, ein grosses Publikum zu erreichen und nicht an den Rand des Repertoires gehört. Stefan Wirth gehört einer jungen Komponistengeneration an, die sich wieder zum Geschichten erzählen, zu schönen Stimmen, sinnlicher Musik und zu grossen Orchestern bekennen und gleichzeitig Experten der zeitgenössischen Musik sind. Die bei Publikum und Presse äusserst erfolgreiche Produktion ist eine Kombination aus dieser Musiksprache, einem attraktiven und bekannten Stoff, einem Regisseur der sich mit seinem bildstarken und sinnlichen Stil der Komposition gewidmet hat und einem hochkarätig besetzten Ensemble».
BALLET DIRECTOR AND OPERA DIRECTOR TO JOIN MATTHIAS SCHULZ'S NEW TEAM
29 March 2022
Matthias Schulz, the designated Intendant of the Opernhaus Zürich, has secured two key appointments for the house's artistic direction of the house in preparation for his directorship beginning in the 2025/26 season.
At the request of Matthias Schulz, who is currently director of the Staatsoper Unter den Linden Berlin, the Opernhaus Zürich AG has extended the contracts of the designated ballet director Cathy Marston, and the current opera director Annette Weber, who has been in office since August 2021, beyond 2025. British-born Cathy Marston will succeed Christian Spuck at Ballett Zürich for the 2023/24 season.
Matthias Schulz (Intendant of the Opernhaus Zürich starting in 2025/26): «I have a very strong artistic connection with Cathy Marston and Annette Weber from the very start, and we were quickly able to develop a common understanding. It is of tremendous value to me that we can think together about the new direction and development of the ballet company and the opera ensemble. Cathy Marston and Annette Weber are both insightful, curious and creative personalities, and they will guarantee both a smooth transition phase and a new artistic beginning».
Cathy Marston (Ballet Director and Principal Choreographer Ballett Zürich starting in 2023/24): «I'm thrilled at the prospect of directing the Ballett Zürich over a substantial period of time, collaborating with both Andreas Homoki, in his final two seasons, and Matthias Schulz, as a new chapter begins at the Opernhaus Zürich. I look forward to leading this wonderful ballet company into a new artistic era, building relationships with the exceptional team on stage and behind the scenes, as well as both existing and potential dance-lovers in Zurich and beyond.».
Annette Weber (Opera Director since August 2021): «The Opernhaus Zürich has grown very close to my heart over the past six months. I am so pleased that I'll be able to continue my work here under the artistic directorship of Matthias Schulz. We are already working together on planning future programs. Works from the 20th century and Baroque operas are just as dear to his heart as they are to mine».
RICCARDO MINASI TO BE FIRST ARTISTIC DIRECTOR OF THE ORCHESTRA LA SCINTILLA 
January 7th 2022
Riccardo Minasi has been appointed as first Artistic Director of the Orchestra La Scintilla. The Italian violinist and conductor has enjoyed a close working relationship with the historical performance practice ensemble since 2015. Together they've performed Mozart's «Don Giovanni» and «Die Entführung aus dem Serail» at the Opernhaus Zürich, presented a multitude of concert programs, and recorded the «Mozart» album with Juan Diego Flórez, as well as a CD with Vivaldi's and Verdi's «Four Seasons». Minasi will appear again with the ensemble for the «Monteverdi» ballet production beginning 15 January. This season also sees him musically direct the revival of «Il turco in Italia», as well as the two «A night at the opera-pit» concerts, and «Johann Christian Bach».
«I am so pleased that we have engaged Riccardo Minasi, one of the most distinguished conductors and experts in historically informed performance practice, as Artistic Director of the Orchestra La Scintilla. With this appointment, the Opernhaus Zürich continues a tradition founded by Nikolaus Harnoncourt, from which La Scintilla emerged more than 20 years ago – the only historically informed performance practice orchestra in the world whose members are also part of a permanent opera orchestra. The Opernhaus sees this newly created position of Artistic Director of this exceptional ensemble as a visible sign of its sustained commitment to a lively engagement with historical performance practice. »
Andreas Homoki (Intendant of the Opernhaus Zürich)
«I am extremely happy to welcome Riccardo Minasi to the Opernhaus family as Artistic Director of La Scintilla. I am sure that his knowledge, enthusiasm, and inspiration, along with his fruitful relationship with La Scintilla, will bring extra excitement to Zurich. »
Gianandrea Noseda (General Music Director)
«I think that no other institution has been more meaningful to me over the years than Opernhaus Zürich. Thanks to the support and trust of the whole house, I have had some of the most important experiences of my musical life here. Working together on a regular basis with La Scintilla – an ensemble with an exemplary tradition maintained vividly for so many years thanks to the enthusiasm of its artists – is a great honor, and I'm extremely thankful to all the musicians and the administration of the orchestra for their support. I can't wait to begin! »
Riccardo Minasi (Artistic Director of the Orchestra La Scintilla) on his appointment
Born in Rome, Minasi has quickly earned a reputation as on one of the most exciting talents to emerge on the European scene in recent years. Minasi's performances are characterized by a deep understanding of musicology. He is the Chief Conductor of the Mozarteumorchester in Salzburg and Artist in Residence with the Ensembles Resonanz at the Elbphilharmonie in Hamburg. In recent years, he has led numerous orchestras and ensembles, including the London Chamber Orchestra, the Concerto Köln, the NDR Radiophilharmonie Hannover, the Academy of Ancient Music, the Konzerthausorchester Berlin, the Tokyo Metropolitan Orchestra, the Orchestre National de Lyon, the Orchestre de Chambre de Lausanne, the Basler Kammerorchester, the Philharmonische Staatsorchester Hamburg, the Los Angeles Chamber Orchestra, and many others. His most recent operatic engagements have led him to houses such as the Salzburg Festival, the Hamburger Staatsoper, the Opéra National de Lyon, the Theater an der Wien as well as the Dutch National Opera. Riccardo Minasi has made recordings with Joyce DiDonato, Ann Hallenberg, and Philippe Jaroussky.
He has appeared as a soloist and concert master with the Orchestra dell'Accademia Nazionale di Santa Cecilia, the Accademia Bizantina, Il Giardino Armonico, Le Concert des Nations, Al Ayre Español, the Orquesta Barroca de Sevilla, and the Orquesta Sinfónica de Madrid. In addition, he has worked together with musicians such as Veronika Eberle, Bryn Terfel, Franco Fagioli, Jean-Guihen Queyras, Viktoria Mullova, Reinhard Goebel, Luca Pianca, Christophe Coin, and Albrecht Mayer.
MATTHIAS SCHULZ TO BE NEW INTENDANT FROM 2024/25
6 December 2022
Matthias Schulz was introduced as the new artistic director of Opernhaus Zürich at a press conference today by Markus Notter, President of the Board of Directors of Opernhaus Zürich AG. The 44-year-old succeeds Andreas Homoki, who has led the house since 2012 and will step down from the post at his own request in 2025. Matthias Schulz, current artistic director of Berlin's Staatsoper Unter den Linden, will take up his post in Zurich at the start of the 2025/26 season on 1 August 2025. In the spirit of continuity, the Bavarian-born director will be available for an organic handover and induction from 1 August 2024.
NEW BALLET DIRECTOR FROM 2023/24 / 15. June 2021
15. June 2021
Renowned choreographer Cathy Marston will take over as new Ballet Director and Chief Choreographer of the Ballett Zürich. For an initial period of two years, this British-born, Swiss-bred artist will succeed Christian Spuck for the 2023/24 season, after he takes over artistic directorship of the Staatsballett Berlin. Spuck has successfully led the Ballett Zürich since 2012, and his switch to Berlin with the 2023/24 season will see him leading Germany's largest independent ballet company.
Cathy Marston received her dance training in Cambridge and at the Royal Ballet School in London. From 1994-1999 she danced with the Ballett Zürich, the Ballett des Luzerner Theaters, and the Konzert Theater Bern. She was an Associate Artist of the Royal Opera House in London from 2002-2006 and Ballet Director at the Konzert Theater Bern from 2007-2013. While at the latter, she created countless world premieres as principal choreographer, and led the ballet from the brink of closure to a flourishing period of ensemble work. Marston has been active as a successful and sought-after freelance choreographer for years, appearing as a guest at numerous companies and institutions the world over. She has created works for the Royal Ballet, the Royal Danish Ballett, the English National Ballet, the Finnish National Ballet, the Ballet Black, Danza Contemporánea de Cuba, as well as for Opera Australia and the Hong Kong Academy of Performing Arts. In recent years, she's appeared more often in the United States, appearing with the San Francisco Ballet, the American Ballet Theatre, and the Joffrey Ballet in Chicago. Engagements closer to home have seen her works take the stage at the Oper Graz, as well as with the ballet companies in Basel, St. Gallen and at the Musiktheater im Revier.
Cathy Marston offers new perspectives to existing narratives, engaging with historical personalities in ways both unusual and original, finding unexpected common ground in the process. She has won several awards for her choreographic work, including a South Bank Sky Arts Award and the British National Dance Award. She was awarded with the Excellence in International Dance prize in 2020 from the «International Institute for Dance and Theatre».
Cathy Marston (Ballet Director and Chief Choreographer designate): «I am thrilled to take forward the direction of Zurich Ballet, building on the wonderful work of my colleague, Christian Spuck. Under his direction Zurich Ballett has welcomed many of the definitive choreographic voices of our time and been a hothouse of creation. I look forward to expanding this portfolio even further through my own choreography and curation, collaborating with the company's versatile and beautiful dancers as well as the brilliant production team, and bringing the era of Andreas Homoki at Zurich Opernhaus to an inspiring conclusion».
SEARCH COMMITTEE BEGINS ITS WORK
15. June 2021
The Board of Directors has created a six-member search committee to find a new artistic director for the Opernhaus Zürich, whose tenure will begin with the 2025/26 season. The successor to Andreas Homoki – who has decided to bring his tenure to a close in 2025, after 13 years – is set to be presented by the end of this year. The committee will target qualified candidates with international reputations for the leadership of Switzerland's largest cultural institution.
Leading the committee is Markus Notter, President of the Board of Directors of the Opernhaus AG. The other members of the committee include Jacqueline Fehr, president of the Cantonal Government, Madeline Herzog, Director of the Department of Culture, and Peter Wuffli, Vice-President of the Board of Directors. In Laura Berman, director of the Hanover State Opera, and Nora Schmid, director of the Opera Graz as well as designated director of the Saxon State Opera Dresden, two experienced and distinguished experts in music theatre have been gained. The committee is rounded out by Christian Berner, the current Commercial Director of the Opernhaus.
DEVELOPMENTS IN COMMERCIAL DIRECTION
15. June 2021
Christian Berner will join the Board of Directors of Opernhaus AG with the start of the 2023/24 season. As Delegate of the Board of Directors, he will continue to take on operational assignments. Berner has been employed at the Opernhaus since 2008 and was initially charged with undertaking the preparation and introduction of Homoki's artistic directorship. He has led the house as Commercial Director since 2013 and served as Deputy Artistic Director alongside Andreas Homoki. Christian Berner's move to the Board of Directors will guarantee continuity in the management of the house extending beyond the change in artistic direction.
He will be succeeded by the current Deputy Commercial Director, Marc Meyer, starting with the 2023/24 season. Meyer (44) has held his position since 2016. He completed his studies in dance in Zurich and Antwerp and had numerous engagements before studying law at the Universität Zürich and passing the bar exam. After working in the legal and business sectors, Meyer joined the Opernhaus Zürich in 2009 as a legal advisor. After an additional two-year program, he obtained the title of «Executive Master in Business Administration» from the Hochschule St. Gallen and was named Deputy Commercial Director of the Opernhaus Zürich in 2016. Marc Meyer also presided over the professional association Danse Suisse from 2016 to 2021.
Markus Notter, Chairman of the Board of Directors of the Opernhaus AG: «A change in artistic direction is an enormous challenge for any house. Christian Berner's appointment as Delegate to the Board of Directors will provide excellent support for the preparation and implementation of this period of transition. The appointment of Marc Meyer as Commercial Director is an efficient further development. In this way, the board of directors guarantees a reliable and continuous management structure. I am pleased that we have won Cathy Marston, an internationally renowned and respected choreographer, as Ballet Director. We thank Christian Spuck from the bottom of our hearts for the decisive role he has played during Homoki's tenure at the Opernhaus».