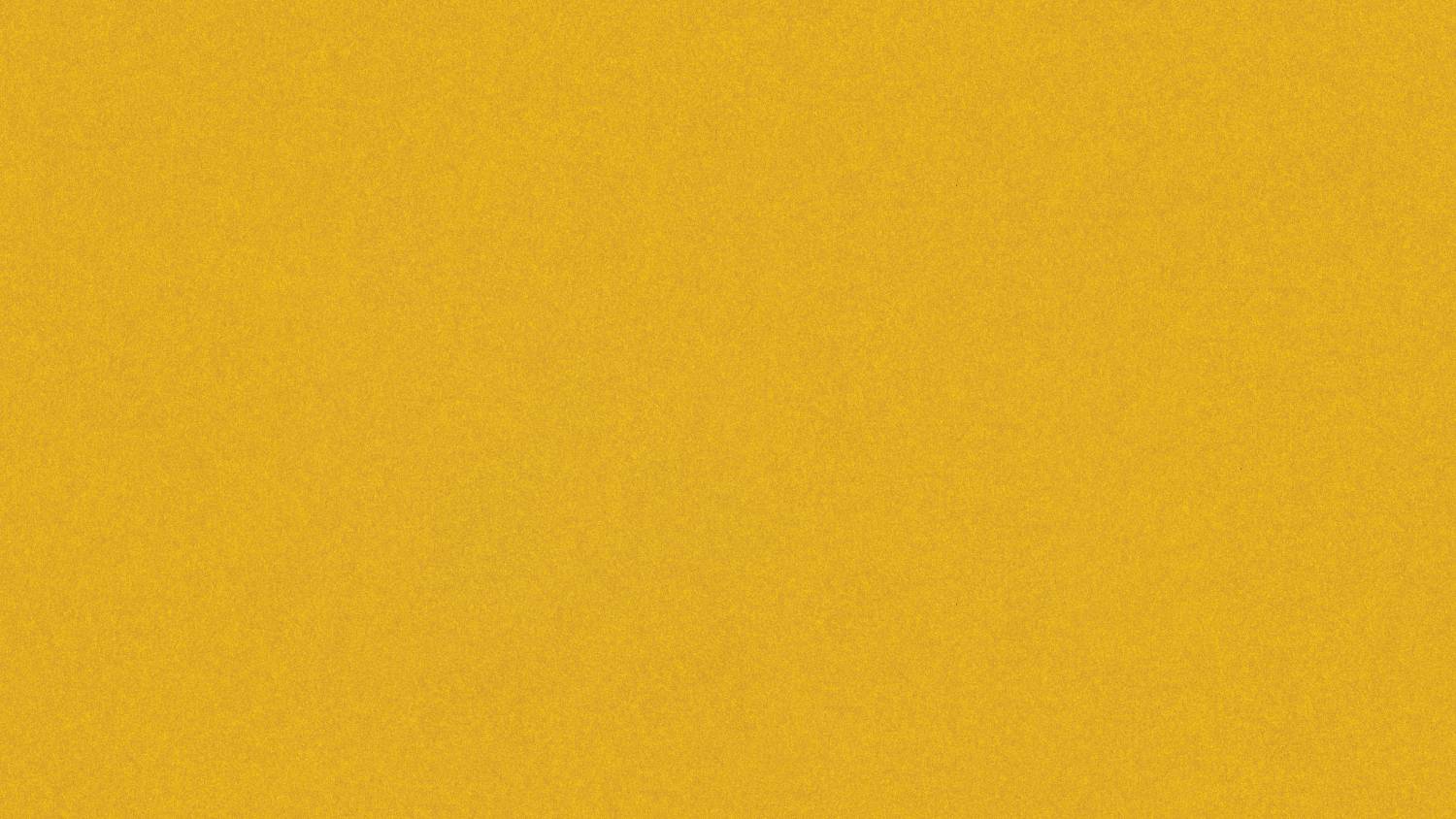 Der Ring des Nibelungen
«A stellar cast of singers, a fulsome, fiery orchestra and a clever and compelling staging that caught my attention from the very opening.»

bachtrack, 01.05.22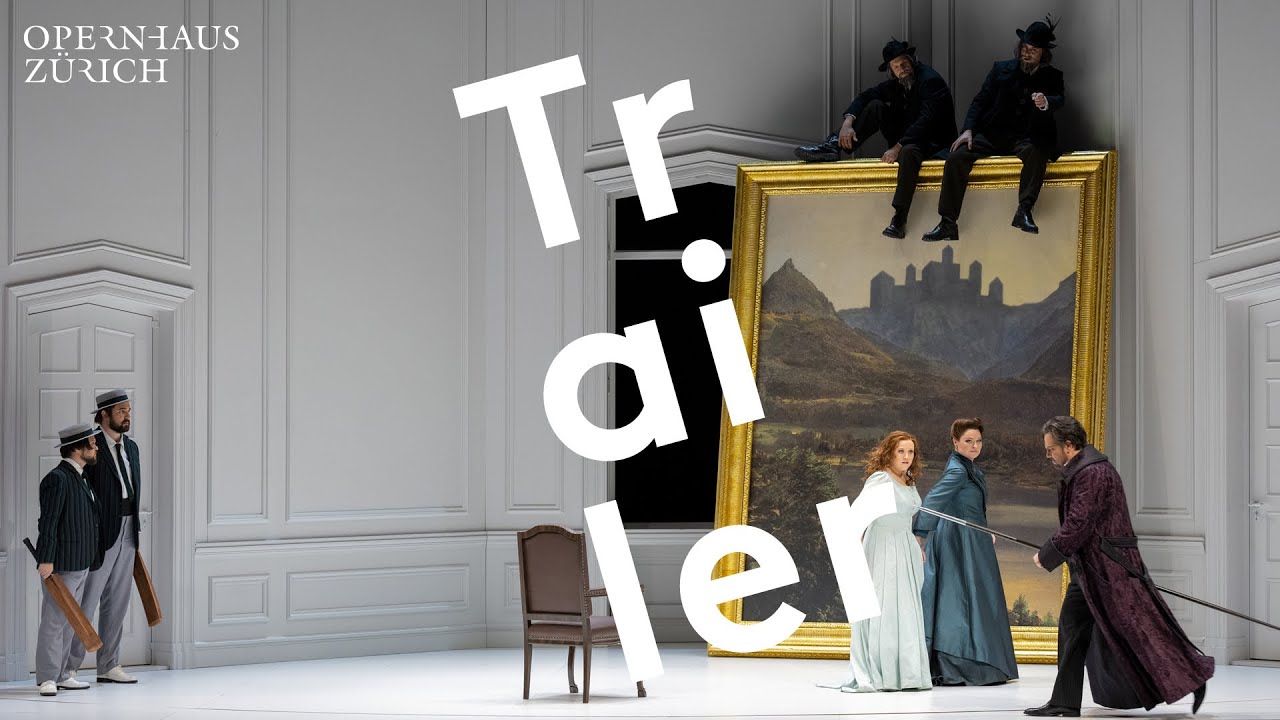 A new «Ring» for Zurich
Zurich is one of the birthplaces of Richard Wagner's Der Ring des Nibelungen. It was there that the German composer – at the time a wanted revolutionary in exile – first developed the idea of his opera cycle, drafted the story, put pen to paper, and composed large swaths of the score. For these reasons alone, the city has a link to this epic work, which comprises four evenings and 16 hours of music. Wagner's Ring fascinates audiences even today. It is a family story, with Wotan, the father of the gods, at its center, but it is also about the cosmology of an entire world, spanning its primitive origins to its end. It leads us dangerously close to the characters therein, and their desperate struggle for power, control, and love. But it also invites hints of a broader perspective, one critical of civilization, as it tells of gods, demi-gods, man, and mythical creatures – all progressing inexorably, and of their own accord, towards their own downfall. It is the story of a world stumbling into the abyss of its own destruction, making it more burningly relevant than ever today.
For any opera house, mounting a new Ring production is one of the greatest challenges the repertoire has to offer. The four works – each of them exceptionally long, and with vast demands when it comes to vocal casting, orchestra, and logistics – demand a house with tried and tested organizational structures, artistic experience, and long lead times. That is why the time is right for us to set off on a new Ring adventure in Zurich. Intendant Andreas Homoki has let his Ring concept, which he has been nourishing for some time, ripen in peace. Homoki will direct the cycle himself, with Gianandrea Noseda, the Opernhaus' new General Music Director, at his side. Noseda, who is comfortably at home in the Romantic operatic repertoire, will formally celebrate his arrival in Zurich with Wagner's tetralogy. Christian Schmidt, a master of creating imaginative, reality-shifting fantasy worlds, will design the sets and costumes. Of course, the fulcrum of every new Ring is the cast of singers that appear in the daunting leading roles. Here, too, Homoki's production offers nothing less than the exhilarating: the brilliant Camilla Nylund will give her role debut as Brünnhilde, and the internationally celebrated Wagnerian tenor Klaus Florian Vogt will take on the colossal role of Siegfried for the first time.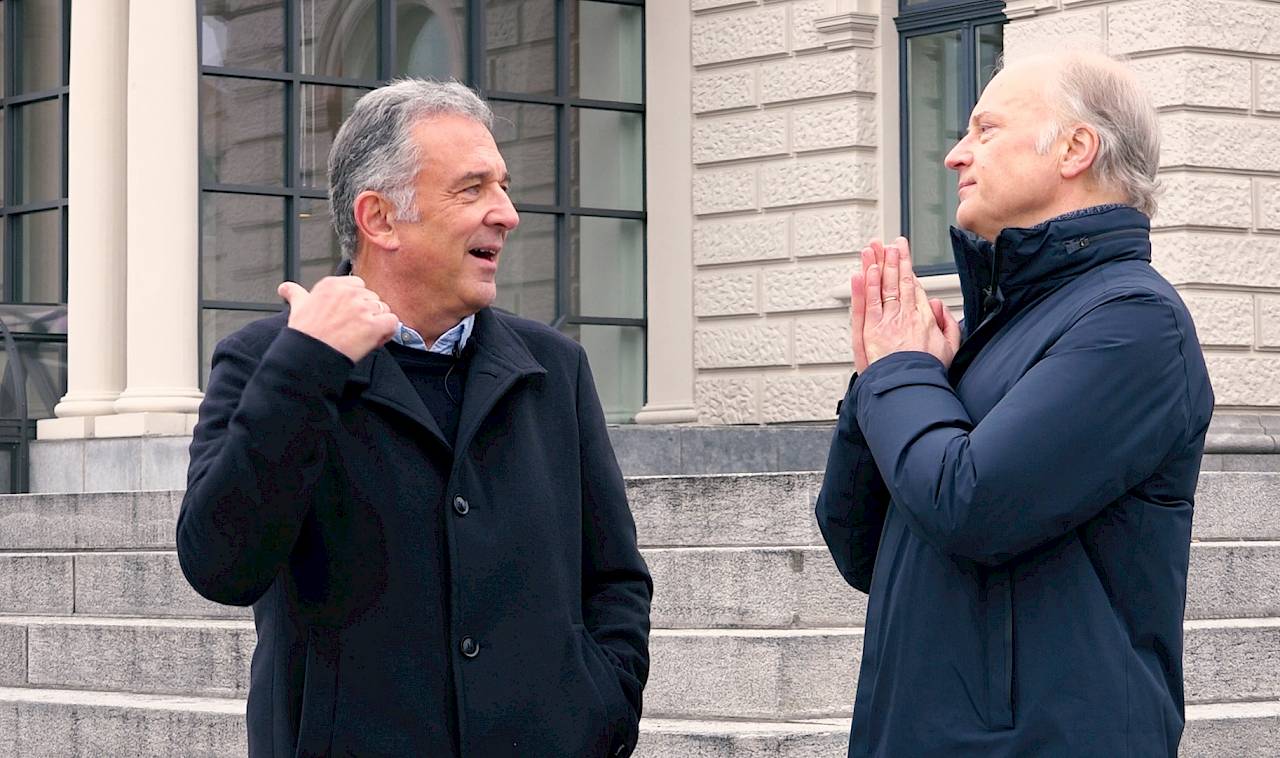 Andreas Homoki and Gianandra Noseda, the director and conductor, respectively, of the new Ring, set off in search of clues.
Principal Roles
Wotan/Der Wanderer Tomasz Konieczny
Alberich Christopher Purves
Mime Wolfgang Ablinger-Sperrhacke
Fricka Patricia Bardon
Freia Kiandra Howarth
Loge Matthias Klink
Erda Anna Danik
Fafner Oleg Davydov
Fasolt David Soar
Brünnhilde Camilla Nylund
Sieglinde Katie van Kooten
Siegmund Eric Cutler
Hunding Christof Fischesser
Siegfried Klaus Florian Vogt
Hagen David Leigh
Gunther Martin Gantner
Gutrune Lauren Fagan
Waltraute Agnieszka Rehlis
Light show: Das Rheingold
For all those who could not be there or who want to watch the light show in a loop, there is a recording of the light show at the opening of the new Zurich Ring. By the way: In September the light show will go into a second round for the premiere of Die Walküre!
Richard Wagner in Zurich
Anyone who has spent time studying Richard Wagner's association with Zurich is sure to have first learned of a scandal – his love affair with Mathilde Wesendonck, the wife of his friend and patron Otto Wesendonck. Wesendonck didn't just pay off Wagner's substantial debts, he also provided a place for the composer to live. The idyllically located cottage near the Villa Wesendonck, the site of the Museum Rietberg today, is known as Wagner's «Asyl». But Richard Wagner's connection to Zurich goes much further than just an affair: he lived here for nine years, longer than he spent in any other city. Large portions of his principal work, Der Ring des Nibelungen, were written here in Zurich, and he added immeasurably to the city's cultural life as a conductor, both of his and others' works. His years in Zurich were the busiest and most productive of his life.
When he arrived in Zurich in 1849, Wagner had lost everything. His private life had fallen apart, and his career was in ruins. The one-time Hofkapellmeister had unceremoniously fled Dresden and a warrant was out for arrest for his participation in the May Uprising. For the crime of high treason, he was threatened with a long prison term at least – and the hangman's noose was not out of the question.
Paris was the intended final destination of his escape, but after only eight days there he returned to Zurich. Once there, he initially found lodgings with fellow musician Alexander Müller. Müller had led performances of Wagner's Fliegender Höllander in Zurich in 1847, the first time any of Wagner's pieces had been presented in the Swiss city.
Shortly after his arrival, Wagner read portions of his Siegfried's Tod prose scenario for Müller and other friends. It was the nucleus of what would later become Der Ring des Nibelungen. When his family later joined him (in addition to his wife Minna, their daughter Natalie, and her dog and parrot) other accommodations had to be found. The financial hardship that followed them to their gloomy, cramped, and cold apartment in the Steinwiesstrasse was particularly painful for Wagner. A move to the Lavaterstrasse brought welcome relief: in their new apartment, known as the «Villa Rienzi», Wagner resumed work on his Nibelungen story. Some of his most famous writings about art – not only Kunstwerk der Zukunft (Art-Work of the Future) and Oper und Drama, but also the anti-Semitic Das Judentum in der Musik (Judaism in Music) – were written here.
I feel very much at home in Zurich again, and given the choice of any place in the world, I wouldn't want to live anywhere else but here.

Richard Wagner to Theodor Uhlig in July 1850
The «Ring» in Baur au Lac
In September 1851, Wagner moved with his family to the Zeltweg, where they took up residence in an apartment in Number 11. It was here that he completed the poem/libretto for Ring des Nibelungen in 1853. In the same year, the prose scenario's first public reading took place in the Hotel Baur au Lac: Wagner himself presented all four parts on four consecutive evenings – apparently with such «inspiration, emotion, and dramatic life », that «almost gave the audience the illusion of an actual performance», as the Eidgenössische Zeitung enthusiastically wrote.
Wagner's tendency towards extravagance is legendary; he went into considerable debt in 1853, purchasing exorbitantly expensive new apartment furnishings, convinced that «Wagner fever» would soon break out in Zurich. Writing to his friend Johann Jakob Sulzer to ask for financial help, Wagner pleaded «I cannot dispute the reproach I have incurred because of this décor, other than to appeal to certain processes within myself.» He needed nothing less than luxurious surroundings in order to begin composition of the Ring des Nibelungen. He subsequently moved into his most comfortable domicile to date, a 200 square-meter home in the Zeltweg 13. There he composed Das Rheingold, Die Walküre, and the first act of Siegfried in a veritable creative frenzy. The first public performance of an excerpt from the Ring Cycle took place in 1856, when the first act of Walküre rang out in the Hotel Baur au Lac. Wagner sang the roles of Siegmund and Hunding. Franz Liszt was at the piano.
Zurich still no Wagner city
The prospect that «Wagner fever» would consume Zurich eventually ended in disappointment, but not without an intervening period of hope in May of 1853, when Wagner experienced the greatest triumph of his Zurich period. Thanks to the financially astute industrialist Otto Wesendonck, Wagner was able to organize a concert series featuring excerpts of Rienzi, Der fliegende Holländer, Tannhäuser, and Lohengrin. He arranged for musicians to come in from out of town, as well as a chorus, and penned a 16-page program with explanatory notes. The seed for what would become the Bayreuth Festival was planted with these concerts, and Wagner thought seriously about building a theater to his specifications and presenting the complete Ring there in Zurich. A performance of Tannhäuser held at the Aktientheater in Zurich was a litmus test for the project. But it proved ultimately disheartened: the city showed only middling interest, and with the exception of Otto Wesendonck, Wagner was unable to find patrons. He slowly withdrew from public life.
In April 1857, Wagner and his wife Minna moved into the «Asyl» directly next to the Villa Wesendonck, which offered Wagner the peace and quiet he had longed for, far away from the hustle and bustle of the city. Here Wagner continued work on Siegfried, but interrupted his work in the summer of the same year; he would not resume composition on it until 1864, in Munich. The reason for the interruption was his aforementioned affair with Mathilde Wesendonck – and the composition of Tristan, which was at least partially inspired by the tryst. In August of 1858, the relationship came to light, and Wagner was forced – once again – to flee a city.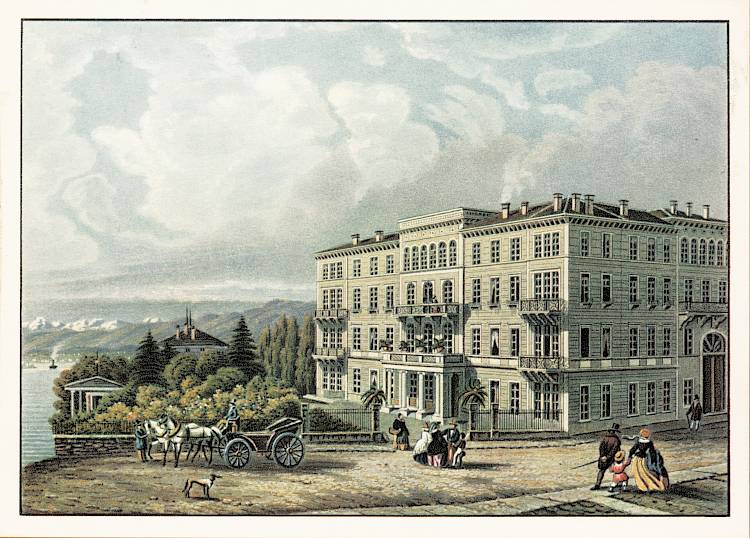 Spend the night where Richard Wagner used to come and go...
Trace Wagner's footsteps and combine your opera ticket with an overnight stay at the historic Hotel Baur au Lac! This is where Richard Wagner first read the Ring poem in public and even sang parts of it - with none other than Franz Liszt at the piano! Please note that this exclusive arrangement can only be booked using the special code «Wagner».
---
Interview
Richard Wagner's Ring des Nibelungen is a grand challenge for an opera house, particularly when you look at casting the many – and extremely difficult – roles. What would you say the biggest challenges are when it comes to your job casting singers for the Ring?
A Wagner singer of today can't just be a great singer, they also have to act well. Standing still in the footlights and singing – those days are long gone. But there aren't that many singers who can sing these roles at an international level and also act convincingly. By no means do all voices develop into a dramatic Fach. When you want to cast a Ring, you have to start early, or the few singers there are who can sing the roles are already booked.
What is it that makes the roles so hard?
First off, of course, are the operas' lengths. Singing Wotan in Walküre or Siegfried in Siegfried is like running a marathon. You can't suddenly go from running a 100-meter race to completing a marathon. You have to train for years, and you have to know yourself and your voice, so you can understand how to pace yourself. The other difficulty is the size of the orchestra – you need to have a voice that can cut through, so that you're easily heard over the sound of the orchestra. You've got to train that, too; the voice is like a muscle! And you need to be able to really mentally focus. As an example: Wotan doesn't just have a lot of text that has to be learned, but you've got to be in a position to sing «Wotan's Farewell» after having stood on your feet for five hours. The «Farewell| is the poignant, delicate conclusion of Walküre, and of course all of the Wagner fans in the audience know it's coming, are waiting for it, and will measure a singer's worth by how it's sung.
When you have to decide on a cast so far in advance – sometimes four or five years before a premiere – is there then uncertainty as to whether a voice will have developed by then?
That's actually quite a balancing act. In our Ring cast we have two singers that will sing their roles for the first time: Klaus Florian Vogt as Siegfried and Camilla Nylund as Brünnhilde. In both cases, when we booked them, we were sure that they were going to have developed to the point that they would be able to sing their roles well after four or five years. Of course, there's always a bit of risk, but that's the same with a Tosca, which is also cast years in advance. The pandemic has made things more difficult for dramatic voices, because they've not been able to do that marathon training for some time. Five hours of Walküre on stage can't easily be simulated in a practice room. Fortunately, I've had a lot of experience with Wagner's operas. He's one of my absolute favorite composers, and I spent some time in Bayreuth working for the festival there. I was able to keep my eye on a number of careers, which is, of course, helpful. But there's no guarantee. At the end of the day, singers are people, not robots. But when everything goes according to plan, and expectations are met, then I'm even happier!
A number of large opera houses are planning new Ring productions right now – look at London, Milan, and Berlin, for example. How much competition is there between casting directors?
I not a fan of this competition mentality. I'm happy about each successful casting. Then I might think: oh, that is a great idea, I wish I'd had it myself! Of course, some of it depends on who has dates set first and can ask first. There are houses that plan even further in advance than we do. But when you plan six or seven years out, the risk is greater that a voice won't develop in the ways one thought.
Our Wotan – the highest of the gods, who appears in all four evenings and plays a central role in the entire Ring – is Tomasz Konieczny. Why did you choose him for Zurich?
Tomasz Konieczny is an experienced and accomplished Wagner singer. He's sung large Wagner roles at the Vienna State Opera and at the Bayreuth Festival, and he has an esteemed international profile. He's appeared as Wotan at the opera in Budapest, and he sang Alberich at the Metropolitan Opera in New York. And he's a fantastic actor. Before he studied singing, he trained as an actor at the film academy in his hometown of Lodz, Poland. I think he will make a great collaborator for Andreas Homoki, who is directing our Ring.
What are the most important capabilities a singer has to have to sing Wotan?
First of all, vocal power. He is not only the most powerful of the gods, he's also the individual that instigates the action of the Ring. At the same time, though, he has to be able to be incredibly vulnerable, but also passionate and tender, especially at the end of Walküre, when he's bidding farewell to his daughter. Wotan is an exceptionally complex, multifaceted figure. He's power hungry, patriarch of his family, a passionate father who sometimes gets in his own way – it's an incredible challenge to express all of these aspects with one's voice.
In Rheingold, the prelude to the Ring, Alberich is Wotan's greatest adversary. What guided your choice of singer for the role of Alberich?
Alberich is driven by primitive instincts: lust, greed, revenge. He can't just sing beautifully! Alberich is a complex figure, too, but he doesn't get as many lyrical, inspiring moments as Wotan. Alberich really shines in moments of ambiguity. When he curses love, he can be quite wild. It's all very archaic. For our production, Alberich will be Christopher Purves – a spectacular performer who really understands how to use his voice in the most unbelievably nuanced fashion. Wotan and Alberich are both bass-baritone roles, and it's important that they don't have the same vocal coloring, or they'll be too similar.
One of the special aspects of our Ring cast at the Opernhaus is that figures that appear in each of the four parts will be played by the same singer; that's not always the case.
That's often the wish that houses have – but it's often not possible due to scheduling conflicts. Of course, it's wonderful that it's worked out for us. And that's the especially the case when the four pieces are performed as a cycle. It's so much fun to see how the characters develop.
You already mentioned it, but again: Klaus Florian Vogt will make an important role debut as Siegfried at the Opernhaus Zürich.
Siegfried is a bit of a killer role. He first appears in the third evening of the tetralogy – logically enough, in Siegfried – but then what he has to do next is exceptionally challenging. At the beginning, he's a childish, boisterous boy, overflowing with energy; later he reflects on his mother, and his voice production has to be especially lyrical. In the third act, in the duet with Brünnhilde, he's got to sing with overwhelming power. So he has to cover a broad range of emotion, from sensitive, lyrical moments to grand, dramatic ones – and do it over the space of five hours. Klaus Florian Vogt has lots of experience singing Wagner roles: he's appeared as Lohengrin and Parsifal at a number of large opera houses, and he's really smart about his voice.  I'm especially looking forward to him singing those lyric moments. They'll be beautiful in a way that one doesn't often hear in Siegfried. His debut in this role is an exciting one for the whole opera world, which makes it all the lovelier that it will happen in Zurich! 
Does the size of our Opernhaus, or the intimacy of the space the audience occupies, play a role?
Yes, I'm sure it does. The Opernhaus Zürich isn't the Met or Chicago, where you have to fill a hall with 2000 or 4000 guests. They're working with entirely different dimensions. I think it's quite astute of Klaus Florian Vogt to try this role out with us. Here in Zurich, he'll be able to rely on an exceptionally intelligent musical team, who will work to support him and accompany him on the way to his role debut. I'm sure this played a part in his decision.
The other big role debut for this production will be given by Camilla Nylund, who sings Brünnhilde. This is exactly the right time for Camilla Nylund to debut this incredibly difficult role. Here, too, the role of Brünnhilde demands a singer with exceptional vocal and acting abilities – she appears as a young woman full of exuberance for life in the first act of Walküre, then the empathetic protector of Sieglinde, and then the rebel that defies her father. Brünnhilde is a powerful, clever woman, who is treated poorly over the course of the story; in Götterdämmerung we really empathize with her when she is horribly betrayed, and then she loses Siegfried. And the end, the «Immolation Scene» – that is one of the greatest moments in music literature for me! By the way: Camilla Nylund is going to sing Isolde for the first time in Zurich during this current season; I'm quite pleased that Camilla Nylund and the Opernhaus Zürich have a special bond of trust. And there's also the fact Klaus Florian Vogt and Camilla Nylund know each other very well and have often performed together. Their voices fit very well together. It will be something very special when they're together in Act III of Siegfried – I can hardly wait for it.
Conversation was conducted by Beate Breidenbach.
---