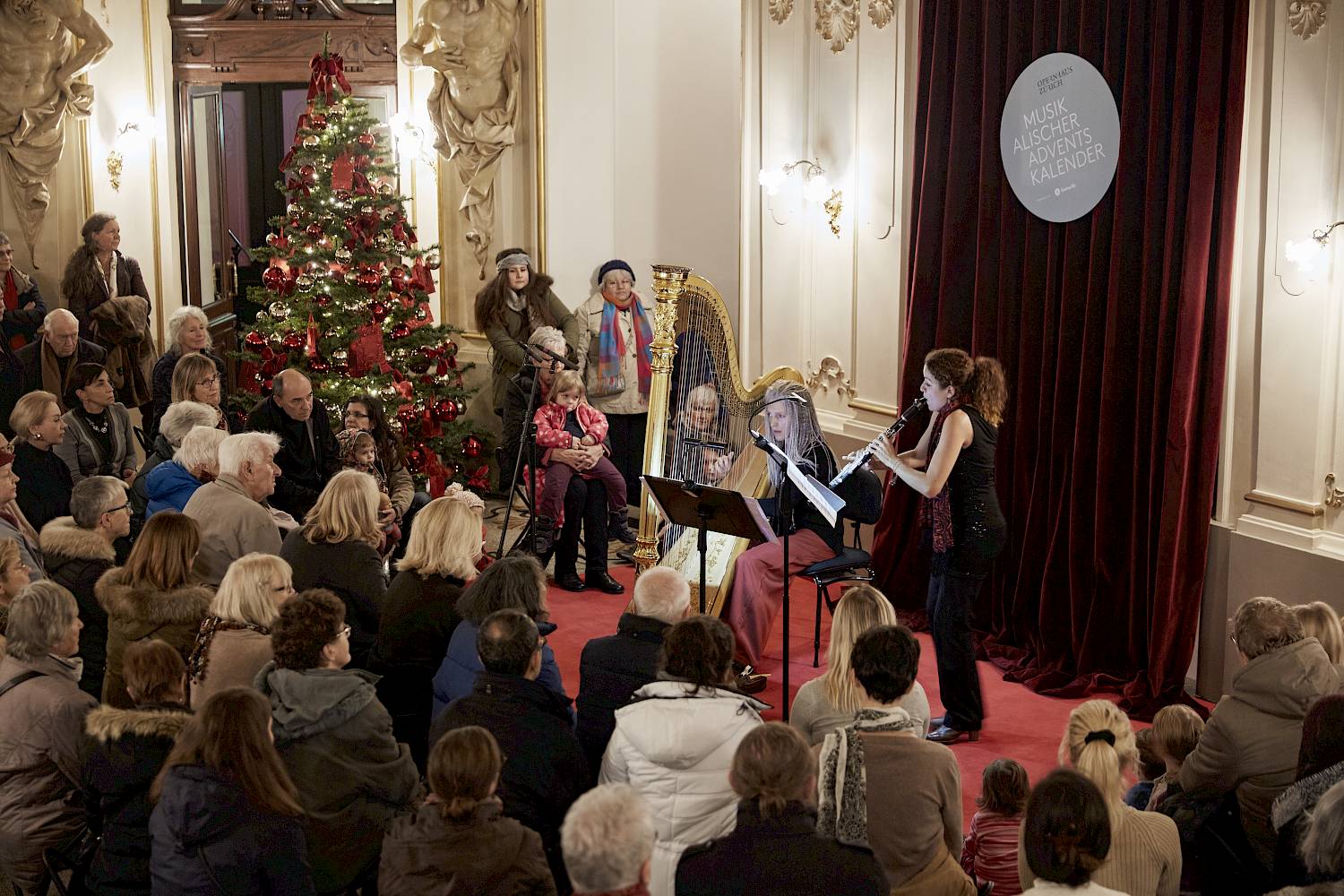 Musical Advent Calendar
Christmas is coming soon.
The little Christmas village on the Sechseläutenplatz in front of the Opera House invites you to stroll around and taste delicious mulled wine.

In the foyer of the opera house you can also look forward to our Musical Advent Calendar. From the 1st to the 23rd of December daily concerts take place there at 5.30 pm. The entrance to the short 15 to 20 minutes concerts is free to make the Christmas season more beautiful. Musicians of the Philharmonia Zurich, as well as singers of our ensemble and the International Opera Studio, have developed an impressive program. Come by, take a break for a while in the Christmas bustle and let the day end in a musical way. The short concert programs are posted each day itself on our Facebook page and here.

In the foyer of the Zurich Opera House
1st to 23rd of December
Daily, 5.30pm (Doors open at 5.20pm)
Free entrance
The grand finale of our Musical Advent Calendar in the Bernhard Theater:
We are delighted that on 23 December the SoprAlti and the Zusatzchor of the Opera House, conducted by Ernst Raffelsberger, will present Christmas carols for listening and singing. Please note that the concert will take place in the Bernhard Theater.

Monday, 24th December 2018
The International Opera Studio of the Zurich Opera House wishes you a Merry Christmas!
Adeste Fideles
Brenda Hurley (Director)
Thomas Barthel (Director)
Natalia Tanasii (Soprano) 
Yuliia Zasimova (Soprano) 
Justyna Bluj (Soprano) 
Thomas Erlank (Tenor) 
Noah Kim (Baritone) 
Wojciech Rasiak (Bass) 
Nathan Harris (Piano)
Sunday, 23rd December 2018
Today at the Bernhard Theater:
Christmas carols for listening and singing
with the SoprAlti and the Zusatzchor of the Opera House
Saturday, 22nd December 2018
Gerald Finzi: Let us garlands bring
Dean Murphy (Baritone)
Anna Hauner (Piano)
Friday, 21st December 2018
Wolfgang Amadeus Mozart: Horn Quintet in E-flat Major
Vera Lopatina (Violin)
Juliet Shaxson (Viola)
Natalia Alexandrova Mosca (Viola)
Andreas Plattner (Violoncello)
Tomas Gallart (Horn)
Thursday, 20th December 2018
Antonín Dvořák: Slavic Dances
Kateryna Tereshchenko (Piano)
Michael Richter (Piano)
Wednesday, 19th December 2018
Jacob ter Velhuis: «Goldrush»
Tilmann Bogler (Percussion)
Dominik Herrmann (Vibraphone)
Tuesday, 18th December 2018
Short-term modification
Ruggero Leoncavallo: Sérénade
Luigi Maurizio Tedeschi: Elegie
Francesco Santucci: El jardin de Amilamia
Pamela Stahel (Flute)
Julie Palloc (Harp)
Karen Forster (Viola)
Lev Sivkov (Cello)
Monday, 17th December 2018
Dmitry Shostakovich: Five Pieces
Niccolò Paganini: Cantabile op. 17
Wen-Chun Lin (Violin)
Yi-Chen Lin (Violin)
Yulia Levin (Piano)
Sunday, 16th December 2018
Francis Poulenc: Banalités
Sinéad O'Kelly (Mezzosopran)
Rafael Gordillo Maza (piano)
Saturday, 15th December 2018
«O, ce veste minunata» Romanian folksong
Pietro Yon: «Gesu Bambino»
Hugo Wolf: «Auf ein altes Bild» «Schlafendes Jesuskind»
Adolphe Adam: «Noel»
Natalia Tanasii (Soprano)
Enrico Cicconofri (Piano)
Friday, 14th December 2018
Georg Philipp Telemann: Concerto in D Major
Lisa Gustafson (Violin)
Franziska Eichenberger (Violin)
Ulrike Jacoby (Violin)
Seraina Pfenninger (Violin)
Thursday, 13th December 2018
Giovanni Bottesini: Duo concertant sur les thèmes des puritains
Xavier Pignat (Violoncello)
Ruslan Lutsyk (Double bass)
Carrie-Ann Matheson (Piano)
Wednesday, 12th December 2018
Mexican Folksongs
Leonardo Sanchez (Tenor)
Anna Hauner (Piano)
Tuesday, 11th December 2018
John Dowland, Lacrimae Antiquae, Gaillard, Paduana
Juliana Georgieva (Violin)
Seraina Pfenninger (Violin)
Natalia Alexandrova Mosca (Viola)
Barbara Oehm (Violoncello)
Dieter Lange (Double bass)
Monday, 10th December 2018
Johann Sebastian Bach: Canons for two voices from «The Art of the Fugue», Excerpts from the «Inventions»
Hanna Weinmeister (Violin)
Alexander Gropper (Violoncello)
Sunday, 9th December 2018
Giovanni Bottesini: Gran Duetto
Filipa Nunes (Clarinet)
Dariusz Mizera (Double bass)
Kateryna Tereshchenko (Piano)
Saturday, 8th December 2018
Franz Schubert: 1. Movement of the String Quintet in C  Major
Vera Lopatina (Violin)
Maya Kadosh (Violin)
Natalia Alexandrova Mosca (Viola)
Jovan Pantelich (Violoncello)
Xavier Pignat (Violoncello)
Friday, 7th December 2018
Carl Philipp Emmanuel Bach: Duet for Flute and Violin Andante – Allegro – Allegretto
Georg Philipp Telemann: Sonata in canon No. 1 Vivace – Adagio – Allegro
Gioachino Rossini: excerpts from «Il barbiere di Siviglia», arr. by Fritz Doppler
Maya Kadosh (Violin)
Liselotte Schricke (Flute)
Thursday, 6th December 2018
Robert Elkjer: Christmas Music
Tobias Lang (Trombone)
Kelton Koch (Trombone)
Marc Sanchez (Trombone)
Yuval Wolfson (Trombone)
Wednesday, 5th December 2018
François Borne: Fantasie brillante on themes of  Bizet's «Carmen»
Pamela Stahel (Flute)
Rute Fernandes (Flute)
Carrie-Ann Matheson (Piano)
Tuesday, 4th December 2018
Johann Sebastian Bach: Small Fugue in g Minor
Antonio Vivaldi/Johann Sebastian Bach: excerpts from the Organ Concerto
Irving Berlin: «White Christmas»
Albert Benz (Trumpet)
Evgeny Ruzin (Trumpet)
Tobias Lang (Trombone)
Yuval Wolfson (Trombone)
Tomas Gallart (Horn)
Monday, 3rd December 2018
Johann Sebastian Bach,  excerpts from «The Art of Fugue»
Hanna Weinmeister (Violin)
Monika Baer (Viola)
Stella Mahrenholz (Viola)
Alexander Gropper (Violoncello)
Sunday, 2nd December 2018
Johann Sebastian Bach / György Kurtag, «Now come, Saviour of the gentiles»
Johannes Brahms, Lovesongs (Waltzes 1-6)
Johann Sebastian Bach / György Kurtag, «God's time is the best of all times»
Olga Kulchynska (Soprano)
Deniz Uzun (Mezzosoprano)
Spencer Lang (Tenor)
Richard Walshe (Bass)
Fabio Luisi (Piano)
Carrie-Ann Matheson (Piano)
Saturday, 1st December 2018
Ludwig van Beethoven: Variations on «La ci darem la mano» of Mozart's Don Giovanni
Andrea Kollé (Flute)
Heinrich Mätzener (Clarinet)
Maria Wildhaber (Bassoon)