Bach Händel
Georg Friedrich Händel
Dixit Dominus
Johann Sebastian Bach
Magnificat
Introduction 45 min before the performance.

Currently, tickets for performances up until the end of February can be purchased. Further information on the sale of individual tickets can be found here. Information about subscription series in the 21/22 season can be found here.

In order to help protect yourself and others, we kindly ask you to observe the protective measures during your visit to the Opernhaus. Thank you in advance for your support.
Bach Händel
Abstract
Bach Händel
As cantor of St. Thomas, Johann Sebastian Bach was responsible for the music in the main churches of the city of Leipzig from 1723. Many of his famous vocal works were written during his Leipzig years, including the Magnificat, which Bach performed at Christmas in the year he first took up his position. In keeping with the high holiday, he composed the work for soloists, five-part choir, and a festive orchestration with timpani and trumpets. The work is based on the Canticle of Mary from the Gospel of Luke, which Bach set to music in Latin. Riccardo Minasi performs Bach's Magnificat on the Fourth Sunday of Advent with the Balthasar Neumann Choir and the Orchestra La Scintilla, combining it with the psalm setting Dixit Dominus, which George Frideric Handel wrote at the age of only 22 at the request of the Catholic Church in Rome.
Riccardo Minasi, Musical director
Riccardo Minasi
Riccardo Minasi wurde in Rom geboren. Als Solist und Konzertmeister arbeitete er mit Ensembles wie Le Concert des Nations, der Accademia Bizantina und Il Giardino Armonico zusammen. Von 2012 bis 2015 war er Dirigent des Ensembles Il pomo d'oro. Unlängst dirigierte er beim Tokyo Metropolitan Symphony Orchestra, NDR Radiophilharmonie, Stavanger Symphony Orchestra, Orchestre de Chambre de Lausanne, Portland Baroque Orchestra und Los Angeles Chamber Orchestra sowie Opernprojekte wie Les Pêcheurs de Perles bei den Salzburger Festspielen, Iphigénie en Tauride an der Hamburgischen Staatsoper, Carmen an der Opéra National de Lyon und Rinaldo am Theater an der Wien. Jüngste Engagements umfassen u.a. Händels Alcina an der Hamburgischen Staatsoper, Projekte mit Werken von Bach und Wagner mit dem Orchestre national de Lyon sowie sein Debüt beim Konzerthausorchester Berlin. Am Opernhaus Zürich dirigierte er bereits Il matrimonio segreto, das Ballett Der Sandmann, Don Giovanni, Orlando paladino sowie Die Entführung aus dem Serail. Er stand dem Orchestre Symphonique de Montréal als musikhistorischer Berater zur Seite und wirkte gemeinsam mit Maurizio Bondi als Kurator und Herausgeber der kritischen Bärenreiter-Edition 2016 der Oper Norma. 2016 war er an vier mit dem ECHO Klassik ausgezeichneten Alben beteiligt, darunter sein Album mit Haydn-Konzerten sowie Leonardo Vincis Catone in Utica. Als Sologeiger nahm er die Rosenkranz-Sonaten von Biber auf. Seit September 2017 ist er Chefdirigent des Mozarteum-Orchesters Salzburg und «Artist in Residence» vom Ensemble Resonanz bei der Elbphilharmonie Hamburg. In der Saison 2018/19 gestaltete Riccardo Minasi am Opernhaus Zürich in enger Zusammenarbeit mit dem La Scintilla Orchester eine Reihe von vier Konzerten.
Bach Händel
19 Dec 2021
Monteverdi
15, 19, 22, 23, 27, 29 Jan; 10, 12, 20, 26 Feb 2022
Il turco in Italia
20, 24, 27 Feb; 04 Mar 2022
A night at the opera-pit
07 Mar 2022
Johann Christian Bach
04 Apr 2022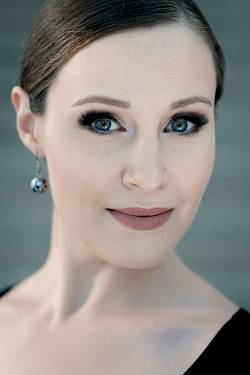 Lina Dambrauskaité, Sopran
Lina Dambrauskaité
Lina Dambrauskaité stammt aus Litauen und hat ihre Gesangsaubildung bei Sigute Stonyte an der Litauischen Musik- und Theaterakademie abgeschlossen. Aktuell belegt sie Kurse bei Lillian Watson und Jonathan Papp an der Royal Academy Opera, wo sie 2017 ihr Londoner Debüt als Zerlina in Mozarts Don Giovanni gab. Zuvor debütierte sie 2015 als Barbarina in Mozart's Le Nozze di Figaro am Litauischen Nationaltheater für Oper und Ballett. Zu ihrem Repertoire gehören Thais in Händels Das Alexanderfest, Yniold in Debussys Pelléas et Mélisande sowie die Titelpartie in Händels Semele. Zudem hat sie an der Weltaustellung «Expo 2015» in Mailand Litauen repräsentiert und diverse Solopartien in Konzerten gesungen. Im Frühjahr 2019 hat Lina Dambrauskaité die Titelrolle in Leoš Janáčeks Das schlaue Füchslein an der Royal Academy Opera gesungen und im Herbst 2019 Cunigonde (Candide) am Litauischen Nationaltheater. Seit der Spielzeit 2019/20 ist sie Mitglied des Internationalen Opernstudios Zürich und war hier bisher in Belshazzar, Konrad oder Das Kind aus der Konservenbüchse, der Zauberflöte und Iphigénie en Tauride zu hören.