Barock trifft Gegenwart
Jean-Philippe Rameau
Ausschnitte aus der Pastorale «Zaïs»
Gérard Grisey
Sortie vers la lumière du jour für Orgel und 14 Musiker
Carl Philipp Emanuel Bach
Sinfonie F-Dur Wq. 183 Nr. 3
Philippe Schoeller
«Narcisse-Espace» für Barockorchester und zeitgenössisches Ensemble
Commissioned by the Collegium Novum Zürich and Orchestra La Scintilla
Currently, tickets for performances up until the end of February can be purchased. Further information on the sale of individual tickets can be found here. Information about subscription series in the 21/22 season can be found here.

In order to help protect yourself and others, we kindly ask you to observe the protective measures during your visit to the Opernhaus. Thank you in advance for your support.
Barock trifft Gegenwart
Abstract
Barock trifft Gegenwart
This concert brings the Orchestra La Scintilla together with the Collegium Novum Zürich, in order to present the world premiere of a composition for two ensembles, one contemporary and one playing on historic instruments. The new piece by French composer Philippe Schoeller, is about the myth of Narcissus and Echo.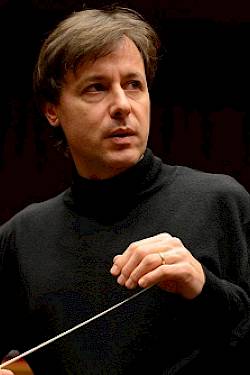 Tito Ceccherini, Musical director
Tito Ceccherini
Tito Ceccherini wurde in Mailand geboren. Insbesondere hat er sich mit Werken des frühen 20. Jahrhunderts und mit zeitgenössischem Repertoire einen Namen gemacht. 2012 debütierte er mit dem Klangforum Wien und den Neuen Vokalsolisten beim Lucerne Festival und eröffnete das neue Festspielhaus in Erl mit Bartóks Herzog Blaubarts Burg. Zu den Uraufführungen unter seinem Dirigat zählen u.a. Fénelons La Cerisaie (Opéra National de Paris, Bolschoi Theater Moskau) sowie Sciarrinos Da gelo a gelo (Schwetzinger Festspiele, Klangforum Wien, Opéra National in Paris und Grand Théâtre de Genève) und Superflumina (Nationaltheater Mannheim). Nach Erfolgen mit Křeneks Cefalo e Procri und Battistellis Riccardo III, leitete er Sciarrinos Luci mie traditrici am Teatro La Fenice in Venedig. Weitere Engagements der jüngeren Zeit führten Tito Ceccherini für Béatrice et Bénédict und Die Entführung aus dem Serail an das Théâtre du Capitole in Toulouse, wo er zuvor auch Bartóks Herzog Blaubarts Burg und Dallapiccolas Il prigioniero leitete. Ausserdem dirigierte er in jüngerer Zeit Le Grand Macabre am Teatro Argentino La Plata, Buenos Aires sowie The Rakes Progress, Aus einem Totenhaus und I puritani an der Oper Frankfurt. Er konzertierte u.a. mit dem Orchestre Philharmonique de Radio France Paris, dem BBC Symphony Orchestra, der London Philharmonia, dem Orchester des Teatro dell'Opera di Roma, der Filarmonica della Scala sowie dem Ensemble Inter­Contemporain, dem Ensemble Modern, dem hr-Sinfonieorchester, dem WDR-Sinfonieorchester Köln, dem SWR Stuttgart und dem Orchestre de Chambre de Genève. Am Opernhaus Zürich dirigierte er in der Spielzeit 2018/19 Le Grand Macabre.
Dialogues des Carmélites
13, 17, 19, 25, 27 Feb; 03, 05 Mar 2022
Barock trifft Gegenwart
23 May 2022