Beethoven Strauss
Ludwig van Beethoven
Piano Concerto No. 5 E flat major op. 73
Richard Strauss
Sinfonia domestica op. 53
Beethoven Strauss
Abstract
Beethoven Strauss
The philosopher Arthur Schopenhauer once said that music could draw just as much pathos from the quarrels of an ordinary household as from the mortal struggles in Agamemnon's household. Richard Strauss tried both and, in addition to his opera Elektra, composed a tone poem about a day in the life of a wealthy family — the monumental Sinfonia domestica. He made his debut at New York's Carnegie Hall with the work in 1904. Equally monumental is Beethoven's Piano Concerto No. 5 in E-flat Major, written at the beginning of the 19th century under the specter of Napoleon's invasion of Vienna. Martin Helmchen, one of the most sought-after German pianists today, interprets the work together with the Philharmonia Zürich under the baton of Marc Albrecht.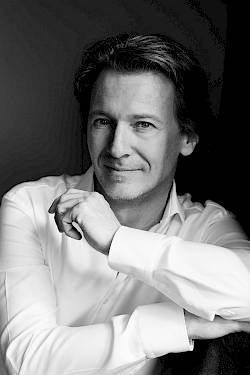 Marc Albrecht, Music Direction
Marc Albrecht
Marc Albrecht studierte in Wien und wurde 1995 Generalmusikdirektor am Staatstheater Darmstadt. 2011 wurde er Chefdirigent an der Dutch National Opera Amsterdam. Dort dirigierte er u.a. Die Zauberflöte, Don Giovanni, Œdipe, Fidelio, Macbeth, Meistersinger, Tannhäuser, Elektra, Die Schatzgräber, Der Spieler und die Uraufführung von Manfred Trojahns Orest. Mit Pierre Audi arbeitete er an Schönbergs Gurre-Liedern und an Die Walküre. Ausserdem war an der Deutschen Oper Berlin, in Brüssel, Paris und Barcelona, am ROH London, bei den Salzburger und bei den Bayreuther Festspielen zu erleben. Im sinfonischen Bereich leitete er u. a. die Berliner Philharmoniker, das Concertgebouworkest, die Münchner Philharmoniker, die Accademia di Santa Cecilia in Rom, das Orchestre National de France, das NHK Symphony Orchestra Tokyo und die Orchester in Cleveland, Dallas, Stockholm, Oslo, Turin, Rotterdam und Birmingham. 2021 wurde Marc Albrecht der Opus Klassik für «Dirigent des Jahres» verliehen. Während seiner Amtszeit als Chefdirigent wurde die Dutch National Opera 2016 zu Europas «Opernhaus des Jahres» gekürt. 2019 erhielt er den International Opera Award als «Dirigent des Jahres» und wurde 2020 vom König der Niederlande zum Ritter des Ordens des Niederländischen Löwen ernannt; zudem erhielt er den Prix d'Amis 2020. 2019 wurde die Produktion von Alban Bergs Wozzeck an der Dutch National Opera für einen Grammy in der Kategorie «Best Opera Recording» nominiert. Die DVD von Das Wunder der Heliane an der Deutschen Oper Berlin unter Albrechts musikalischer Leitung gewann 2020 den Opus Klassik in der Kategorie «Beste Operneinspielung 20./21.Jhd.».
Beethoven Strauss
17 Dec 2023