Beethoven / Wagner
Ludwig van Beethoven
Violin Concerto in D major op. 61
Richard Wagner / Henk de Vlieger
The Ring – An Orchestral Adventure
Introduction 45 min before the performance.

The Philharmonic Concerts are supported by Evelyn and Herbert Axelrod
November 2019
Beethoven / Wagner
1st Philharmonic Concert, Concert subscription, Beethoven subscription
Beethoven / Wagner
Abstract
Beethoven / Wagner
The Philharmonia Zurich is pleased to welcome Leonidas Kavakos, one of the most renowned violinists of our time, as a guest. The Athens-born artist – who is celebrated worldwide as a soloist and chamber musician – was recently artist-in-residence with the Bavarian Radio Symphony Orchestra and artiste étoile at the Lucerne Festival. In Zurich he will perform Ludwig van Beethoven's «Concerto for Violin and Orchestra» in D Major, op. 61 under the direction of Music Director Fabio Luisi.
The musicians of the Philharmonia Zurich will then bring to life the fascinating world of Richard Wagner's «Ring des Nibelungen». In the space of 60 minutes, Henk de Vlieger's arrangement – called «The Ring - An Orchestral Adventure» (1991) – leads listeners through key scenes and musical highlights of Wagner's monumental tetralogy. This orchestral journeys winds through Nordic mythology, from the goldsmithing Nibelungen and the «Ride of the Valkyries» to Siegfried's «Journey down the Rhine» and the great fire Valhalla, the palace of the gods.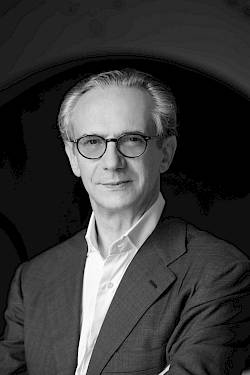 Fabio Luisi, Musical director
Fabio Luisi
Fabio Luisi hails from Genoa. He is the general music director of the Opernhaus Zürich, the principal conductor of the Danish National Symphony Orchestra, music director of the Maggio Musicale Fiorentino, and music director designate of the Dallas Symphony Orchestra, a post he will take up in 2020. From 2011-2017, Fabio Luisi was principal conductor of the Metropolitan Opera in New York, and from 2005-2013 principal conductor of the Wiener Symphoniker, as well as general music director of the Staatskapelle Dresden and the Sächsische Staatsoper (2007-2010), artistic director and principal conductor of the MDR Sinfonieorchester Leipzig (1999-2007), and music director of the Orchestre de la Suisse Romande (1997-2002). With the latter, he made numerous CD recordings (Poulenc, Respighi, Mahler, Liszt, a recording of the complete symphonic works of Arthur Honegger, and Verdi's Jérusalem und Alzira). He is music director of the Festival della Valle d'Itria in Martina Franca (Apulia) and has appeared as guest conductor with numerous renowned ensembles, including the Philadelphia Orchestra, The Cleveland Orchestra, the NHK Tokio, the Münchener Philharmoniker, the Filarmonica della Scala, the London Symphony Orchestra, the Concertgebouw Orkest Amsterdam, and the Saito Kinen Orchestra, as well as with various prominent opera orchestras. He appeared at the Salzburg Festival with performances of Richard Strauss' Die Liebe der Danae und Die Ägyptische Helena. His most important appearances at the Opernhaus Zürich include, among others, the new productions of three Bellini operas, as well as Rigoletto, Fidelio, Wozzeck and Verdi's Messa da Requiem. Important CD recordings include Verdi's Aroldo, Bellini's I puritani and I Capuleti e i Montecchi, and the complete symphonies of Robert Schumann, as well as the symphonies and the oratorio Das Buch mit sieben Siegeln by Franz Schmidt, the largely forgotten Austrian composer. In addition, he has recorded various symphonic poems by Richard Strauss, and a lauded reading of Bruckner's Symphony No. 3 with the Staatskapelle Dresden. His recordings of Siegfried and Götterdämmerung with the Metropolitan Opera Orchestra won Grammy awards. He received the Premio Franco Abbiati, the coveted Italian critics' prize, in 2013, and in 2014 won the Grifo d'Oro from the city of Genoa. He was awarded the Anton Bruckner Ring by the Wiener Symphoniker, and is a Cavalier of the Italian Republic. The «Philharmonia Records» recording label, founded by the Philharmonia Zürich in 2015, has issued CD recordings of works by Berlioz, Wagner, Verdi, Rachmaninoff, Bruckner, Rimsky-Korsakov, and Frank Martin under Fabio Luisi's musical director, as well as DVD records of Rigoletto (stage direction: Tatjana Gürbaca), Wozzeck (stage direction: Andreas Homoki), I Capuleti e i Montecchi (stage direction: Christof Loy), the Messa da Requiem (stage direction /choreography: Christian Spuck), and Das Land des Lächelns (stage direction: Andreas Homoki).
Simon Boccanegra
06, 10, 13, 16, 19, 22 Dec 2020; 03, 08, 12 Jan 2021
Brahms / Schmidt
13 Dec 2020
Beethoven / Brahms
10 Jan 2021
Mahler
29 May 2021
Verdi-Gala
22, 27, 29 Sep; 02 Oct 2020
Manon
22, 25, 28 Nov; 03, 05 Dec 2020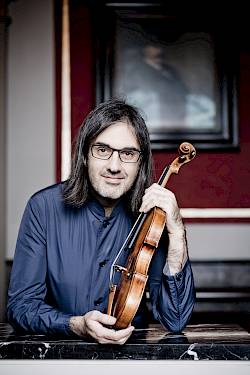 Leonidas Kavakos, Musical director
Leonidas Kavakos
Leonidas Kavakos wurde in Athen geboren. Sein Studium absolvierte er bei Stelios Kafantaris am Konservatorium seiner Heimatstadt und bei Josef Gingold an der Universität von Indiana. 1985 ging Kavakos als Sieger aus dem Sibelius-Wettbewerb in Helsinki hervor, 1988 gewann er die «Naumburg Violin Competition» in New York und den «Premio Paganini» in Genua. Mit der Ersteinspielung des Sibelius-Konzerts in der lange für «unspielbar» gehaltenen Urfassung sorgte er für eine Sensation und wurde 1991 mit dem «Gramophone Concerto of the Year Award» ausgezeichnet. Seitdem tritt Kavakos als Solist mit vielen renommierten Orchestern auf, etwa mit den Berliner und den Wiener Philharmonikern, dem Gewandhausorchester Leipzig und der Dresdner Staatskapelle, dem Philadelphia Orchestra und der Filarmonica della Scala, dem Chicago Symphony, dem Los Angeles, dem Israel oder dem New York Philharmonic. Zunehmend widmet sich Kavakos auch selbst dem Dirigieren und leitete das London, das Boston und das Houston Symphony Orchestra, das Budapest Festival Orchestra, das New York und das Rotterdam Philharmonic, die Wiener Symphoniker, das Chamber Orchestra of Europe sowie das Deutsche Symphonie-Orchester Berlin. 2018/19 war Leonidas Kavakos «artist-in-residence» beim Symphonieorchester des Bayerischen Rundfunks, im Sommer 2019 «artiste étoile» beim Lucerne Festival. Sein Zyklus aller Beethoven-Sonaten mit Enrico Pace wurde 2013 mit einem «Echo Klassik» ausgezeichnet. 2014 erhielt er den «Gramophone Artist of the Year Award». Zuletzt veröffentlichte er Brahms' Klaviertrios mit Emanuel Ax und Yo-Yo Ma. Leonidas Kavakos, dem 2017 der Léonie-Sonning-Musikpreis verliehen wurde, spielt die Stradivari «Willemotte» aus dem Jahr 1734.