Philharmonia Zürich
Johannes Brahms
Violin Concerto in D Major op. 77
Franz Schmidt
Symphony No. 4 in C Major
Duration approx. 2 H. incl. intermission.

Presented by

Philharmonia Zürich
Abstract
Philharmonia Zürich
The Italian-born violinist Augustin Hadelich studied at the renowned Juilliard School in New York and began his brilliant career in the USA, where he has already performed with all major orchestras.
In the meantime, the young, highly acclaimed soloist and Grammy winner is also introducing himself more and more often in Europe, including over three years as Associate Artist of the NDR Elbphilharmonie Orchester in Hamburg. Since this year Hadelich plays the last violin from the workshop of the legendary luthier Giuseppe Guarneri, the "Leduc", built in 1744. Hadelich himself describes the instrument, from which he "cannot get enough", as "dark, passionate, colorful and with an almost human voice sound". In the 2nd Philharmonic Concert, Hadelich and his violin can be heard with the famous violin concerto by Johannes Brahms.
Stylistically strongly influenced by Brahms is the work of the Austrian composer Franz Schmidt, whose 4th Symphony is heard in this concert. Schmidt, who did not take the path of the avant-garde but continued on the conservative paths of the 19th century, composed this symphony in 1932/33. General Music Director Fabio Luisi, who is passionately committed to Schmidt's work, interprets his Fourth Symphony at the Philharmonia Zurich.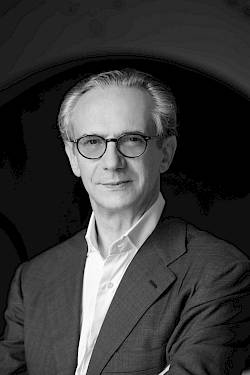 Fabio Luisi, Musical director
Fabio Luisi
Fabio Luisi hails from Genoa. He is the general music director of the Opernhaus Zürich, the principal conductor of the Danish National Symphony Orchestra, music director of the Maggio Musicale Fiorentino, and music director designate of the Dallas Symphony Orchestra, a post he will take up in 2020. From 2011-2017, Fabio Luisi was principal conductor of the Metropolitan Opera in New York, and from 2005-2013 principal conductor of the Wiener Symphoniker, as well as general music director of the Staatskapelle Dresden and the Sächsische Staatsoper (2007-2010), artistic director and principal conductor of the MDR Sinfonieorchester Leipzig (1999-2007), and music director of the Orchestre de la Suisse Romande (1997-2002). With the latter, he made numerous CD recordings (Poulenc, Respighi, Mahler, Liszt, a recording of the complete symphonic works of Arthur Honegger, and Verdi's Jérusalem und Alzira). He is music director of the Festival della Valle d'Itria in Martina Franca (Apulia) and has appeared as guest conductor with numerous renowned ensembles, including the Philadelphia Orchestra, The Cleveland Orchestra, the NHK Tokio, the Münchener Philharmoniker, the Filarmonica della Scala, the London Symphony Orchestra, the Concertgebouw Orkest Amsterdam, and the Saito Kinen Orchestra, as well as with various prominent opera orchestras. He appeared at the Salzburg Festival with performances of Richard Strauss' Die Liebe der Danae und Die Ägyptische Helena. His most important appearances at the Opernhaus Zürich include, among others, the new productions of three Bellini operas, as well as Rigoletto, Fidelio, Wozzeck and Verdi's Messa da Requiem. Important CD recordings include Verdi's Aroldo, Bellini's I puritani and I Capuleti e i Montecchi, and the complete symphonies of Robert Schumann, as well as the symphonies and the oratorio Das Buch mit sieben Siegeln by Franz Schmidt, the largely forgotten Austrian composer. In addition, he has recorded various symphonic poems by Richard Strauss, and a lauded reading of Bruckner's Symphony No. 3 with the Staatskapelle Dresden. His recordings of Siegfried and Götterdämmerung with the Metropolitan Opera Orchestra won Grammy awards. He received the Premio Franco Abbiati, the coveted Italian critics' prize, in 2013, and in 2014 won the Grifo d'Oro from the city of Genoa. He was awarded the Anton Bruckner Ring by the Wiener Symphoniker, and is a Cavalier of the Italian Republic. The «Philharmonia Records» recording label, founded by the Philharmonia Zürich in 2015, has issued CD recordings of works by Berlioz, Wagner, Verdi, Rachmaninoff, Bruckner, Rimsky-Korsakov, and Frank Martin under Fabio Luisi's musical director, as well as DVD records of Rigoletto (stage direction: Tatjana Gürbaca), Wozzeck (stage direction: Andreas Homoki), I Capuleti e i Montecchi (stage direction: Christof Loy), the Messa da Requiem (stage direction /choreography: Christian Spuck), and Das Land des Lächelns (stage direction: Andreas Homoki).
Simon Boccanegra
06, 10, 13, 16, 19, 22 Dec 2020; 03, 08, 12 Jan 2021
Mahler
29 May 2021
Verdi-Gala
22, 27, 29 Sep; 02 Oct 2020
Philharmonia Zürich
12 Dec 2020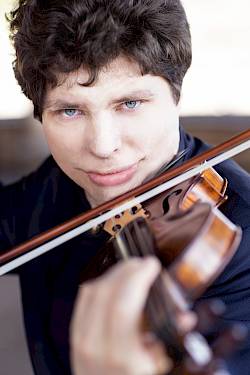 Augustin Hadelich, Violine
Augustin Hadelich
Augustin Hadelich wurde 1984 als Sohn deutscher Eltern in Italien geboren. Heute ist er amerikanischer Staatsbürger und hat sich als einer der grossen Geiger seiner Generation etabliert. Er studierte bei Joel Smirnoff an der New Yorker Juilliard School und gewann 2016 die Goldmedaille beim Internationalen Violinwettbewerb von Indianapolis. Seitdem konzertierte er mit allen bedeutenden amerikanischen Orchestern und auf den Bühnen u. a. der Carnegie Hall, des Lincoln Center, der Chicago Symphony Hall und des Kennedy Center. Auch bei seinen immer zahlreicher werdenden Auftritten in Fernost, Südamerika, Neuseeland, Australien und Europa – etwa mit dem Symphonieorchester des Bayerischen Rundfunks und dem City of Birmingham Symphony Orchestra, in der Londoner Wigmore Hall oder im Concertgebouw Amsterdam – eilt ihm ein phänomenaler Ruf voraus. Als Associate Artist des NDR Elbphilharmonie Orchesters ist er während drei Spielzeiten mehrfach in Hamburg zu erleben. 2016 erhielt er einen Grammy Award für seine Einspielung des Violinkonzerts L'Arbre des songes von Henri Dutilleux mit dem Seattle Symphony Orchestra. Kürzlich erschienen Paganinis 24 Capricen und die Violinkonzerte von Brahms und Ligeti bei Warner Classics. Hadelichs Aufnahmekatalog umfasst ausserdem Konzerte von Sibelius, Adès, Mendelssohn, Bartók und Haydn sowie Tschaikowskis Violinkonzert und Lalos Symphonie espagnole mit dem London Philharmonic Orchestra. Hadelich spielt die letzte Geige des berühmten Geigenbauers Giuseppe Guarneri. Die Geige mit dem Namen «Leduc» wurde 1744 gebaut.
Philharmonia Zürich
12 Dec 2020