Die Fledermaus
Die Geschwister Pfister at the Bernhard Theater
An endearing take on Johann Strauss
Musical director Kai Tietje
Producer Stefan Huber
Music Zucchini Sistaz, Francesco Carpino, Kai Tietje
Stage and costume design Heike Seidler
Choreography Danny Costello
Die Fledermaus
Abstract
Die Fledermaus
Die Fledermaus, Johann Strauss's most famous work, without violins and velvet, but with bass, guitar and zany rhythms: director Stefan Huber stages this classic work in a form that will thrill lovers and haters of operetta in equal measure. In this story of addiction to pleasure, malicious glee and wretched binge drinking, Tobias and Christoph Marti (Geschwister Pfister) sing, act and deceive one another as the jaded spouses Gabriel and Rosalinde, while Rolf Sommer stumbles through the action as the permanently inebriated gaoler Frosch. The music and the protagonists whirl through every period, ranging from the Belle Époque to the hippie era.
Zurich Opera House presents guest performances of the successful Casinotheater Winterthur production about which the Tages-Anzeiger newspaper wrote, «There's also a lot of boozing in the Fledermaus. But the audience does get something of the thrill of the operetta. We became quite lightheaded with happiness, as if we'd drunk two or three glasses of champagne. And we almost kissed our neighbour out of sheer enthusiasm.» Don't miss it!
Kai Tietje, Musikalische Leitung / Musik
Kai Tietje
Kai Tietje studierte Dirigieren in Düsseldorf nachdem er dort als Ton- und Bild-Ingenieur diplomiert wurde. Am Musiktheater in Gelsenkirchen war er als Kapellmeister für die Einstudierung von Opern, Operetten und Musicals (u.a. Crazy For You, Barbier von Sevilla, Strike Up The Band, Die Fledermaus, Anything Goes, Nullvier) verantwortlich. 2008-2010 war er Studienleiter am Theater Nordhausen und leitete am Staatstheater Nürnberg die Musicals Silk Stockings und Sweet Charity, am Theater Dortmund Evita und am Staatstheater Kassel South Pacific. 2010–2012 dirigierte er bei den Vereinigten Bühnen Wien u.a. Tanz der Vampire, Ich war noch niemals in New York und Sister Act. 2012 leitete er Anatevka bei den Festspielen in Bad Hersfeld und Sunset Boulevard am Theater Hof. Von 2012–2015 war er Kapellmeister und Musikalischer Leiter der Musicalsparte am Landestheater Linz und war dort für Produktionen wie Die Hexen von Eastwick, Les Misérables, Honk, Showboat, Seven In Heaven, Company, Tommy, Next To Normal verantwortlich. Seit 2014 ist er ständiger Gastdirigent an der Komischen Oper Berlin, wo er Clivia, Arizona Lady, Heute Nacht oder nie und Roxy und ihr Wunderteam dirigierte. Kai Tietje schreibt viele Stückbearbeitungen und Orchester-Arrangements, so z.B. in Zusammenarbeit mit Stefan Huber die Neufassung der Dostal-Operette Clivia, das Compilation-Musical Io senza te (Theater 11, Zürich), mit Peter Lund eine Neufassung der Benatzky-Operette Axel an der Himmelstür für die Volksoper Wien und zuletzt am Theater Basel den Friedrich Holländer-Abend Spuk in der Villa Stern.
Die Fledermaus
15, 16, 17, 21, 22, 23, 24, 27, 28, 29 May; 03, 04, 05, 06, 07, 10, 11, 12, 13, 14 Jun 2020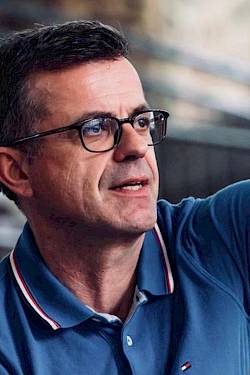 Stefan Huber, Inszenierung
Stefan Huber
Stefan Huber wurde in Zürich geboren und an der Hochschule für Musik und Theater in Bern zum Schauspieler ausgebildet. Bereits während seines Studiums wurde er für die Rolle des Tony in West Side Story ans Pfalztheater Kaiserslautern verpflichtet. Sein erstes Fest-Engagement führte ihn für drei Jahre ans Stadttheater Aachen. Dort spielte er neben vielen anderen Rollen den Oswald in Ibsens Gespenster und die Titelrolle in Shakespeares Hamlet. Sein Debut als Regisseur gab Stefan Huber mit dem Musical Linie 1, darauf folgten u.a. Klassiker wie Anatevka, Cabaret, La Cage aux Folles, Kiss Me, Kate, My Fair Lady, West Side Story, Evita, die Schweizer Erstaufführungen von Grease und Andrew Lloyd Webbers Aspects Of Love sowie die deutschsprachigen Erstaufführungen von Victor/Victoria und Gershwins Crazy For You, jeweils in eigener Übersetzung. Mehrere Jahre arbeitete er zudem für das Schweizer Fernsehen. Über 30 Folgen der beliebten Sitcom-Serien Fascht e Familie, Mannezimmer und Fertig Lustig entstanden unter seiner Regie. Einen Namen als Regisseur, Stückentwickler und Autor neuer Schweizer Musicals machte sich Huber mit den Uraufführungen von Heidi 1 + 2, Die Schweizermacher, Gotthelf und Io Senza Te. Ein Grosserfolg war Hubers Neuinszenierung von Nico Dostals Operette Clivia an der Komischen Oper Berlin mit den Geschwistern Pfister, mit denen er wiederholt zusammenarbeitet. Gemeinsam entstanden auch die beiden Operetten Ball im Savoy und Die Rache der Fledermaus, die beide vom BR Klassik mit dem «Operettenfrosch» prämiert wurden. Seine Inszenierung des Transgender-Musicals Coco für das Konzert Theater Bern wurde zum Schweizer Theatertreffen 2019 eingeladen.
Die Fledermaus
15, 16, 17, 21, 22, 23, 24, 27, 28, 29 May; 03, 04, 05, 06, 07, 10, 11, 12, 13, 14 Jun 2020