Gala Concert of the International Opera Studio
In May they will present their own production of Britten's A Midsummer Night's Dream at Theater Winterthur and at the end of the season they will perform a gala concert on the main stage: our talented young singers, the members of the International Opera Studio.
July 2023
Gala Concert of the International Opera Studio
AMAG people's performance subscription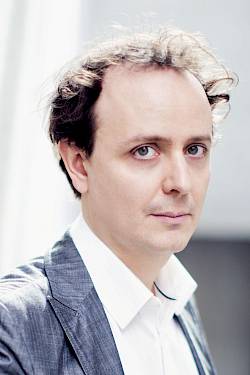 Adrian Kelly, Music Direction
Adrian Kelly
Adrian Kelly wurde nach seinem Studium an der Universität Cambridge Mitglied des Young Artists Programme am ROH Covent Garden. Danach war er Solorepetitor an der Staatsoper Hamburg. Er arbeitet regelmässig für die Salzburger Festspiele, wo er u.a. Ingo Metzmacher bei Luigi Nonos Al gran sole carico d'amore und Wolfgang Rihms Dionysos assistierte. Darüber hinaus arbeitete er mit Dirigent:innen wie Antonio Pappano, Mark Elder, Peter Schneider, Nicola Luisotti, Philippe Jordan und Simone Young. Seit Sommer 2015 ist er Musikalischer Leiter des Young Singers Project der Salzburger Festspiele. Gastengagements führten ihn ans Teatro Colón in Buenos Aires und in die Vereinigten Staaten, wo er das Barock-Pasticcio The Infernal Comedy mit dem Schauspieler John Malkovich auf Tournee dirigierte. Von 2010 bis 2017 war Adrian Kelly Erster Kapellmeister am Salzburger Landestheater. Er arbeitete dort regelmässig mit dem Mozarteumorchester Salzburg und übernahm die musikalische Leitung u.a. von Les Contes d'Hoffmann, Le nozze di Figaro, Ernst Kreneks Jonny spielt auf, Hänsel und Gretel in der Felsenreitschule, La bohème im Haus für Mozart sowie der österreichischen Erstaufführung von Charles Wuorinens Brokeback Mountain. In der Spielzeit 2018/19 leitete er am Landestheater Manon sowie einen Zyklus der Mozart-Da Ponte-Opern und kehrte in der Saison 2019/20 als erster ständiger Gastdirigent dorthin zurück. Seit Juni 2018 ist er Künstlerischer Leiter des Buxton Festivals, wo er die Neuproduktionen von Eugen Onegin und von La donna del lago dirigierte. Seit der Spielzeit 2020/21 ist er Leiter des Internationalen Opernstudios Zürich und dirigierte hier u.a. Viva la mamma am Theater Winterthur und Jakob Lenz im ZKO-Haus.
Don Giovanni
10 Oct 2023
Gala Concert of the International Opera Studio
08 Jul 2024