Händel
Georg Friedrich Handel
Water Music
Concerti grossi, Op. 6 (Nos. 4 and 6)
Händel
Abstract
Händel
The English conductor Jonathan Cohen founded the Ensemble Arcangelo in 2010, with whom he has enjoyed great international success, for example at the BBC Proms, the Salzburg Festival or the Berlin Philharmonie. In the 2022/23 season, he will not only conduct Handel's opera Alcina with the Canadian ensemble Les Violons du Roy and Handel's oratorio Theodora with the Ensemble Arcangelo, but also a Handel concert evening with the Orchestra La Scintilla at Zurich Opera House. In addition to the famous Water Music, which was first performed in 1717 as part of a royal pleasure cruise on the then probably still idyllic Thames in London, the programme also includes two concerti grossi.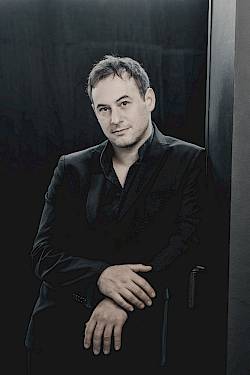 Jonathan Cohen, Music Direction
Jonathan Cohen
Jonathan Cohen, Dirigent, Cembalist und Cellist, ist künstlerischer Leiter des Barockensembles Arcangelo, Musikdirektor von Les Violons du Roy, Leiter des Tetbury Festivals und Künstlerischer Partner des Saint Paul Chamber Orchestra. Mit dem 2010 von ihm gegründeten Ensemble Arcangelo ist Cohen u.a. in der Londoner Wigmore Hall, der Philharmonie Berlin, der Kölner Philharmonie, dem Wiener Musikverein, den Salzburger Festspielen und der Carnegie Hall New York aufgetreten. Ihr Debüt bei den Proms gaben sie 2016 im Sam Wanamaker Playhouse und kehrten 2018 (Theodora) und 2021 (Matthäus-Passion) dorthin zurück. In den Projekten mit Arcangelo arbeitete er u.a. mit Iestyn Davies (die Alben Arias for Guadagni und eine Aufnahme mit Bach-Kantaten wurden bei den Grammophone Awards 2012 und 2017 ausgezeichnet), Anna Prohaska und Christopher Purves. Zu den jüngsten Aufnahmen des Ensembles gehören Händels Brockes-Passion, Buxtehudes Triosonaten op. 2 und eine weitere CD mit Bach-Kantaten mit Iestyn Davies. In der Spielzeit 2022/23 wird Jonathan Cohen u.a. die Händel- und die Haydn-Society sowie das Saint Paul Chamber Orchestra in den USA dirigieren. Zu seinen Projekten mit Les Violons du Roy gehören Händels Alcina sowie Programme mit Carolyn Sampson und Philippe Jaroussky. Ausserdem wird er das Iceland Symphony Orchestra, die Real Filharmonica de Galicia und das Orquesta Barroca de Sevilla dirigieren. Mit Arcangelo ist u.a. Händels Oratorium Theodora im Londoner Barbican Centre geplant.