Conversation concert with Wolfgang Rihm
Wolfgang Rihm in conversation with Claus Spahn
Musical director Hans-Peter Achberger

Ensemble Opera Nova

Baritone Christian Miedl

Stage caller Peter Warthmann

Works by Wolfgang Rihm
«Dunkles Spiel» for small orchestra
«abgewandt 2» music in memoriam Luigi Nono
«Der Maler träumt» Ein Traum-Gesicht von Max Beckmann for baritone and ensemble
«Umsungen» 7 Songs with texts by Friedrich Nietzsche for baritone and eight instruments
Tickets for the 2022/23 season will go on sale to the general public on June 25, 2022. Further information can be found here.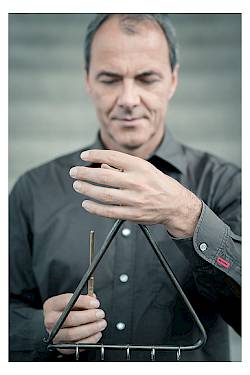 Hans-Peter Achberger, Musical director
Hans-Peter Achberger
Hans-Peter Achberger studierte Schlagzeug und Dirigieren am Konservatorium Feldkirch und der Musikhochschule Zürich sowie Philosophie und Musikwissenschaften an den Universitäten Freiburg i.B. und Zürich. Seit 1995 ist er Solo-Schlagzeuger der Philharmonia Zürich. Als Dirigent, insbesondere der neueren Musik, führten ihn Konzertreisen bis nach Süd­amerika und Japan. Am Opernhaus diri­gier­te er zuletzt Gustav Mahlers Lied von der Erde in der Fassung von Arnold Schönberg. Zudem widmet er sich dort dem Wiederaufbau des Ensembles Opera Nova – zuletzt mit einem Abend zu Kompositionen von Iannis Xenakis (Ich will den Weg des grössten Unheils gehen).
Kassandra
25 Nov 2021
Conversation concert with Wolfgang Rihm
17 Nov 2022