Kilar Lutoslawski Strawinsky
Wojciech Kilar
«Orawa» for string orchestra
Witold Lutosławski
Concerto for violoncello and orchestra
Igor Strawinsky
Le Sacre du printemps
Introduction 45 min before the performance.

Kilar Lutoslawski Strawinsky
Abstract
Kilar Lutoslawski Strawinsky
Born in Argentina, the star cellist Sol Gabetta is Swiss by choice. In between her internationally acclaimed performances, she regularly returns to Switzerland and creates her own concert series with the Solsberg Festival and Presenza at the LAC Lugano. Now she can be heard for the first time together with the Philharmonia Zurich. Sol Gabetta will perform the Cello Concerto by the Polish composer Witold Lutosławski, in which the solo instrument takes on an exposed and highly demanding role. Lutoslawski himself interprets the concerto as a «confrontation between the individual and the masses». Krzysztof Urbański will then conduct Le Sacre du printemps by Igor Stravinsky. For once, the focus of this composition, written in 1913 for the Ballets Russes, is not our ballet company, but the orchestra itself.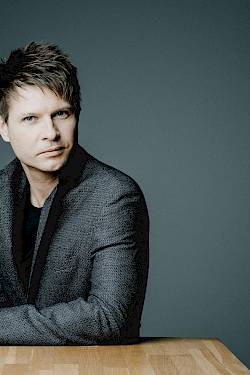 Krzysztof Urbański, Music Direction
Krzysztof Urbański
Krzysztof Urbański is Music Director of the Indianapolis Symphony Orchestra and Principal Guest Conductor of the NDR Elbphilharmonie Orchestra. In addition, he is an internationally sought-after guest conductor performing with orchestras such as the Munich Philharmonic, the Orchestra dell'Academia Nazionale di Santa Cecilia, the Philharmonia Orchestra, the Tonhalle Orchestra Zurich, the Vienna Symphony, the Rotterdam Philharmonic Orchestra, the Orchestre Philharmonique de Radio France, the Chicago Symphony Orchestra, the San Francisco Symphony Orchestra , the Los Angeles Philharmonic and the National Symphony Orchestra Washington. More recently, he made his debuts with the Gewandhausorchester Leipzig, the Orchestre de Paris and the Chamber Orchestra of Europe. From 2010 to 2017, he was principal conductor of the Trondheim Symphony Orchestra, which then named him honorary conductor. He also served as principal guest conductor of the Tokyo Symphony Orchestra for four seasons starting in 2012. In June 2015, he received the prestigious Leonard Bernstein Award from the Schleswig-Holstein Music Festival, the first conductor ever to do so. Urbański's collaboration with the NDR Elbphilharmonie Orchester is now documented on seven CDs with works by Lutosławski, Dvořák, Chopin, Rachmaninoff, Stravinsky, Shostakovich and Strauss. In addition, Urbański's discography includes a recording of Martinů's Cello Concerto No. 1 with the Berlin Philharmonic and Sol Gabetta.
Kilar Lutoslawski Strawinsky
14 Jan 2024
Sol Gabetta, Violoncello
Sol Gabetta
Sol Gabetta zählt zu den gefragtesten Cellistinnen ihrer Generation. Sie wurde in Argentinien geboren und studierte in Basel und Berlin. Nach ihren jüngsten Residenzen bei Radio France, der Sächsischen Staatskapelle Dresden und den Bamberger Symphonikern gastierte sie in der vergangenen Saison bei den BBC Proms Japan, mit der Staatskapelle Berlin und Edward Gardner, den Bamberger Symphonikern und Jakub Hrůša sowie mit dem Philharmonischen Orchester Oslo und Klaus Mäkelä. Als leidenschaftliche Verfechterin neuer Werke präsentierte Sol Gabetta 2022 bei Radio France die Uraufführung des für sie komponierten Cellokonzerts von Francisco Coll. Im selben Jahr wurde sie in der Tonhalle Zürich mit dem Europäischen Kulturpreis geehrt. Bei den Salzburger Osterfestspielen 2018 wurde sie mit dem Herbert-von-Karajan-Musikpreis ausgezeichnet, 2019 erhielt sie einen Opus Klassik. Im Mittelpunkt von Sol Gabettas Arbeit steht die Kammermusik. Zuletzt trat sie etwa mit Isabelle Faust und Alexander Melnikov im Trio, mit ihrem langjährigen Konzertpartner Bertrand Chamayou sowie mit Kristian Bezuidenhout und Francesco Piemontesi auf. Als künstlerische Leiterin zeichnet sie für das Solsberg Festival sowie für das Festival Presenza im LAC Lugano verantwortlich. Sol Gabetta spielt auf mehreren italienischen Meisterinstrumenten aus dem frühen 18. Jahrhundert, darunter ein Cello von Matteo Goffriller von 1730, Venedig, das ihr vom Atelier Cels Paris zur Verfügung gestellt wurde, und seit 2020 das berühmte «Bonamy Dobree-Suggia» von Antonio Stradivarius aus dem Jahr 1717, eine grosszügige Leihgabe der Stradivari-Stiftung Habisreutinger. Seit 2005 unterrichtet sie an der Musik-Akademie Basel.
Kilar Lutoslawski Strawinsky
14 Jan 2024