Song recital
Angelika Kirchschlager
A selection of songs by Franz Schubert, Robert Schumann and Johannes Brahms
Supported by

April 2019
Song recital Angelika Kirchschlager
Song subscription, Opera House Day
Song recital Angelika Kirchschlager
Abstract
Song recital Angelika Kirchschlager
The Zurich audience will certainly still have her in their fondest memories: Angelika Kirchschlager. In December and January the Austrian mezzo-soprano celebrated a great success as Mrs. Lovett in Stephan Sondheim's Sweeney Todd . In addition to her performances on the world's most important opera stages, Angelika Kirchschlager is also very interested in song recitals, which she often combines with her commitment to charity. Now she returns to Zurich with selected songs by Schubert, Schumann and Brahms. She will be accompanied by the renowned British pianist Julius Drake.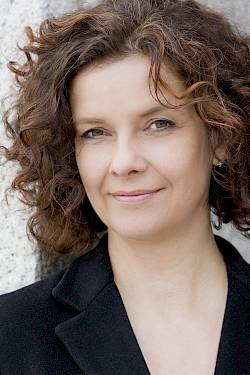 Angelika Kirchschlager,
Angelika Kirchschlager
Angelika Kirchschlager, Mezzosopranistin, stammt aus Österreich und gehört weltweit zu den führenden Sängerinnen ihres Fachs, die sowohl in der Oper wie auch im Konzertbereich zu Hause ist. Sie tritt an Häusern wie der Wiener Staatsoper, der New Yorker MET, am ROH in London, an der Mailänder Scala, der Pariser Bastille sowie mit den Berliner, Wiener, Münchner und New Yorker Philharmonikern auf. International anerkannt als eine der herausragenden Richard Strauss- und Mozart-Interpretinnen, zeigen zudem ihre Interpretationen der Titelrollen von Opern wie Debussys Pelléas et Mélisande, Nicholas Maws Sophie's Choice und Brittens The Rape of Lucretia die Bandbreite ihrer Stimme. Wichtige Dirigenten ihrer Karriere waren und sind Riccardo Muti, Seiji Ozawa, Claudio Abbado, Sir Colin Davis, James Levine, Kurt Masur, Kent Nagano, Donald Runnicles und Sir Simon Rattle. 2007 wurde sie zur Kammersängerin der Wiener Staatsoper ernannt, seit 2009 ist sie Ehrenmitglied der Royal Academy of Music in London und 2013 wurde sie mit dem Europäischen Kulturpreis geehrt. Ihre Einspielungen wurden mit Preisen bedacht, unter anderem mehrmals mit dem Echo Klassik sowie mit einem Grammy. Höhepunkte der letzten Spielzeiten waren Clairon in Strauss' Cappriccio, Gräfin Carolina in Henzes Elegy for young lovers und Margarete von Parma in der Uraufführung Egmont von Christian Jost am Theater an der Wien, Bachs Weihnachtsoratorium in der Philharmonie am Gasteig in München und in der Elbphilharmonie Hamburg, Frau Muskat in Liliom am Gärtnerplatztheater München, Mrs. Lovett in Sweeney Todd in Zürich und Rezitals beim Oxford Lieder Festival, in der Londoner Wigmore Hall, im Muziekgebouw Amsterdam, an der Wiener Staatsoper am Opernhaus Zürich sowie Schuberts Winterreise in London.
Sweeney Todd
22, 29 Dec 2023; 07, 13 Jan 2024