Song recital
Bryn Terfel
Gerald Finzi
Let us garlands bring
Traditional
Bugeilio'r Gwenith Gwyn
Lieder von Ivor Novello
Folk Songs aus Wales
Jesus Guridi
Viejo Zortzico
Franz Schubert
Liebesbotschaft
Gruppe aus dem Tartarus
Litanei auf das Fest Allerseelen
Auf dem Wasser zu singen
Die Taubenpost
Claude Debussy
Claire de Lune
Nuit d'étoiles
Robert Schumann
Mein schöner Stern
Richard Wagner
O du mein holder Abendstern (aus Tannhäuser)
Traditional
Ar Hyd y Nos
Claude-Michael Schönberg
Stars (aus Les Misérables)
Supported by

June 2022
Song recital Bryn Terfel
Song subscription
From Friday, 1 April, the mandatory wearing of masks will no longer be required for the public at all performances and events at the Opernhaus Zürich. You can find more information here.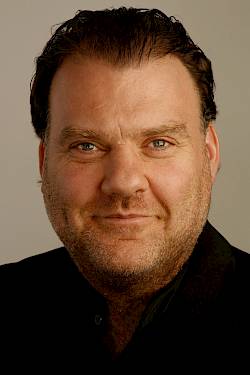 Bryn Terfel,
Bryn Terfel
Bryn Terfel, Bassbariton aus Wales, gewann 1989 den Liedpreis beim Internationalen Gesangswettbewerb Cardiff. Seither ist er in allen bedeutenden Opernhäusern der Welt aufgetreten und wird für seine Interpretationen des Falstaff, Dulcamara, Wotan, Boris Godunow und der Titelrolle in Der fliegende Holländer besonders geschätzt. Zu seinen weiteren Partien gehören Méphistophélès (Gounods Faust), Don Giovanni und Leporello, Jochanaan (Salome), Scarpia (Tosca), Gianni Schicchi, Nick Shadow (The Rake's Progress), Wolfram (Tannhäuser), Balstrode (Peter Grimes) und die Titelrolle in Sweeney Todd. Terfel ist ausserdem ein vielseitiger Konzertsänger. U.a. trat er bei den BBC Proms auf, gab Liederabende in allen grossen Städten der Welt und leitete neun Jahre lang sein eigenes Festival in Faenol, North Wales. Seine Diskografie umfasst Opern von Mozart, Wagner und Strauss sowie über fünfzehn Solo-Alben. Er gewann einen Grammy, einen Classical Brit und einen Gramophone Award. 2003 wurde ihm der Titel «Commander of the Order of the British Empire» verliehen, 2006 erhielt er die Queen's Medal for Music und 2017 wurde er für seine Verdienste um die Musik in den britischen Ritterstand erhoben. Wichtige Stationen waren jüngst die Titelrollen von Der fliegende Holländer und Falstaff an der Bayerischen Staatsoper, Balstrode (Peter Grimes) an der Wiener Staatsoper und am ROH, das Corona-Konzert Met Stars Live in Concert in New York sowie ein Konzert an der Royal Albert Hall London mit dem Royal Philharmonic Orchestra unter Vasily Petrenko. Am Opernhaus Zürich war er in den Titelrollen von Wagners Der fliegende Holländer, Sweeney Todd und Falstaff und 2022 mit einem Liederabend zu erleben.
Sweeney Todd
22, 29 Dec 2023; 07, 13 Jan 2024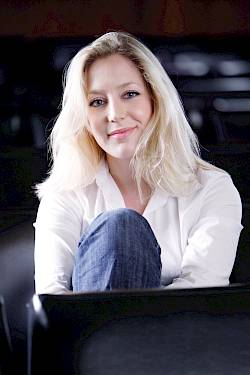 Annabel Thwaite,
Annabel Thwaite
Annabel Thwaite studierte an der Guildhall School of Music and Drama und am Conservatoire National Supérieur de Musique et Danse in Paris. Sie hat viele Stipendien erhalten, darunter den MBF Award und ein English Speaking Union Stipendium. Als Solistin und Kammermusikerin spielt sie weltweit, u.a. in der Carnegie Hall in den Vereinigten Staaten, der Walter Hall in Kanada, in Frankreich, Italien, Schweden, Slowenien sowie in England in der Birmingham Symphony Hall und am Imperial College in London. Mit anderen Musiker:innen war sie in der Royal Albert Hall, Barbican Hall, Cadogan Hall, Wigmore Hall, Bridgewater Hall, im Wales Millennium Centre, der St. David's Hall in Cardiff und an den Lieder Festivals in Machnylleth, Oxford und Leeds zu hören. Sie hat mit renommierten Künstler:innen zusammengearbeitet, wie Roberto Alagna, Bryn Terfel, David Kempster und mit der Michael Clark Company. Ihre Diskografie umfasst u.a. das Album The Scottish Tenor, welches für einen Classical Brit Award nominiert wurde und die weltweit erste Aufnahme von Musik von Hilary Tann. Zudem macht sie Aufnahmen für Filme. Sie hat zahlreiche Preise gewonnen, u.a. den Kathleen Ferrier Preis, Golden Medal und den Richard Tauber Preis. Sie ist Direktorin an der Pro Corda International Chamber Music Academy.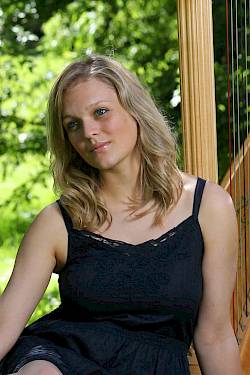 Hannah Stone,
Hannah Stone
Hannah Stone studierte an der Guildhall School of Music and Drama in London, an der Mozarteum Universität in Salzburg und am Royal Welsh College of Music and Drama in Cardiff. Gemeinsam mit dem Academies Festival Orchestra repräsentierte sie die Guildhall School am Singapore Sun Festival mit Dame Kiri Te Kanawa. Sie ist an vielen Konzerthäusern in Grossbritannien aufgetreten, u.a. dem Barbican Centre, dem LSO St. Luke's, dem St. John's Smith Square, Museum of London, National Concert Hall Dublin, St. David's Hall und dem Wales Millennium Centre in Cardiff. 2010 war sie Solo-Harfenistin beim Schleswig-Holstein Festival Orchester und ging in diesem Rahmen auf eine Europa-Tournee. Zudem gastierte sie beim BBC National Orchestra in Wales, beim Sinfonia Cymru, RTÉ Concert Orchestra, English Chamber Orchestra und dem Borusan Philharmonic Orchestra in Istanbul. 2012 spielte sie die Weltpremiere von Karl Jenkins' St. Asaph's Dance und 2015 von Gareth Glyns Amaterasu am North Wales International Music Festival. Sie gewann zahlreiche Preise, u.a. den International Eisteddfod, Franz Joseph Reinl Wettbewerb in Wien, Camac Harp Wettbewerb in London und den International Harp Wettbewerb in Caernarfon.