Song recital
Javier Camarena
A song recital by Javier Camarena will be presented to the Zurich public in the pre-christmas period: on 19 December, the Mexican star tenor will return to his former main opera house. His musical baggage includes arias by the Spanish composer and singer Manuel Garcia (1775-1832), father of the famous opera singer Maria Malibran: «Cara gitana del alma mía» from El gitano por amor, the French aria «Vous dont l'image» from La mort du Tasse and «En mi comedia juntamente» from El poeta Calculista, Garcia's most famous opera about a poor poet. The first part of the recital is complemented by the aria «Là dai regni dell'ombre e di morte» from Zingareli's opera Giulietta e Romeo. More well-known works follow in the second part of the program: the aria «Per te di vane lagrime» from Bellini's Il pirata, the evergreen «Una furtiva lagrima» from Donizetti's L'elisir d'amore, Massenet's heartbreaking «Pourquoi me réveiller» from Werther and «Il lamento di Federico» from Cilea's L'arlesiana. On the piano, Javier Camarena is accompanied by Ángel Rodriguez.


PROGRAM
Manuel García (1775-1832)
Hernando desventurado... Cara gitana del alma mia (from: «El gitano por amor», 1829)
Mais que vois je?... Vous dont l'image... (from: «La mort du Tasse», 1821)
Formaré mi plan... En mi comedia juntamente... (from: «El poeta Calculista», 1805)
Niccolò Zingarelli (1752-1837)
Più dubitar mi fan... Là dai regni dell'ombre e di morte... (from: «Giulietta e Romeo», 1786)
-- PAUSE --
Vincenzo Bellini (1801-1835)
Nel furor delle tempeste... Per te di vane lagrime... (from: «Il pirata», 1827)
Gaetano Donizetti (1797-1848)
Una furtiva lagrima... (from: «L'elisir d'amore», 1832)
Jules Massenet (1842-1912)
Pourquoi me réveiller? (from: «Werther», 1892)
Francesco Cilea (1866-1950)
Il lamento di Federico (from: «L'arlesiana», 1897)
Supported by

Javier Camarena, Tenor
Javier Camarena
Javier Camarena wurde in Veracruz (Mexiko) geboren. Nach seinem Studium an der Musikhochschule der Universität von Guanajuato gewann er 2004 den ersten Preis beim Gesangswettbewerb «Carlo Morelli» in Mexiko und 2005 den Sonderpreis «Juan Oncina» im Wettbewerb Francisco Viñas in Barcelona. Francisco Araiza ist sein Gesangslehrer und Berater. 2004 debütierte er am Palacio de Bellas Artes als Tonio in La Fille du Régiment. In Mexiko war er zudem als Belmonte (Die Entführung aus dem Serail), Nemorino (L'elisir d'amore), Ernesto (Don Pasquale) und Dorvil (La scala di seta) zu hören. Als Ensemblemitglied des Opernhauses Zürich von 2007-2014 hat er u.a. Lindoro (L'italiana in Algeri), Almaviva in Il barbiere di Siviglia von Paisiello und Rossini, Belfiore (La finta giardiniera) sowie in den Neuproduktionen von Tristan und Isolde (Stimme eines Seemanns), Così fan tutte, La fedeltà premiata, Mosè in Egitto, Les Pêcheurs de perles, Le Comte Ory, Falstaff, Die Entführung aus dem Serail und Rossinis Otello gesungen. Gastengagements führten ihn u.a. an die Opernhäuser in Paris, Wien, München, Dresden, Brüssel, Barcelona, Madrid, New York und San Francisco. Bei den Salzburger Festspielen war er 2013 als Fenton und Belmonte (Die Entführung aus dem Serail) sowie 2014 als Ramiro (La cenerentola) zu erleben. Zu seinen künftigen Engagements zählen u.a. Almaviva (Il barbiere di Siviglia) an der Wiener und der Münchener Staatsoper, Conte di Libenskoff (Il viaggio a Reims) in Zürich, Ernesto (Don Pasquale) in Zürich und an der Met sowie Lord Arturo (I puritani) in Madrid.
Song recital Javier Camarena
19 Dec 2018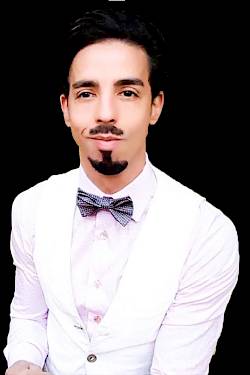 Angel Rodriguez, Klavier
Angel Rodriguez
Ángel Rodriguez wurde in Kuba geboren. Der Pianist und Komponist begann seine musikalische Ausbildung bereits im Alter von fünf Jahren mit Klavierunterricht bei Profesor Gonzalo Gutiérrez, Gesang bei Professor Enrique Jaso und Dirigieren bei Professor Gonzalo Romeu. Während seiner über fünfundzwanzigjährigen Karriere begleitete er international bekannte Sänger und Sängerinnen wie Placido Domingo, Luciano Pavarotti, Anna Netrebko, Ramón Vargas, Rolando Villazón, Javier Camarena, Joseph Calleja, Kate Lindsey, Nathalie Manfrino, Franco Vassallo, Ailyn Pérez, Alfredo Daza, Église Gutiérrez, Fernando de la Mora, Cassandra Zoé, Rosario Andrade, Timothy Robert Blevens, Rebeca Olvera, Arturo Chacón, Maria Katzarava, Carlos Almaguer,  José Bross und Dario Solari. Er spielte in Europa, Asien und Amerika, darunter im Palacio de Bellas Artes in Mexico City, der Oper Kuba, dem Teatro Real in Madrid, den Caracalla Thermen in Rom, im Konzerthaus Berlin, Kennedy Center in Washington, Harris Theater in Chicago und bei den Rosenblatt Recitals in London. Er trat bei der Weltausstellung 2010 in Shanghai auf, ebenso vor dem spanischen König Juan Carlos I und Königin Sophia und war Solist beim Moskauer Kremlin Chamber Orchestra. Sein Repertoire umfasst mehr als neunzig Werke und seine Diskographie u.a. zwei CDs mit Javier Camarena und eine mit der Mezzosopranistin Maria Luisa Tamez. Neben seiner Tätigkeit als Recitalbegleiter leitet Rodríguez in Mexico Meisterklassen zum Thema Interpretation und Stil italienischer Opern und arbeitet als Komponist und Musik-Produzent.
Song recital Javier Camarena
19 Dec 2018