Song recital
Sabine Devieilhe
The program will be announced at a later date.
Supported by

Tickets for the 2022/23 season will go on sale to the general public on June 25, 2022. Further information can be found here.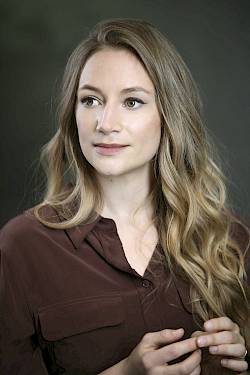 Sabine Devieilhe, Sopran
Sabine Devieilhe
Sabine Devieilhe arbeitete bereits während ihres Studiums am Consérvatoire National Supérieure in Paris mit dem Ensemble Pygmalion unter Raphaël Pichon sowie mit Les Cris de Paris unter Geoffroy Jourdain und konzertierte u.a. mit dem Orchestre de Paris, Les Arts Florissant und Les Musiciens du Louvre. Kurz nach ihrem Abschluss folgten u.a. Einladungen nach Aix-en-Provence als Serpetta (La finta giardiniera), nach Montpellier für die Titelrolle in Leo Délibes Lakmé und nach Lyon für ihr Debüt als Königin der Nacht (Die Zauberflöte). Zudem wurde sie bei den 20èmes Victoires de la Musique als «Révélation Artiste Lyrique» ausgezeichnet. Seither war Sabine Devieilhe u.a. als Constance (Dialogues des carmélites) in Lyon, Paris und Amsterdam, als Lakmé in Paris, Avignon und Marseille sowie als Königin der Nacht in Paris und London zu erleben. Weitere Höhepunkte waren Euridyce (Orphée et Eurydice) in Brüssel, Le Feu/La Princesse/Le Rossignol (L'Enfant et les sortilèges) in Glyndebourne, Bellezza (Il trionfo del tempo e del disinganno) in Aix-en-Provence, Héro (Béatrice et Bénédict) in Paris, Blonde (Die Entführung aus dem Serail) an der Mailänder Scala sowie die Auszeichnung als «Artiste Lyrique de l'Année» bei den Victoires de la Musique 2015. Ihre Debüt-CD mit Rameau-Arien wurde mehrfach ausgezeichnet, u.a. mit einem Diapason d'Or. Seither erschienen u.a. das Mozart­ Album The Weber Sisters mit dem Ensemble Pygmalion, L'Enfant et les sortilèges mit dem Orchestre Philharmonique de Radio France sowie unlängst ihr Solo-Album Mirages. Jüngst war sie u.a. als Marie (La Fille du régiment) an der Wiener Staatsoper, als Cunégonde (Candide) am Théâtre des Champs-Elysées sowie als Zerbinetta (Ariadne auf Naxos) beim Festival in Aix-en-Provence zu erleben.
Lakmé
02, 08, 15 Apr 2023
Song recital Sabine Devieilhe
12 Jun 2023