Ligeti
7th Brunch & Lunch Concert
Hanna Weinmeister, Violin
Anahit Kurtikyan, Violin
Karen Forster, Viola
Claudius Herrmann, Violoncello
Robert Pickup, Clarinet
Clément Noël, Oboe


Program
György Ligeti (1923-2006)
Andante and Allegretto for string quartet (1950)
Mátyás Seiber (1905-1960)
Divertimento for clarinet and string quartet (1928)
György Ligeti (1923-2006)
Bölcsötöl a Sírig (From cradle to grave), for soprano, baritone, oboe, clarinet and string quartet (1948) - Swiss premiere
A wide variety of ensemble formations consisting of members of the Philharmonia Zurich will again be presenting works of chamber music in our informal, intimate Brunch & Lunch concert series this season. Together with the musicians, discover forgotten gems, unusual arrangements of well-known works, and embark upon extraordinary auditive adventures.

Brunch concerts begin at 11.15 a.m. on Sundays, followed by brunch at the Restaurant Belcanto. Concert and brunch cost CHF 6O including a welcome glass of champagne (students: CHF 52 / children 16 and under: CHF 32).

Lunch concerts – featuring the same programme – are repeated the following day at 12.OO noon, and do not include a culinary option. Tickets: CHF 2O (students: CHF 18).

The Brunch & Lunch Concerts are supported by Evelyn und Herbert Axelrod
February 2019
Ligeti
7th Brunch & Lunch Concert , Spiegelsaal
Ligeti
7th Brunch & Lunch Concert , Spiegelsaal
Ligeti
Abstract
Ligeti
The Ensemble Labyrinth, a chamber music formation of the Philharmonia Zurich, presents in this lunch/brunch concert early works by György Ligeti, which were composed before his escape from Hungary in 1956. Bölcsötöl a Sírig (From cradle to grave) is also more lyrical and influenced by Hungarian folklore. This work for soprano, baritone, oboe, clarinet and string quartet (1948) was found by an ensemble member after extensive research in Ligeti's compositional estate at the Paul Sacher Foundation in Basel and will be premiered in Switzerland on February 3. Ligeti's contemporaries Mátyás Seiber also play the Divertimento für Klarinette und Steichquartett, which unites folkloristic, neo-classical and jazz influences.
Backstage
Clément Noël about György Ligetis «Bölcsötöl a Sírig» (From cradle to grave)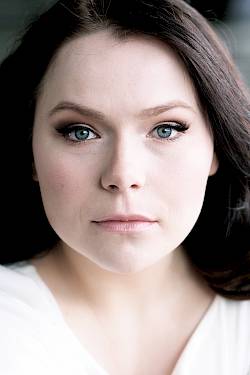 Hamida Kristoffersen,
Hamida Kristoffersen
Hamida Kristoffersen stammt aus Norwegen. Sie absolvierte ihre Gesangsausbildung an der Universität Tromsø, besuchte Meisterkurse bei Kiri Te Kanawa, Brigitte Fassbaender, Barbara Hendricks sowie Enza Ferrari und nimmt seit 2013 regelmässig Unterricht bei Patricia McGaffrey in New York. Ausgezeichnet wurde sie u.a. mit dem «Premio Verdi 2013» und einem Ingrid Bjoner-Stipendium bei der «Queen Sonja Competition». Sie war als Mimì (La bohème) und als Contessa (Le nozze di Figaro) mit der Arctic Opera und dem Arctic Philharmonic Orchestra zu erleben. Ausserdem sang sie 2014 Konzerte mit dem Norwegian Radio Orchestra und dem Oslo Philharmonic Orchestra. In der Spielzeit 2014/15 wurde Hamida Kristoffersen Mitglied im Internationalen Opernstudio in Zürich und war hier u.a. als Pamina (Die Zauberflöte), Tamiri (Il re pastore), Giannetta (L'elisir d'amo­re) und An­nina (La traviata) sowie in Die Frau ohne Schatten, Luisa Miller, und Fälle von Oscar Strasnoy zu erleben. 2015 debütierte sie als Micaëla (Carmen) an der Oper Oslo und sang im Sommer 2017 Mimì (La bohème) an der Oper Hede­land in Dänemark. 2016-2019 war sie Ensemblemitglied in Zürich, wo sie u.a. als Dama (Macbeth), Berta (Il barbiere di Siviglia), Erste Dame (Die Zauberflöte), in der Uraufführung von Xavier Dayers Der Traum von Dir, als Blumenmädchen (Parsifal), Anna Kennedy (Maria Stuarda), als La Virtù (L'in­coronazione di Poppea), als Gretel und Sandmännchen (Hänsel und Gretel) sowie als Diane (Hippolyte et Aricie) auf der Bühne stand. Dabei arbeitete sie mit DirigentenInnen wie Gianandrea Noseda, Emmanuelle Haïm, Ottavio Dantone, Nello Santi, Laurence Cummings, Enrique Mazzola und Simone Young.
You might also be interested in