Mozart / Strauss / Schostakowitsch
1st Philharmonic Concert
Wolfgang Amadeus Mozart
Rondo in A major KV 386
Richard Strauss
Burlesque for Piano and Orchestra in D minor TrV 145
Dmitri Schostakowitsch
Symphony No. 5 in D minor op. 47
Introduction 45 min before the performance.

The Philharmonic Concerts are supported by Evelyn and Herbert Axelrod
Mozart / Strauss / Schostakowitsch
Abstract
Mozart / Strauss / Schostakowitsch
Francesco Piemontesi, born and brought up in Locarno, is one of the most outstanding Swiss pianists of our time. Invited to perform by renowned orchestras throughout the world, he will now be giving his first guest appearance with the Philharmonia Zurich. Daniele Rustioni, who most recently conducted Puccini's Madama Butterfly at Zurich Opera House, will be at the rostrum. The pianist will introduce himself with two works: Mozart's Rondo in A major KV 386, written in Vienna in 1782, followed by Richard Strauss's Burlesque for Piano and Orchestra in D minor. Just 21 years old when he wrote the piece, the composer succeeded in creating a mischievously irreverent work full of humour that already anticipates the antics of Till Eulenspiegel and places extreme demands on the soloist.
Dmitri Shostakovich's classically structured Fifth Symphony was a reaction to the Stalin regime's scathing criticism of the composer's work: his opera Lady Macbeth of Minsk having been condemned as «chaos rather than music» in 1936, the composer's Fifth was, by contrast, a great popular success. Its tumultuous, jubilant finale was understood as a glorification of the regime. However, the jubilation is forced. Despite its apparent conformity, the symphony is characterised by vehement inner resistance and a profound sense of resignation.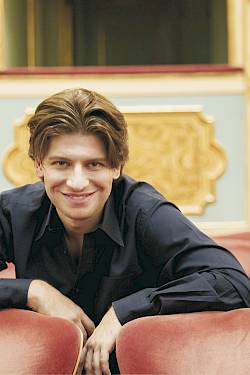 Daniele Rustioni, Musikalische Leitung
Daniele Rustioni
Daniele Rustioni ist seit der Saison 2017/18 Chefdirigent an der Opéra National de Lyon und seit 2014 Chefdirigent des Orchestra della Toscana. Er studierte in Mailand Orgel, Komposition und Klavier sowie Dirigieren bei Gilberto Serembe und setzte sein Studium in Siena und London fort. Daniele Rustioni ist regelmässig an den international bekanntesten Opernhäusern zu Gast, darunter die Bayerische Staatsoper München, das Teatro alla Scala, das Teatro Regio Torino, das Teatro La Fenice, das Royal Opera House London und die Opéra Bastille. 2017 debütierte er mit Aida an der Metropolitan Opera in New York. Als Chefdirigent in Lyon dirigiert er 2017/18 Brittens War Requiem sowie Verdis Macbeth, Don Carlos und Attila. Zu seinen weiteren Engagements in dieser Spielzeit zählen La bohème am Bolschoi-Theater Moskau, Don Giovanni am Teatro Regio Torino und Der Freischütz an der Oper Stuttgart. Daniele Rustioni ist auch weltweit als Dirigent des sinfonischen Repertoires gefragt. Internationale Engagements führen ihn in der Spielzeit 2017/18 zum Armenian National Symphony Orchestra nach Yerevan, zum Bayerischen Staatsorchester nach München, zum RTE Symphony Orchestra nach Dublin und zum BBC Symphony Orchestra nach London. Seit seinem Debüt mit Madama Butterfly an der Nikkikai Opera 2014 gastiert Daniele Rustioni regelmässig in Japan. Zu seinen Einspielungen zählen u.a. Bellinis erste Oper Adelson e Salvini, Wolf-Ferraris Violinkonzert mit Francesca Dego und dem City of Birmingham Orchestra und sinfonisches italienisches Repertoire des 20. Jahrhunderts. 2013 wurde Rustioni mit dem International Opera Award for Best Newcomer of the Year ausgezeichnet. Am Opernhaus Zürich dirigierte er die Wiederaufnahme von Cavalleria rusticana/Pagliacci sowie zuletzt die Premiere von Puccinis Madama Butterfly.
Mozart / Strauss / Schostakowitsch
28 Oct 2018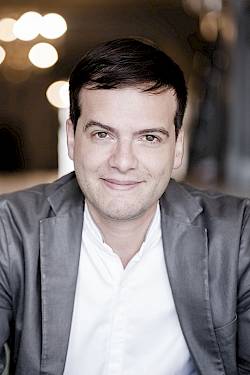 Francesco Piemontesi, Klavier
Francesco Piemontesi
Francesco Piemontesi wurde in Locarno in der Schweiz geboren und studierte bei Arie Vardi, Alfred Brendel, Murray Perahia, Cécile Ousset und Alexis Weissenberg. 2009 wurde er BBC New Generation Artist. Er spielte u.a. mit dem Cleveland Orchestra, dem Deutschen Symphonie-Orchester, den Münchner Philharmonikern, dem Gewandhausorchester Leipzig, dem hr-Sinfonieorchester, dem Symphonieorchester des Bayerischen Rundfunks, dem London Philharmonic, dem BBC Symphony und dem Los Angeles Philharmonic. Zu seinen Partnern am Dirigentenpult zählen Marek Janowski, Sakari Oramo, Vasily Petrenko, Manfred Honeck, Robin Ticciati, Vladimir Ashkenazy, Charles Dutoit, Sir Roger Norrington, David Afkham und Andrew Manze. Mit Recitals und Kammermusikprogrammen gastierte Francesco Piemontesi u.a. im Amsterdamer Concertgebouw, im Konzertsaal De Doelen Rotterdam, der Carnegie Hall, der Berliner Philharmonie, der Tonhalle Zürich und dem Wiener Konzerthaus. Er musiziert u.a. mit Antoine Tamestit, Jörg Widmann, Renaud und Gautier Capuçon, Clemens Hagen, Angelika Kirchschlager, Daniel Müller-Schott und dem Emerson String Quartet. Zu Beginn des Jahres 2016 startete Francesco Piemontesi einen Mozartzyklus in der Londoner Wigmore Hall. Über drei Spielzeiten führt er dort sämtliche Mozart-Sonaten auf. Francesco Piemontesi hat zahlreiche CDs eingespielt. Zuletzt erschien seine Einspielung von Mozarts Klavierkonzerten KV 503 und KV 537 zusammen mit dem Scottish Chamber Orchestra unter Andrew Manze. Ausserdem veröffentlichte er drei CDs mit Werken von Mozart, Schumann und Dvořáks Klavierkonzert op. 33, eingespielt mit dem BBC Symphony unter Jiří Bělohlávek. Seit 2012 ist Francesco Piemontesi künstlerischer Leiter des Festivals Settimane Musicali di Ascona.
Mozart / Strauss / Schostakowitsch
28 Oct 2018