Opera goes Musical
Compositions by Richard Strauss, Gerald Finzi, Othmar Schoeck, Kurt Weill, Stephen Sondheim, Mitch Leigh, Pieter De Villiers, Richard Rodgers und Jerry Herman
Richard Strauss / John Henry Mackay
Drei Lieder op. 27: «Ruhe, meine Seele», «Heimliche Aufforderung» und «Morgen»
Gerald Finzi
Let us garlands bring op. 18: «Come Away, Come Away, Death», «Who Is Silvia?», «O Mistress Mine» und «It Was a Lover and His Lass»
Othmar Schoeck
5 Lieder: «Liederseelen», «Nachruf», «Nachtgeräusche», «Die Sternseherin» und «Das Ende des Festes»
Pieter De Villiers
Sewe Boerneef-Liedjies: «Doer bo teen die Rant», «My koekiesverrhen jou verkereveer» und «Aandblom is 'n witblom»
Mitch Leigh
The Impossible Dream (aus: Man of La Mancha)
Kurt Weill
3 Lieder: «Nanna's Lied», «Und was bekam des Soldaten Weib?» und «Wie lange noch?»
Andrew Lloyd Webber
The Music of the Night (aus: The Phantom of the Opera)
Stephen Sondheim
Everybody Says Don't (aus: Anyone Can Whistle)
Jerry Herman
I am what I am (aus: La Cage aux Folles)
We have put together a comprehensive public health protection plan, which aligns with FOPH (BAG) regulations in place.
In order to help protect yourself and others, we kindly ask you to observe the protective measures during your visit to the Opernhaus. Thank you in advance for your support.
---
Tell us Andrew...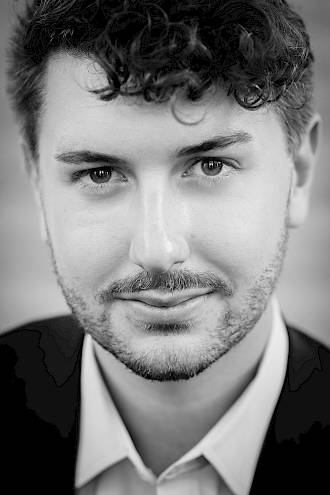 When and why did you decide to become an opera singer?
I began my journey in music studying music education to become a music teacher. I really loved the idea of giving back and teaching music because, for me, music was something I really cherished growing up. It wasn't until my senior year of college where after several convincing conversations with my voice teacher, I decided to try performing. It was after my first performance in my first opera (guglielmo in «Così fan Tutte») where I thought to myself «I could get used to this...». It was such a rewarding feeling. Being able to use my voice to tell a story to an audience. I loved it. Since then, I began performing much more over the years, and has now taken me up to be in Zurich with the IOS.
If I hadn't become an opera singer, I'd be …
A flavor chemist. Chemistry was my favorite subject in school, and I wanted to work in a food science laboratory and create new ways of creating foods and flavorings with natural and man made ingredients.
Which was your most precious experience on stage so far?
I think my most precious moment was having the chance to sing some of the role of Papageno on the San Francisco opera stage with a full house in the audience. It was a feeling unlike any other and I treasure it, as it was my first time singing on the stage of a major house.
… the most embarrassing moment?
Once I was in a production of «Joseph and the Amazing Technicolor Dreamcoat». There was a dance break, and in the show I had on the craziest wig. During the dance break, one of the dancers grabbed my neck in her choreography, and as she turned, she took my wig with her! And there I was: standing on stage in a bald cap. The entire audience burst into laughter. It was very fun though, I played it off very well. Something I will never forget.
… the biggest challenge?
Languages. Languages have always been a struggle for me. I work extra hard to make sure that I really understand my text and that things are pronounced as well as a native speaker would. I was once told the best advice by a colleauge that said: «Learn a new word in a different language everyday. This way, in a year, you would have learned 365 new words». When she put it like that, my struggle with languages became something that challenges me, but keeps me motivated to work hard and improve.
And what would be your biggest dream?
I'm not super sure what my biggest dream would be, to be honest. Being in this wonderful place like Zürich, is something a year ago I would have never imagined for myself. I have no idea what lies in front of me for the future, but im excited for the journey ahead.
Do you have a lucky charm or a ritual before going on stage?
Every night before a big performance, I use the small area in my bedroom and do a mini walk and talk, where I go through the motions and text of the show. It sounds crazy, but going to bed with a good feeling of confidence is key and helps me get a good night sleep for the next day.
My secret weapon to prevent hoarseness:
Tons and tons of sleep and not talking.
My idol:
Sam Ramey
Which opera character do you identify with the most and why?
Alfredo in «La Traviata». Although I am not a tenor, I am 100% a hopeless romantic. Someone who pursues not as a heroic chivalry act, but out of genuine love and affection. He loves deeply.
This song speaks out of the fullness of my heart:
«An die Musik» (Schubert)
Which is you favorite place in Zurich and why?
There is a little farm area on top of Sonnenberg past the Dolder called Adlisberg. It's the cutest place and it has a really good restaurant with great food. I absolutely love it here.
What is your favorite word in Swiss German?
«Öpfuchüechli»
Andrew Moore, bass baritone, comes from the USA. 
The twenty-five year old has been a member of the IOS since the 2O/21 season.
---