Zelenka
Arias and instrumental works
Jan Dismas Zelenka
Johann David Heinichen
Francesco Maria Veracini
Georg Philipp Telemann
Zelenka
Abstract
Zelenka
The Baroque in Dresden – this is the theme for the second Orchestra La Scintilla concert of the 2019/20 season, which will take place on March 9. The concert will feature concerti and arias from four different Baroque-era composers: in addition to Johann David Heinichen, Francesco Maria Veracini, and Georg Philipp Telemann (who were all in Dresden around the same time) a special spotlight will be on Czech composer Jan Dismas Zelenka (1679-1745), the «Bohemian in Dresden» – a composer who eluded justly-deserved fame in his own lifetime. He joined the court orchestra as a double bass player, and composed a number of works for the ensemble, for which he was named «church composer». Although he never won the title of «Kapellmeister» – an honor that went instead to Johann Adolf Hasse – Zelenka stayed in Dresden until he died. His music is virtuosic, unimaginably original, and, for the Baroque style, incredibly modern.
This is already the second concert that the Orchestra La Scintilla will present under the direction of conductor and violinist Riccardo Minasi. Irish soprano Anna Devin will sing arias from the oratorio Gesù al calvario as well as from the wedding composition Il Diamante by Zelenka. Anna Devin is no stranger Zurich: she thrilled audiences in the 2018/19 season as Rosane in Vivaldi's La verità in cimento at the Opernhaus Zürich.
Join us for this musical evening that will transport audiences back to the Baroque era in Dresden and present four different composers.
Riccardo Minasi, Dirigent und Violine
Riccardo Minasi
Riccardo Minasi wurde in Rom geboren. Als Solist und Konzertmeister arbeitete er mit Ensembles wie Le Concert des Nations, der Accademia Bizantina und Il Giardino Armonico zusammen. Von 2012 bis 2015 war er Dirigent des Ensembles «Il pomo d'oro». Unlängst dirigierte er beim Tokyo Metropolitan Symphony Orchestra, NDR Radiophilharmonie, Stavanger Symphony Orchestra, Orchestre de Chambre de Lausanne, Portland Baroque Orchestra und Los Angeles Chamber Orchestra sowie Opernprojekte wie Les Pêcheurs de Perles bei den Salzburger Festspielen, Iphigénie en Tauride an der Hamburgischen Staatsoper, Carmen an der Opéra National de Lyon und Rinaldo am Theater an der Wien. Jüngste Engagements umfassen u.a. Händels Alcina an der Hamburgischen Staatsoper, Projekte mit Werken von Bach und Wagner mit dem Orchestre national de Lyon sowie sein Debüt beim Konzerthausorchester Berlin. Am Opernhaus Zürich dirigierte er bereits Il matrimonio segreto, das Ballett Der Sandmann, Don Giovanni, Orlando paladino sowie Die Entführung aus dem Serail. Er stand dem Orchestre Symphonique de Montréal als musikhistorischer Berater zur Seite und wirkte gemeinsam mit Maurizio Bondi als Kurator und Herausgeber der kritischen Bärenreiter-Edition 2016 der Oper Norma. 2016 war er an vier mit dem ECHO Klassik ausgezeichneten Alben beteiligt, darunter sein Album mit Haydn-Konzerten sowie Leonardo Vincis Catone in Utica. Als Sologeiger nahm er die Rosenkranz-Sonaten von Biber auf. Seit September 2017 ist er Chefdirigent des Mozarteum-Orchesters Salzburg und «Artist in Residence» vom Ensemble Resonanz bei der Elbphilharmonie Hamburg. In der Saison 2018/19 gestaltete Riccardo Minasi am Opernhaus Zürich in enger Zusammenarbeit mit dem La Scintilla Orchester eine Reihe von vier Konzerten.
Haydn - Die Schöpfung
22 Dec 2019
Don Giovanni
30 May; 06, 10, 13 Jun 2020
Zelenka
09 Mar 2020
«Echos»
25 May 2020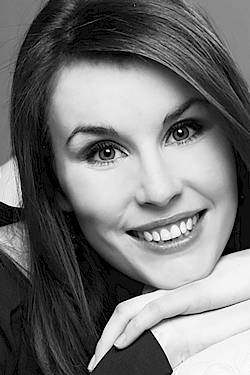 Anna Devin, Sopran
Anna Devin
Anna Devin, irische Sopranistin, studierte an der Royal Irish Academy of Music, Guildhall School of Music and Drama, im Rahmen des Britten-Pears Young Artist Program sowie am National Opera Studio und schloss ihre Ausbildung 2012 beim Jette Parker Young Artists Programme am Royal Opera House London ab. 2014/15 erhielt sie für ihre Clotilde in Händels Faramondo beim Brisbane Baroque Festival den "Helpman Award" für die beste weibliche Nebenrolle. 2015/16 debütierte sie als Hirtin/Fledermaus in Ravels Das Kind und die Zauberdinge an der Mailänder Scala, mit der Titelpartie von Händels Acis und Galatea in der Mozart-Fassung bei der Mozartwoche Salzburg und mit Händels Messias beim Lausanne Bach Festival. Regelmässig ist sie mit Marc Minkowski und den Musiciens du Louvre zu hören und arbeitet mit Dirigenten wie Sir Antonio Pappano, Yannick Nézet-Séguin, William Christie, Sir Colin Davis. Gastengagements führten sie u. a. zum Glyndebourne Festival, die Houston Grand Opera Texas, Londoner Wigmore Hall, ans Théâtre des Champs-Élysées, Theater an der Wien und ins Auditorio Nacional de Musica Madrid. Bei den BBC Proms war sie mit dem Hallé Orchestra unter Sir Mark Elder zu erleben. Unter Michael Schønwandt debütierte sie als Nanetta in Verdis Falstaff in Covent Garden, unter Laurence Cummings eröffnete sie mit der Titelpartie in Händels Semele das London Handel-Festival. In den USA wurde sie als Oberto in Alcina in der Carnegie Hall gefeiert. In der Spielzeit 2019/20 ist sie als Amirena (Rinaldo) beim Glyndbourne Festival zu hören, als Michal (Saul) am Théâtre du Châtelet in Paris, als Romilda (Xerxes) beim London Handel-Festival und als Ifphis (Jephta) an der Komischen Oper Berlin. Auf CD wurden u. a. ihre Interpretationen der Tamiri in Mozarts Il re pastore, des Arbate in Mozarts Mitridate, re di Ponto und der Clotilde in Faramondo festgehalten.