Emergence
Angels' Atlas
Choreography by Crystal Pite
Almost Blue
Angels' Atlas
Choreography by Marco Goecke
Angels' Atlas
Angels' Atlas
Choreography by Crystal Pite
Duration approx. 2 H. 20 Min. incl. intermissions after 1st part after approx. 30 Min. and after 2nd part after approx. 1 H. 30 Min. Introduction 45 min before the performance.

Partner Ballett Zürich

Past performances
October 2021
November 2021
In order to contain the Covid pandemic, the Federal Council has decided that as of Monday, 12/20/2021, our performances can only be attended with the 2G Covid certificate (vaccinated or recovered).

Tickets for March and April are on sale now, pre-sales for the remaining performances of the season begin March 25. You can find more info here.

In order to help protect yourself and others, we kindly ask you to observe the protective measures during your visit to the Opernhaus. Thank you in advance for your support.
Angels' Atlas
Abstract
Angels' Atlas
Crystal Pite is one of the most sought-after choreographers of our time. She leads her own company, called «Kidd Pivot», in Vancouver, British Columbia (Canada), and is a regular guest at the greatest companies of the world. Her Angels' Atlas, which celebrated its world premiere in 2020 with the National Ballet of Canada, was created as a co-production with the Ballett Zürich – and is on its way to the city on the Limmat for its European premiere. In her work, Crystal Pite explores the connection between light and dance: both choreography and the movement of light are mercurial and fleeting, but, according to the choreographer, «through dance, we can counter our own transience». For Angels' Atlas in Zurich, Jay Gower Taylor and Tom Visser developed a sophisticated system for manipulating reflected light. With it, they create complex, picture-like images on a projection surface, creating a striking illusion of both depth and naturalness in the process.
This three-part performance begins with Crystal Pite's acclaimed piece Emergence, which premiered in Zurich in 2018.  In the process of creating the work, Pite took inspiration from the communal behavior of bees, using their swarm intelligence as a model for creativity for a ballet company. It truly seems as though the dancers of Ballett Zürich have become an animal colony as they perform a work that is overwhelming in its collective force.
The Swiss premiere of a new work by Marco Goecke promises an exciting contrast to Crystal Pite's work. Using classical ballet as a foundation, the German choreographer has developed an unmistakable language of movement that – in its amalgamation of nervousness and frenzy – repeatedly makes one aware of the nightmarish nature of dance. Goecke recently caused a sensation in Zurich with his ballet Nijinski. Prior to taking over as Ballet Director in Hanover, he closed out his tenure as House Choreographer in Stuttgart in 2018 with Almost Blue. Set to emotion-laden songs by blues and gospel legend Etta James, and pieces by the American band «Antony and the Johnsons», the ballet explores aspects of change and impermanence.
Pressestimmen

«To call the performance brilliant is nothing short of a major understatement.»
Bachtrack, 3 Okt 2021

«In ‹Angels' Atlas› laufen die Körper zur Höchstform gegen ihre eigene Vergänglichkeit auf, und die Zürcher Ballett-Kompanie zeigt sich von ihrer besten Seite.»
NZZ, 3 Okt 2021

«Das Warten hat sich gelohnt. ‹Angels' Atlas› gleicht einer Sinfonie aus Bewegung und Licht.»
Tages-Anzeiger, 2 Okt 2021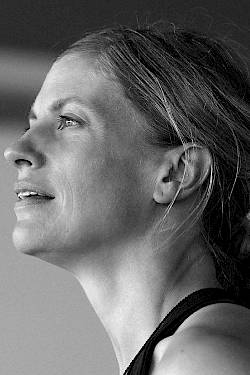 Crystal Pite, Choreography
Crystal Pite
Crystal Pite ist eine der gefragtesten Choreo­gra­finnen der Gegenwart. Die gebürtige Kanadierin tanzte im Ballet British Columbia und in William Forsythes Ballett Frankfurt. Seit ihrem profes­sionellen Debüt als Choreografin 1990 beim Ballet British Columbia entstanden über 50 Stücke für renom­mier­te Compagnien, u.a. für das Nederlands Dans Theater, das Ballett Frankfurt, das Ballett der Opéra de Paris, das Ballet British Columbia, das National Ballet of Canada und das Royal Ballet, London. Sie ist Assoziierte Choreografin beim Nederlands Dans Theater, am Sadler's Wells, London, und am Canada's National Arts Centre. Sie ist Ehrendoktorin der Simon Fraser University und Mitglied des Order of Canada. 2002 gründete Crystal Pite in Vancouver ihre eigene Compagnie Kidd Pivot, die zu einem unverwechselbaren Stil gefunden hat. Klassische Tanzelemente verbinden sich mit einer komplexen improvisatorischen Frei­heit und einer starken theatralischen Sensibilität voller Humor und Fantasie. Kidd Pivot ist auf internationalen Tourneen zu erleben, u.a. mit den Stücken Betroffenheit und Revisor (beide in Zusammenarbeit mit dem Schriftsteller Jonathon Young), The Tempest Replica, Dark Matters, Lost Action und The You Show. Für das Ballett der Opéra de Paris entstanden die Stücke The Seasons' Canon und Body and Soul. Zu Crystal Pites zahlreichen Auszeichnungen zählen der Benois de la Danse für The Seasons' Canon (2016) beim Ballett der Opéra deParis, der Governor General of Canada's Performing Arts Award: Mentorship Program (2008) und der Grand Prix de la danse de Montréal (2018). Für Stücke mit Kidd Pivot und dem Royal Ballet wurde sie dreimal mit dem Sir Laurence Olivier Award ausgezeichnet. Das in Koproduktion mit dem Ballett Zürich entstandene Ballett Angels' Atlas wurde 2020 beim National Ballet of Ca­nada in Toronto uraufgeführt.
Angels' Atlas
01, 08, 15, 16, 21, 23, 31 Oct; 05 Nov 2021; 27 Mar; 02, 06, 08 Apr 2022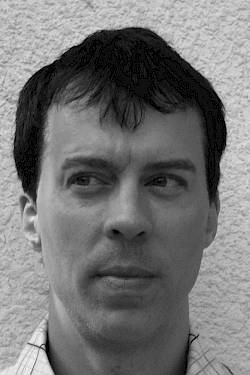 Owen Belton, Music
Owen Belton
Der kanadische Komponist Owen Belton lebt in Vancouver. Er studierte Fine and Performing Arts an der Simon Fraser University sowie Akus­tik und Computer Music Com­­­position bei Owen Un­der­hill und Barry Truax. Seit 1994 komponiert er Ballettmusik. Damals schrieb er Shapes of A Passing für Crystal Pite und das Ballet Jorgen in Toronto. Es folgten zahlreiche Werke für internationale Ballettcompagnien wie Kidd Pivot, das Kanadische Na­tio­nalballett, das Nederlands Dans Theater, das Ballett der Opéra de Paris, das Cull­berg Ballet, das Ballett Nürnberg, das Oregon Ballet Theatre und die Compagnie «420 People» in Prag. Darüber hinaus entstanden Sound­designs und Kompositionen für Theater. Ausserdem schrieb er die Musik zu di­ver­sen Fernseh- und Kurzfilmproduktionen. Für seine Musik zu Emergence wurde Owen Belton 2009 mit dem kanadischen Dora Mavor Moore Award für die beste Ballettpartitur ausgezeichnet.
Angels' Atlas
01, 08, 15, 16, 21, 23, 31 Oct; 05 Nov 2021; 27 Mar; 02, 06, 08 Apr 2022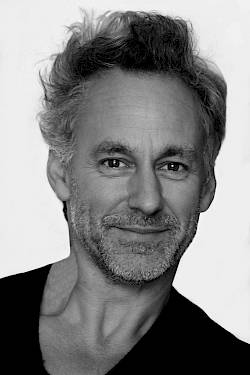 Jay Gower Taylor, Stage design
Jay Gower Taylor
Jay Gower Taylor blickt auf eine über zwan­zig­­­­­­jäh­ri­ge internationale Tänzerkarriere zurück. Seit zehn Jahren ist er als Bühnenbildner für die Choreografin Crystal Pite tä­­­­tig. Es entstanden Plot Point, Frontier, Solo Echo, Parade, In the Event und The Statement für das Ne­­der­­­lands Dans Theater, Emer­­gence für das National Ballet of Canada, Polaris für Sadler's Wells, London, sowie Dark Matters, The Tempest Replica und Betroffenheit für Kidd Pivot. Jüngste Arbeiten waren The Seasons's Canon und Body and Soul für das Ballett der Opéra de Paris sowie Flight Pattern für das Royal Ballet, London.
Angels' Atlas
01, 08, 15, 16, 21, 23, 31 Oct; 05 Nov 2021; 27 Mar; 02, 06, 08 Apr 2022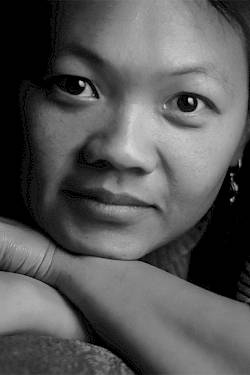 Linda Chow, Costumes
Linda Chow
Linda Chow absolvierte das Ryerson Theatre Program in Toronto und war als Schneiderin für Theater, Tanz, Oper und Film tätig. Vor allem im Ballett kreiert sie heute Kostümbilder für die verschiedensten Choreografen, u.a. für Aszure Barton (Vitulare beim Ballett BC, awaa für Aszure & Artists) und José Navas (Giselle beim Ballett BC). Für Crystal Pite und Kidd Pivot entstanden die Kostüme zu 10 Duets on the Theme of Rescue, Lost Action, Dark Matters und The You Show sowie Emergence für das National Ballet of Canada.
Angels' Atlas
01, 08, 15, 16, 21, 23, 31 Oct; 05 Nov 2021; 27 Mar; 02, 06, 08 Apr 2022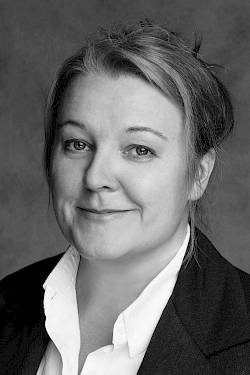 Nancy Bryant, Costumes
Nancy Bryant
Die Kostümbildnerin Nancy Bryant ist als Designerin in den Bereichen Tanz, Theater, Oper und Film tätig. Sie lebt in Vancouver. Eine enge Zusammenarbeit verbindet sie mit der kanadischen Choreografin Crystal Pite. Bereits 1996 arbeiteten sie bei dem Ballett Moving Day (Ballet BC) erstmals zusammen. Nancy Briant gestaltete die Kostüme für Crystal Pites Body and Soul und The Seasons' Canon beim Ballett der Opéra de Paris, Flight Pattern beim Royal Ballet, Partita, Parade und Plot Point für das Nederlands Dans Theater, Revisor und The Tempest Replica für Kidd Pivot und Betroffenheit für Kidd Pivot/Electric Co. Ihre Kostümentwürfe für Theater und Oper umfassen Arbeiten für die Künstler Jonathon Young, Stan Douglas, Morris Panych und Kim Collier an der Vancouver Opera und Pacific Opera Victoria, beim Shaw Festival, Canadian Stage, Vancouver Playhouse und auf weiteren internationalen Bühnen. Zu ihren Kostümarbeiten für das Fernsehen gehören Legend of Earthsea, A Wrinkle in Time, The Snow Queen und Snow White.
Angels' Atlas
01, 08, 15, 16, 21, 23, 31 Oct; 05 Nov 2021; 27 Mar; 02, 06, 08 Apr 2022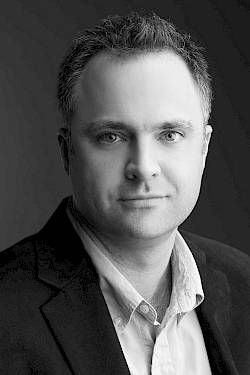 Alan Brodie, Lighting designer
Alan Brodie
Alan Brodie stammt aus Kanada. Als Lichtdesigner arbeitet er für Ballett, Sprech- und Musiktheater. Seit 1989 war er für viele kanadische und internationale Compagnien und Theater tätig, so für das National Ballet of Canada, die Canadian Opera Company, die Canadian Stage Company, das Stratford Shakespeare Festival (Kanada), das Shaw Festival, das Pacific Northwest Ballet, das American Conservatory Theatre in San Francisco, die Centre Theatre Group in Los Angeles, das Nederlands Dans Theater und das Scottish Ballet. Die kanadische Produktion The Overcoat war nicht nur in Kanada, sondern auch in Adelaide, Wellington, Bergen und London zu sehen. Eine enge Zusammenarbeit verbindet Alan Brodie mit Crystal Pite, deren Choreografien er auf Tourneen mit Kidd Pivot als Lighting Director betreut.
Angels' Atlas
01, 08, 15, 16, 21, 23, 31 Oct; 05 Nov 2021; 27 Mar; 02, 06, 08 Apr 2022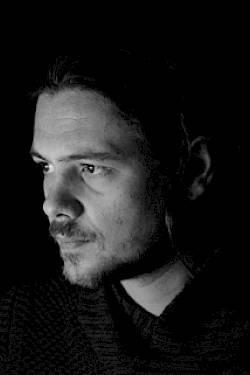 Tom Visser, Lighting designer
Tom Visser
Der Lichtdesigner Tom Visser stammt aus Irland. Als Kind einer Theaterfamilie verbrachte er viel Zeit in Theatern auf der ganzen Welt. Im Alter von 18 Jahren begann er, im Musiktheater zu arbeiten. 2003 wurde er ans Nederlands Dans Theater engagiert, was ihn mit namhaften Persönlichkeiten der Tanzwelt in Kontakt brachte. Seit einigen Jahren arbeitet er als freiberuflicher Lichtdesigner, u.a. für das Nederlands Dans Theater, Royal Swedish Ballet, Compañía Nacional de Danza, Norwegian National Ballet, Ballet Vlaanderen, Sydney Dance Company, Göteborg Ballet, Hubbard Street Dance Chicago, Les Ballets de Monte-Carlo und Balé da Cidade de São Paulo. Zu seinen jüngsten Arbeiten mit Crystal Pite gehören The Seasons' Canon und Body and Soul (Paris Opera Ballet), Solo Echo, Frontier and Parade (Nederlands Dans Theater), Polaris (Sadler's Wells) und Betroffenheit (Kidd Pivot). Ausserdem arbeitete er für die Choreografen Alexander Ekman, Johan Inger und Joeri Dubbe.
Angels' Atlas
01, 08, 15, 16, 21, 23, 31 Oct; 05 Nov 2021; 27 Mar; 02, 06, 08 Apr 2022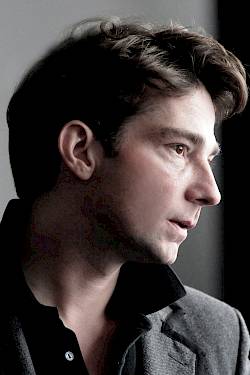 Marco Goecke, Choreography
Marco Goecke
Marco Goecke absolvierte seine Ballettausbildung an der Heinz-Bosl-Stiftung München sowie am Königlichen Konservatorium Den Haag. Es folgten Engagements an der Staatsoper Berlin und am Theater Hagen, wo im Jahr 2000 seine erste Choreografie mit dem Titel Loch entstand. Mit der Spielzeit 2005/2006 wurde Marco Goecke zum Hauschoreografen des Stuttgarter Balletts ernannt und kreierte dort sein erstes Handlungsballett Nussknacker, das später auch vom ZDF-Theaterkanal verfilmt wurde. Von 2006 bis 2012 hatte Goecke den Titel des Hauschoreografen auch beim Scapino Ballet Rotterdam inne. Mit der Spielzeit 2013/2014 wurde er Associate Choreographer beim Nederlands Dans Theater. Viele der über sechzig Werke, die Goecke innerhalb weniger Jahre geschaffen hat, werden weltweit von namhaften Compagnien getanzt, u.a. in Tel Aviv, Sao Paulo, von Les Grands Ballets Canadiens de Montréal, vom Canadian National Ballet, Ballett-Theater München, Finnish National Ballet Helsinki, Stanislawsky Theater Moskau, Ballett Zürich, Ballett am Rhein Düsseldorf und vom Wiener Staatsballett. 2015 wurde Marco Goecke von der Zeitschrift tanz als "Choreograf des Jahres" ausgezeichnet. 2017 wurden ihm Niederländische Tanzpreis "Zwaan" sowie der italienische Preis "Danzadanza" für die beste Choreografie des Jahres verliehen. 2016 entstand für Gauthier Dance in Stuttgart das Ballett Nijinski, das seither mit grossem Erfolg weltweit auf Tournéen gezeigt wird und auch vom Ballett Zürich aufgeführt wurde. 2018 wurde er mit seinem beim NDT uraufgeführten Stück Wir sagen uns Dunkles für den Prix Benois nominiert, ausserdem entstand der Abendfüller La Strada nach Fellinis Film. Seit Januar 2019 ist er Gauthier Dance als "Artist in Residence" verbunden, seit der Spielzeit 2019/20 hat er zudem die Ballettdirektion in Hannover inne. Zu seinen jüngsten Arbeiten gehören ein Gershwin-Abend für Gauthier Dance, das abendfüllende Stück Der Liebhaber nach dem gleichnamigen Roman von Marguerite Duras für das Staatsballett Hannover und The Big Crying für das Nederlands Dans Theater.
Angels' Atlas
01, 08, 15, 16, 21, 23, 31 Oct; 05 Nov 2021; 27 Mar; 02, 06, 08 Apr 2022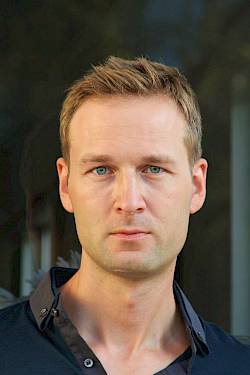 Thomas Mika, Ausstattung
Thomas Mika
Der Bühnen- und Kostümbildner Thomas Mika studierte Opernregie an der Hochschule für Musik und Theater Hamburg. 2006 kreierte er sein erstes Design für das Staatsballett Berlin. Im gleichen Jahr stellte er mit Bizets Carmen seine erste Operninszenierung mit dem Ensemble Escritura Hamburg vor. 2020 folgte seine Inszenierung von Lehárs Der Graf von Luxemburg an der Estnischen Nationaloper. Der Schwerpunkt von Thomas Mikas Schaffen liegt im Tanzbereich, wo er mit zeitgenössischen Choreografen wie Alejandro Cerrudo, Edward Clug, Marco Goecke, Leo Mujic, Riccardo De Nigris, Kevin O'Day, Tim Plegge, Sergej Vanaev und Jeroen Verbruggen zusammenarbeitet. Im klassischen Repertoire kreierte er neue Designs für Onegin und Romeo und Julia von John Cranko, Die Kameliendame von Derek Deane, Don Quichotte in den Versionen von Alexey Fadeechev und Nina Ananishvili, Romeo und Julia von Ben Van Cauwenbergh sowie Schwanensee in Produktionen von Thomas Edur sowie Eno Peci und Sabrina Sadowska. Seine Entwürfe entstanden für viele renommierte Ballettcompagnien weltweit, darunter das Ballet de l'Opéra de Paris, das Bolschoi Ballett Moskau, das Stuttgarter Ballett, das Staatsballett Berlin, das Chinesische Nationalballett, das Hong Kong Ballett, das San Francisco Ballet, Hubbard Street Dance Chicago und das Königliche Ballett von Flandern.
Angels' Atlas
01, 08, 15, 16, 21, 23, 31 Oct; 05 Nov 2021; 27 Mar; 02, 06, 08 Apr 2022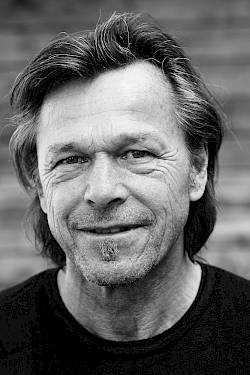 Udo Haberland, Lighting designer
Udo Haberland
Udo Haberland war zunächst Fotograf in Berlin. 1988 begann er, für Film und Fernsehen sowie für die Staatsoper Stuttgart zu arbeiten. Als freier Lichtgestalter und Beleuchtungsmeister für Ballett, Tanz, Oper und Schauspiel arbeitete er in Europa, den USA und Australien, u.a. für die Salzburger Festspiele, die Wiener Festwochen und die Ludwigsburger Festspiele. Im kommerziellen Bereich war er u.a. für Arte, MTV & VIVA, ARD, ZDF, Deutsche Telekom, Daimler-Crysler, Toyota, Kodak tätig. Seit 2003 verbindet ihn eine enge Zusammenarbeit mit dem Choreografen Marco Goecke. Udo Haberland war Lichtdesigner bei sämtlichen Goecke-Kreationen für das Stuttgarter Ballett. Daneben entstanden gemeinsame Produktionen für das Scapino Ballett Rotterdam, das Nederlands Dans Theater, Les Ballets de Monte-Carlo, die São Paulo Companhia de Dança, das Staatsballett Berlin, das Norwegische Nationalballett, das Ballett am Rhein, das Ballett des Theaters am Gärtnerplatz und das Ballett der Opéra de Paris. Ausserdem arbeitet Udo Haberland mit den Choreografen Cayetano Soto, Örjan Andersson, Bridget Breiner, Jérôme Delbey und Giovanni Di Palma zusammen.
Angels' Atlas
01, 08, 15, 16, 21, 23, 31 Oct; 05 Nov 2021; 27 Mar; 02, 06, 08 Apr 2022