Cecilia Bartoli
Charity Concert for the International Opera Studio
Arias, ensembles and instrumental works from operas by Antonio Vivaldi, Georg Friedrich Händel, Wolfgang Amadeus Mozart («Don Giovanni», «Così fan tutte») and Gioachino Rossini («La Cenerentola», «Il barbiere di Siviglia», «Otello», «La scala di seta»)

These singers also perform at the Charity Concert:
Javier Camarena, Tenor
Huw Montague Rendall, Baritone
Justyna Bluj, Soprano (IOS)
Sinead O'Kelly, Mezzo-soprano (IOS)
Dean Murphy, Baritone (IOS)
Claudia Blersch, Scenic Direction


Cecilia Bartoli can also be heard in the revival of Georg Friedrich Handel's «Semele» this season, singing at a gala performance on 6 January 2019.
Further information on 30 years Cecilia Bartoli at Zurich Opera House can be found here.
January 2019
Cecilia Bartoli
Charity Concert for the International Opera Studio, La Scintilla subscription, Thursday subscription B
Cecilia Bartoli
Abstract
Cecilia Bartoli
Cecilia Bartoli has maintained close ties with our theatre ever since her début at Zurich Opera House in the 1988/89 season. Many of her role débuts were given here – and as early as 1990, her Cherubino under Nikolaus Harnoncourt caused an international sensation. Cecilia Bartoli's interpretations of roles such as Donna Elvira (Don Giovanni), Fiordiligi (Così fan tutte), Angelina (La cenerentola), Desdemona (Rossini's Otello), Semele or Alcina are as unforgettable as her dedication to rarities such as Paisiello's Nina, Halévy's Clari, and not least Rossini's seldom-performed opera, Le Comte Ory, in which she sang a delightful Adèle. Cecilia Bartoli has of course long since been one of the most successful singers in the world – yet she continues to maintain a special relationship with the Opera House. For this reason, the exceptional artist would also like to celebrate her 30-year stage anniversary here in Zurich with a charity concert in support of our International Opera Studio. In her gala concert under the direction of Gianluca Capuano, the mezzo-soprano will revisit the roles she has sung at Zurich Opera House over the last 30 years, and interpret arias from operas by Wolfgang Amadeus Mozart, Gioachino Rossini and Georg Friedrich Handel.
Gianluca Capuano, Musikalische Leitung
Gianluca Capuano
Gianluca Capuano studierte Orgel, Komposition und Orchesterleitung am Konservatorium seiner Heimatstadt Mailand sowie historische Aufführungspraxis an der Civica Scuola di Musica ebenfalls in Mailand. Als Dirigent, Organist und Continuo-Spieler tritt er in ganz Europa, den USA, Russland und Japan auf. Er ist regelmässig bei renommierten Festivals für Alte Musik zu Gast und arbeitet mit Künstlern wie Michael Chance, Emma Kirkby, Cecilia Bartoli, Max Emanuel Cencic, Philippe Jaroussky, Diego Fasolis sowie Lorenzo und Vittorio Ghielmi zusammen. 2006 gründete er das Vokal- und Instrumentalensemble «Il canto di Orfeo», mit dem er Hauptwerke der europäischen Barockmusik in historisch informierten Interpretationen zur Aufführung bringt. Im Opernbereich war er u.a. mit seinem Vokalensemble an der Produktion von Alexander Raskatows Oper A Dog's Heart an der Mailänder Scala beteiligt, die 2014 auch in Lyon zu sehen war, sowie in Zimmermanns Die Soldaten, ebenfalls an der Scala. 2015 debütierte er an der Semperoper Dresden mit Händels Orlando, im Mai 2016 am Opernhaus Zürich mit Haydns Orlando paladino. Im Sommer 2016 dirigierte er Norma mit Cecilia Bartoli in der Titelrolle zur Eröffnung des Edinburgh Festival, gefolgt von Aufführungen in Paris und Baden-Baden. In jüngster Zeit dirigierte er u.a. Ariodante, La donna del lago und Alcina bei den Salzburger Festspielen, Spontinis Le metamorfosi di Pasquale am Teatro La Fenice in Venedig, Gassmanns Gli uccellatori und Il matrimonio segreto an der Oper Köln und in Amsterdam, La cenerentola in Barcelona, Orfeo ed Euridice in Rom, La finta giardiniera in Zürich und L'elisir d'amore in Madrid. Als Forscher widmet sich Gianluca Capuano, der auch ein Studium der Theoretischen Philosophie absolviert hat, hauptsächlich der Musikästhetik.
Cecilia Bartoli
10 Jan 2019
La finta giardiniera
20 Feb; 01, 06 Mar 2019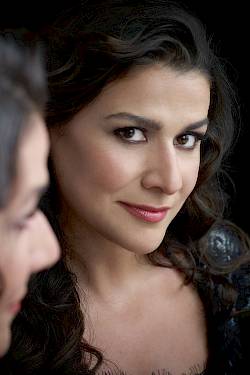 Cecilia Bartoli, Mezzosopran
Cecilia Bartoli
Cecilia Bartoli gehört zu den Topstars im klassischen Musikbereich. Ihre neuen Bühnenrollen, Konzertpro­gram­me und CD-­Projekte werden jeweils mit grosser Spannung erwartet. Über 10 Millionen verkaufte Tonträger, über 100 Wochen in internationalen Popcharts, zahlreiche Goldene Schallplatten, Grammys, Echos und ein Bambi bezeugen den immensen Erfolg ihrer Entdeckerprojekte Vivaldi, Gluck, Salieri, Opera proibita, Maria, Sacrificium, Mission und Sankt Petersburg. Weit wichtiger jedoch als der kommerzielle Erfolg ist für Cecilia Bartoli, dass sie die klassische Musik einem Millionenpublikum näher bringt. Als besonders genugtuend empfindet sie zudem die dadurch ausgelöste breite Wiederbelebung des jeweiligen Repertoires. Mit dem Orchestra La Scintilla nahm sie das Album Maria (Grammy-Nomination 2009), La son­nam­­bu­­­la, die DVDs The Barcelona Concert und Cla­ri auf; alle sind der legendären Sängerin Maria Malibran gewidmet. Ebenfalls mit La Scin­­tilla entstand die CD-Einspielung Norma, mit der Cecilia Bartoli einen weiteren Meilenstein in ihrer Karriere und in der Auf­führungstradition dieser Oper gesetzt hat. Ihr Bühnen­debüt mit dieser Rolle gab sie bei den Salzburger Pfingstfestspielen 2013 und sang sie später auch beim Edinburgh Festival, am Théâtre des Champs-Élysées und in Baden-Baden. Cecilia Bartoli tritt in den bedeutendsten Konzertsälen Europas, Nordamerikas, Asiens und Australiens mit den Spitzenensembles der historischen Aufführungspraxis auf. Auf der Bühne war sie ausserdem an der New Yorker Met, Londoner Covent Garden, Mailänder Scala, Bayerischen Staatsoper sowie am Zürcher Opernhaus zu erleben. In Letz­te­rem hat sie viele ihrer Opernrollen zum ersten Mal präsentiert. Die Künstlerin erhielt zahlreiche Auszeichnungen, darunter den Léonnie-Sonning-Musikpreis (2010), den Herbert-von-Karajan-Preis (2012), den Swiss Award für Kultur (2013) und den Polar Music Prize (2016). Vom Fürstentum Monaco wurde sie zum «Chevalier de l'Ordre du Mérite Culturel» erklärt. 2012 wurde Cecilia Bartoli Künstlerische Leiterin der Salzburger Pfingstfestspiele; ihr Vertrag wurde bis 2021 verlängert. Im Sommer 2016 ist sie zudem zum ersten Mal mit dem von ihr ins Leben gerufenen und in Monaco beheimateten Orchester Les Musiciens du Prince aufgetreten. 2018 initiierte die «Cecilia Bartoli – Musikstiftung» das neue Label «Mentored by Bartoli», mit der ersten CD Contrabandista des mexikanischen Tenors Javier Camarena. Hinter dem Projekt steckt der Gedanke, klassische Musik einem breiten Publikum nahezubringen und mit jungen, talentierten Musikern zusammenzuarbeiten. 2019 erschien ihre neue CD Farinelli mit der sie sich dem Repertoire des Kastraten Farinelli widmet.
Semele
02, 04, 06, 08 Jan 2019
Cecilia Bartoli
10 Jan 2019
You might also be interested in