Cecilia Bartoli
Charity Concert for the International Opera Studio
Arias, ensembles and instrumental works from operas by Antonio Vivaldi, Georg Friedrich Händel, Wolfgang Amadeus Mozart («Don Giovanni», «Così fan tutte») and Gioachino Rossini («La Cenerentola», «Il barbiere di Siviglia», «Otello», «La scala di seta»)

These singers also perform at the Charity Concert:
Javier Camarena, Tenor
Huw Montague Rendall, Baritone
Justyna Bluj, Soprano (IOS)
Sinead O'Kelly, Mezzo-soprano (IOS)
Dean Murphy, Baritone (IOS)
Claudia Blersch, Scenic Direction


Cecilia Bartoli can also be heard in the revival of Georg Friedrich Handel's «Semele» this season, singing at a gala performance on 6 January 2019.
Further information on 30 years Cecilia Bartoli at Zurich Opera House can be found here.
January 2019
Cecilia Bartoli
Charity Concert for the International Opera Studio, La Scintilla subscription, Thursday subscription B
Cecilia Bartoli
Abstract
Cecilia Bartoli
Cecilia Bartoli has maintained close ties with our theatre ever since her début at Zurich Opera House in the 1988/89 season. Many of her role débuts were given here – and as early as 1990, her Cherubino under Nikolaus Harnoncourt caused an international sensation. Cecilia Bartoli's interpretations of roles such as Donna Elvira (Don Giovanni), Fiordiligi (Così fan tutte), Angelina (La cenerentola), Desdemona (Rossini's Otello), Semele or Alcina are as unforgettable as her dedication to rarities such as Paisiello's Nina, Halévy's Clari, and not least Rossini's seldom-performed opera, Le Comte Ory, in which she sang a delightful Adèle. Cecilia Bartoli has of course long since been one of the most successful singers in the world – yet she continues to maintain a special relationship with the Opera House. For this reason, the exceptional artist would also like to celebrate her 30-year stage anniversary here in Zurich with a charity concert in support of our International Opera Studio. In her gala concert under the direction of Gianluca Capuano, the mezzo-soprano will revisit the roles she has sung at Zurich Opera House over the last 30 years, and interpret arias from operas by Wolfgang Amadeus Mozart, Gioachino Rossini and Georg Friedrich Handel.
Gianluca Capuano,
Gianluca Capuano
Gianluca Capuano studierte Orgel, Komposition und Orchesterleitung am Konservatorium seiner Heimatstadt Mailand sowie historische Aufführungspraxis an der Civica Scuola di Musica ebenfalls in Mailand. 2015 debütierte er an der Semperoper Dresden mit Händels Orlando, 2016 am Opernhaus Zürich mit Haydns Orlando paladino. Ebenfalls 2016 dirigierte er Norma mit Cecilia Bartoli in der Titelrolle zur Eröffnung des Edinburgh Festival, gefolgt von Aufführungen in Paris und Baden-Baden. 2017 erfolgte eine Europatournee von La Cenerentola mit Cecilia Bartoli. In jüngerer Zeit dirigierte er u.a. Ariodante, La donna del lago, La morte d'Abel und Alcina bei den Salzburger Festspielen, Cimarosas Il matrimonio segreto und Händels Il trionfo del tempo e del disinganno an der Oper Köln, das Weihnachtsoratorium an der Staatsoper Hamburg, Ariodante in Monte Carlo, Orfeo ed Euridice am Teatro dell'Opera in Rom, Il matrimonio segreto in Amsterdam, Guillaume Tell bei den Chorégies d'Orange, Il barbiere di Siviglia in Palermo, Mozarts Requiem in Bari, L'elisir d'amore am Teatro Real in Madrid sowie La finta giardiniera, La Cenerentola und Iphigénie en Tauride in Zürich. 2021 folgten u.a. Händels Il trionfo del tempo e del disinganno sowie Mozarts La clemenza di Tito in Salzburg, sein Debüt am Bolschoi-Theater mit Ariodante sowie an der Bayerischen Staatsoper mit Il turco in Italia. Seit 2019 ist er Chefdirigent von Les Musiciens du Prince – Monaco, mit denen er ein Manuel García gewidmetes Album mit Javier Camarena aufnahm sowie eine CD mit Varduhi Abrahamyan. Als Forscher widmet sich Gianluca Capuano, der auch ein Studium der Theoretischen Philosophie absolviert hat, hauptsächlich der Musikästhetik.
L'italiana in Algeri
06, 08, 10, 13, 15, 17, 20, 25, 31 Mar; 05 Apr 2022
La cenerentola
08, 10, 12, 15, 19, 21, 24 Mar 2023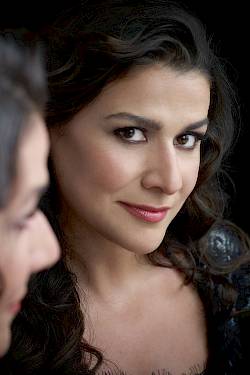 Cecilia Bartoli,
Cecilia Bartoli
Cecilia Bartoli ist als herausragende Künstlerin und Sängerin mittlerweile Vorbild für eine gesamte Generation junger Musikerinnen und Musiker geworden. Die gebürtige Römerin und Tochter der Gesangspädagogin Silvana Bazzoni gab ihr Debüt 1987 als Rosina in Rossinis Il barbiere di Siviglia in Rom. Kurz danach wurden Daniel Barenboim, Herbert von Karajan und Nikolaus Harnoncourt auf sie aufmerksam. Seither nahm sie Einladungen u.a. der Salzburger Festspiele, der Metropolitan Opera New York, des Royal Opera House Covent Garden London sowie von Konzertveranstaltern aus ganz Europa, aus den USA, Asien und Australien wahr. Seit über 30 Jahren tritt sie regelmässig am Opernhaus Zürich auf, zuletzt u.a. als Händels Alcina, Rossinis Cenerentola sowie als Comtesse Adèle (Comte Ory) und Glucks Iphigénie. Das Concertgebouw Amsterdam, die Philharmonie de Paris, der Musikverein Wien, die Elbphilharmonie Hamburg und die Philharmonie Berlin zählen zu den Stationen ihrer jährlichen Konzerttourneen. Ihr Vivaldi-Album von 1999 war das Ergebnis einer faszinierenden Expedition durch Vivaldis damals noch unbekannte Opern. Es folgten thematisch durchdachte Konzeptalben, die Themen aus dem Barock und der Ära des Belcanto neu beleuchteten, wie zum Beispiel Opera proibita, Maria, Sacrificium, Mission, St. Petersburg und Farinelli. 2021 erschien das neue Album Unreleased. Die mehr als 12 Millionen verkauften Bild- und Tonträger machen sie zu der erfolgreichsten Klassik-Künstlerin der Gegenwart. Cecilia Bartoli ist seit 2012 künstlerische Leiterin der Salzburger Festspiele Pfingsten, wo ihr Vertrag bis 2026 verlängert wurde. In Salzburg markierte ihr Debüt als Norma 2013 einen Meilenstein in ihrer Karriere. 2019 verkörperte sie dort die Titelrolle in Händels Alcina, 2021 stand unter dem Motto «Roma Aeterna» mit einer szenischen Neuproduktion von Händels Oratorium Il trionfo del tempo e del disinganno. 2022 steht unter dem Motto «Sevilla» mit einer szenischen Neuproduktion von Rossinis Il barbiere di Siviglia. Seit vielen Jahren engagiert sich Cecilia Bartoli für die historische Aufführungspraxis. Seit 2016 tritt sie regelmässig mit «Les Musiciens du Prince – Monaco» auf, deren Gründerin und künstlerische Leiterin sie ist. 2018 initiierte die Cecilia Bartoli-Music Foundation das neue Label «Mentored by Bartoli», mit der ersten CD Contrabandista des mexikanischen Tenors Javier Camarena. Hinter dem Projekt steckt der Gedanke, klassische Musik einem breiten Publikum nahezubringen und mit jungen, talentierten Musikern zusammenzuarbeiten. Cecilia Bartoli ist designierte Direktorin der Opéra de Monte-Carlo und tritt diese Position ab Januar 2023 an – als erste Frau in der Geschichte des Opernhauses. Fünf Grammys, mehr als ein Dutzend Echos und Brit Awards, der Polar Music Prize, der Swiss Award für Kultur, der Léonie-Sonning-Musikpreis, der Herbert-von-Karajan-Preis und viele weitere Ehrungen und Auszeichnungen zeugen von Cecilia Bartolis Bedeutung für die Musikgeschichte.
L'italiana in Algeri
06, 08, 10, 13, 15, 17, 20 Mar 2022
La cenerentola
08, 10, 12, 15, 19, 21, 24 Mar 2023
You might also be interested in