Götter­dämmerung
Richard Wagner (1813-1883)
Third day of the Bühnenfestspiel «Der Ring des Nibelungen»
Text by Richard Wagner
Stunt
Valentin Lendenmann
In German with German and English surtitles. Duration 5 H. 30 Min. incl. intermissions after 1st act after approx. 1 H. 55 Min. and after 2nd act after approx. 3 H. 40 Min. Introduction 45 min before the performance.
Introductory matinee on Okt 22 2023.
With the kind support of Freunde der Oper Zürich
All information on the Ring cycles, advance booking and the associated supporting programme is available here.
Götterdämmerung
Abstract
Götterdämmerung
At the end of the second day of Richard Wagner's world-encompassing Bühnenfestspiel, Siegfried and Brünnhilde joyfully sang of their love. For a moment, it seemed as if a utopia ruled by love, free from power struggles, was possible. But right from dawn of the third and last day, the Norns announce: «Zu End' ist ewiges Wissen» – «Eternal knowledge is at its end» – and a terrible ending approaches. Although he loves her, Siegfried will soon leave Brünnhilde, so that he may take off on new adventures. He will meet Hagen, son of the hate-filled Alberich, who will use Siegfried for his cynical plans for domination. Manipulating Siegfried is an easy task, for he knows nothing of the power of the ring that he gave Brünnhilde as a sign of his love. But Hagen knows of its power; driven by greed for power and domination, he spins his web of intrigue. But Siegfried isn't Hagen's only victim. Brünnhilde, too, must endure terrible betrayal, experiencing terrible humiliation and endless pain. Siegfried's death ultimately leads to the end of the world – the curse of the ring has lost none of its power. When Brünnhilde realizes the full extent of the deception, she returns the ring to the Rhinemaidens, choosing death for herself. But alongside destruction and downfall, there is also a spark of hope: for the first time, the so-called redemption motif, first heard when Brünnhilde heralded the birth of Siegfried to Sieglinde in Die Walküre, is heard again at the end of Götterdämmerung. Richard Wagner began work on the text and composition of the Ring des Nibelungen in Zurich in 1849, under the influence of revolution. Some 26 years later – after interrupting work on Siegfried for 12 years – he completed his magnum opus and premiered it at the newly-founded Bayreuther Festspiele. Here at the Opernhaus, Intendant and stage director Andreas Homoki and General Music Director Gianandrea Noseda complete their Zurich Ring cycle with the premiere of Götterdämmerung. Camilla Nylund and Klaus Florian Vogt return in Götterdämmerung as Siegfried and Brünnhilde, as they both make important role debuts once again in Zurich.
Trailer «Götterdämmerung»
Gallery
Photo Gallery «Götterdämmerung»
---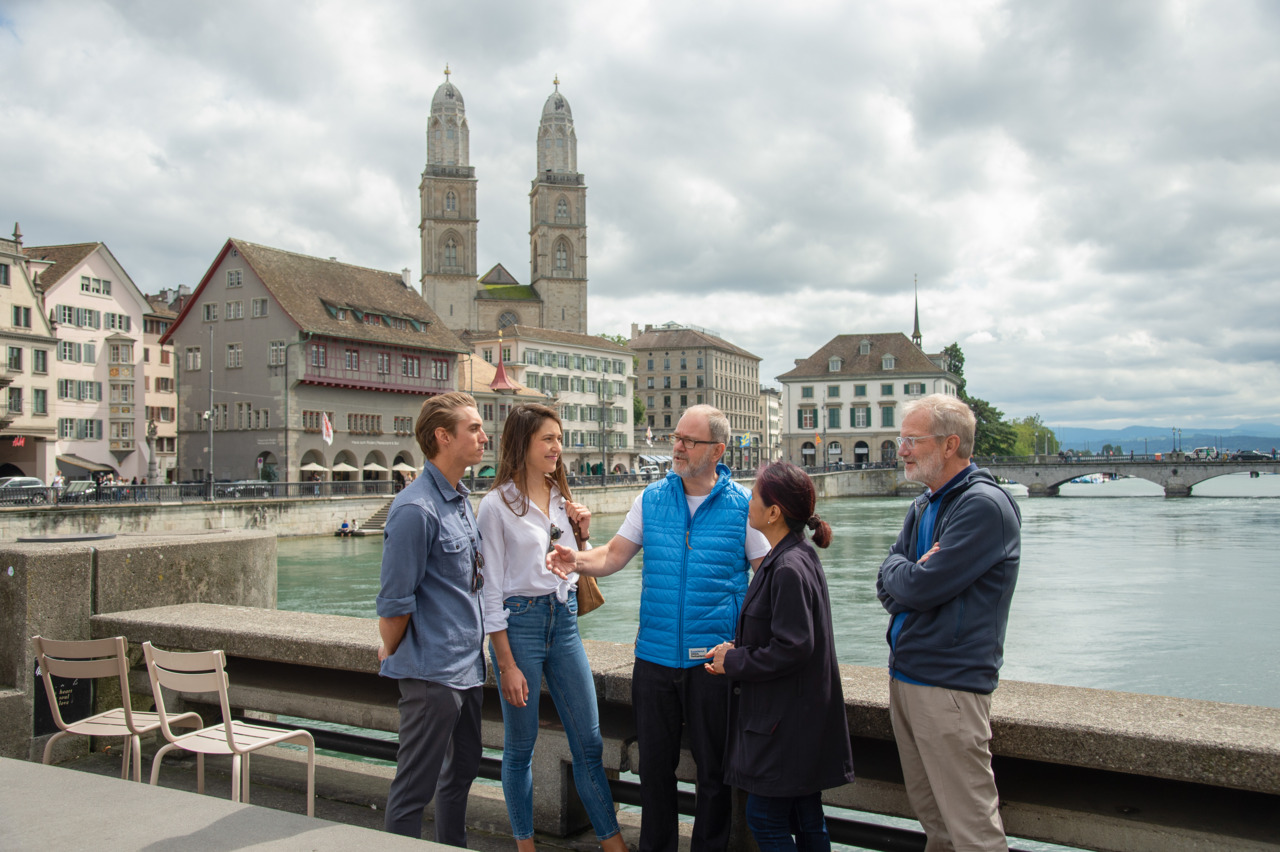 City tour
Accompanying our «Ring» performances, Zürich Tourism offers public guided tours of Richard Wagner's time in Zürich! more
---
Spend the night where Richard Wagner used to come and go...

Trace Wagner's footsteps and combine your opera ticket with an overnight stay at the historic Hotel Baur au Lac! This is where Richard Wagner first read the Ring poem in public and even sang parts of it - with none other than Franz Liszt at the piano! Please note that this exclusive arrangement can only be booked using the special code «Wagner 2023».
Götterdämmerung
Synopsis
Götterdämmerung
The story so far…
Wotan has created a treaty-based world order and, in so doing, made himself its supreme ruler. He has had himself a splendid castle built by the giants Fasolt and Fafner, which he paid for with gold stolen from Alberich the Nibelung. However, he not only stole the treasure, but also a ring forged from Rhinegold, which bestows immeasurable power upon its owner. Such power came at great cost: the requirement to forego love forever. Wotan's theft, too, had dire consequences. Alberich cursed the ring, so that it would bring death to each of its future guardians. Following a stern warning from Earth Mother Erda, Wotan agreed to surrender the ring to the giants. Following an argument about said insidious trinket, Fafner killed his brother Fasolt – the first victim of the curse.
Wotan, however, could not simply accept the loss of the ring, for Alberich still lurked in the shadows waiting for the chance to reclaim it. Wotan himself was unable to seize it back without, as supreme guardian of the law, disrupting his own world order. Instead, he sired human twins, Sieglinde and Siegmund, who would act in his stead. For Siegmund, he created the godly sword 'Nothung' with which he, as a hero supposedly free from the god's influence, would kill Fafner and claim the ring for Wotan.
Wotan's wife Fricka, though, made it plain to him that he could not allow Siegmund to act in his interests without undermining his own position of authority. Instead, he needed to ensure that Siegmund was killed in a duel with Sieglinde's betrayed husband Hunding, in order for the law to be upheld.
However, Wotan's favourite daughter, the Valkyrie Brünnhilde, attempted to save Siegmund, defying Wotan's orders. Due to Wotan's intervention, Siegmund nonetheless fell, but Brünnhilde helped his sister and bride Sieglinde – already pregnant with Siegfried – to flee. As punishment for her disobedience, Wotan felt compelled to put Brünnhilde into a deep sleep on top of Valkyrie Rock. This nullified her divine status and meant that any man who happened to pass by could awaken her and force her, as a defenceless human woman, to follow him. Following Brünnhilde's appeals, however, Wotan surrounded the rock with a ring of fire which only a single fearless, free hero could break through: Siegfried.
Sieglinde fled as far as Mime's cave where she died giving birth to her son. Mime brought the boy up in the hope that he would one day kill Fafner – who, in the form of a dragon, had retreated into a cave with Alberich's treasure – and seize the ring for him. From the pieces of Nothung, which Mime could not repair, Siegfried cast a sword with which he struck Fafner down. A bird of the forest warned Siegfried that Mime was trying to kill him. Siegfried killed Mime, then followed the bird's advice to take the cloaking helmet and ring from the hoard of treasure inside the cave. The bird comforted Siegfried in his loneliness by telling him about sleeping Brünnhilde. When Siegfried set off to find her, Wotan blocked his path. But, the bold warrior was undeterred. With Nothung's help, he smashed the divine spear, scaled Valkyrie Rock and won the heart of Wotan's daughter.
Prelude
The three Norns, Erda's daughters, are weaving the rope of fate and recounting in song the story of the world: How Wotan broke a branch from the Sacred Ash to make his spear, into which runes detailing the treaties of his world order were engraved; how the Sacred Ash perished from the wound inflicted upon it by Wotan and the wellspring of wisdom ran dry; how Wotan had the tree felled and the wood piled high around the fortress of the gods, where he now awaits his end. When the Norns enquire about the future, the rope snaps and they return to their mother's bosom.
Siegfried feels driven to perform new heroic deeds. Brünnhilde cannot, neither does she wish to hold him back, despite fearing that he is insufficiently prepared for his encounter with the world of men. As a mark of his love, Siegfried gives her the ring. In return, she entrusts to him her horse Grane. While Siegfried seeks adventure along the Rhine, she remains on the rock, alone.
Act One
Gunther is extremely proud of his resplendent halls on the Rhine and the high standing he and his Gibichung tribe enjoy. His half-brother dampens his enthusiasm, pointing out that the Gibichung's prominence will be lacking so long as Gunther and his sister Gutrune remain unmarried. However, he offers a suggestion. He tells Gunther about the most magnificent woman in the world, who lives upon a rock surrounded by fire. Since no-one other than the mightiest hero Siegfried can penetrate the fire, he will need to be persuaded to woo the woman on the rock on Gunther's behalf.
When Siegfried happens to call at the Gibichung residence, Gutrune hands him a magic potion provided by Hagen. Siegfried drinks, forgets Brünnhilde and immediately falls in love with Gutrune. Gunther discloses to Siegfried that he also desires a woman, but that she is inaccessible to him. In return for Gutrune's hand, Siegfried offers, with the aid of the cloaking helmet, to take on Gunther's appearance and rescue the mysterious woman in his place. Gunther and Siegfried swear blood-brotherhood and set off at once.
Sneering, Hagen watches them leave. His plan is working. Siegfried will bring his own wife to Gunther and, with her, the magic ring. Hagen has set his sights on it for the sake of his father, who once forged it: Alberich the Nibelung.
Meanwhile, Waltraute is looking for her sister Brünnhilde. Brünnhilde's hope that Wotan has forgiven her is soon dashed when Waltraute informs her of the broken state of the gods and heroes in Valhalla. She believes that only one chance for salvation remains: Brünnhilde must hand the ring over to the Daughters of the Rhine. Brünnhilde, however, is unwilling to part with the symbol of Siegfried's love and severs all remaining ties with the world of the gods from which she hails.
No sooner has Waltraute made a despairing and hasty departure, than Siegfried's horn rings out. But, to Brünnhilde's dismay it appears to be a stranger who has found his way to her. Siegfried, looking like Gunther and oblivious to the connection he has with this seemingly strange woman, takes the ring from her and shares her bed, though he places his sword in between himself and the woman.
Act Two
At night, Alberich appears to his son Hagen and reminds him emphatically of the reason for his existence. The Nibelung fathered him for one purpose alone, namely, to seize the ring and present it to his father. Hagen reassures him: Siegfried is already ensnared.
At dawn, Siegfried appears, announcing the imminent arrival of Gunther and Brünnhilde. Gutrune welcomes him joyously but cannot conceal her unease regarding the exact details of the rescue. Finally, the men and women of court are summoned to celebrate the couple's arrival followed by a double wedding.
When Brünnhilde enters with Gunther, she is appalled to see Siegfried next to Gutrune; he, however, seems not to know Brünnhilde. When she sees the ring on Siegfried's finger, which he took from her while disguised as Gunther, Brünnhilde gradually begins to see through the deception and publicly declares that it was not Gunther but Siegfried who subdued her and took her to be his wife. Siegfried reaffirms his loyalty to Gunther, but Hagen demands that he swear his innocence on the tip of Hagen's spear. Brünnhilde likewise swears on Hagen's spear that Siegfried is an oathbreaker.
Hagen offers to avenge the wrong done to Brünnhilde, but she explains to him the impossibility of defeating Siegfried in a sword fight. Hagen would have to do the cowardly thing and stab him in the back, this being his only vulnerable area. Armed with this new information, Hagen comes up with a plan: The following day he will organise a hunt during which Siegfried will be killed; his death will be made to look like a hunting accident. Gunther, humiliated, reluctantly agrees to the plan.
Act Three
Siegfried gets lost during the hunt and encounters the three Daughters of the Rhine who ask him for the ring, a request which he at first refuses. When the maidens then mock him for being tight-fisted, he thinks better of it and agrees to hand the ring over. However, they then warn him about the curse of the ring. He misunderstands this as a threat and defiantly withdraws his offer – he will not abide being intimidated.
The hunting party find Siegfried and all sit down to eat. To cheer up the grim-looking Gunther, Siegfried recounts tales from his life. Hagen passes Siegfried another magic potion which restores his memories of Brünnhilde. Just at the moment when he tells of his encounter with her on the rock, Hagen stabs him in the back with his spear. He defends his actions to Gunther and the horrified men by explaining that the killing is to atone for Siegfried's oathbreaking.
In the night, Gutrune is tormented by dark suspicions, which prove to be true when the hunting party return carrying Siegfried's body. She accuses Gunther of Siegfried's murder who, in turn, blames Hagen. Hagen again justifies the bloodshed by asserting vengeance for Siegfried's broken oath. He goes on to demand the ring on Siegfried's finger as lawful compensation. When Gunther protests, he strikes him down. Only Brünnhilde can prevent Hagen from seizing the ring and claiming its power. Gutrune accuses Hagen of being behind the plot to kill Siegfried and confesses her own guilt in giving Siegfried the forgetfulness potion.
Brünnhilde, to whom the entire situation as well as Siegfried's innocence has been explained by the Rhine maidens, has a pyre built for Siegfried's body and intends to perish in the fire alongside him. The maidens shall then take possession of the ring which will have been purged of its curse in the flames. Hagen makes one final, desperate attempt to prevent this and is dragged by the maidens into the watery depths. In the distance, the blaze from the gods' burning fortress can be seen.