Opera goes Musical
Compositions by Richard Strauss, Gerald Finzi, Othmar Schoeck, Kurt Weill, Stephen Sondheim, Mitch Leigh, Pieter De Villiers, Richard Rodgers und Jerry Herman
Klavier
Matthew Ottenlips
Richard Strauss / John Henry Mackay
Drei Lieder op. 27: «Ruhe, meine Seele», «Heimliche Aufforderung» und «Morgen»
Gerald Finzi
Let us garlands bring op. 18: «Come Away, Come Away, Death», «Who Is Silvia?», «O Mistress Mine» und «It Was a Lover and His Lass»
Othmar Schoeck
5 Lieder: «Liederseelen», «Nachruf», «Nachtgeräusche», «Die Sternseherin» und «Das Ende des Festes»
Pieter De Villiers
Sewe Boerneef-Liedjies: «Doer bo teen die Rant», «My koekiesverrhen jou verkereveer» und «Aandblom is 'n witblom»
Mitch Leigh
The Impossible Dream (aus: Man of La Mancha)
Kurt Weill
3 Lieder: «Nanna's Lied», «Und was bekam des Soldaten Weib?» und «Wie lange noch?»
Andrew Lloyd Webber
The Music of the Night (aus: The Phantom of the Opera)
Stephen Sondheim
Everybody Says Don't (aus: Anyone Can Whistle)
Jerry Herman
I am what I am (aus: La Cage aux Folles)
May 2021
Opera goes Musical
Compositions by Richard Strauss, Gerald Finzi, Othmar Schoeck, Kurt Weill, Stephen Sondheim, Mitch Leigh, Pieter De Villiers, Richard Rodgers und Jerry Herman
We have put together a comprehensive public health protection plan, which aligns with FOPH (BAG) regulations in place.
In order to help protect yourself and others, we kindly ask you to observe the protective measures during your visit to the Opernhaus. Thank you in advance for your support.
---
Tell us Andrew...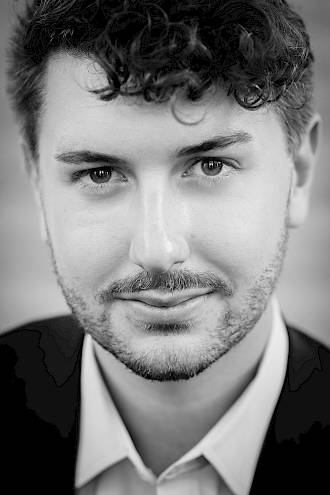 When and why did you decide to become an opera singer?
I began my journey in music studying music education to become a music teacher. I really loved the idea of giving back and teaching music because, for me, music was something I really cherished growing up. It wasn't until my senior year of college where after several convincing conversations with my voice teacher, I decided to try performing. It was after my first performance in my first opera (guglielmo in «Così fan Tutte») where I thought to myself «I could get used to this...». It was such a rewarding feeling. Being able to use my voice to tell a story to an audience. I loved it. Since then, I began performing much more over the years, and has now taken me up to be in Zurich with the IOS.
If I hadn't become an opera singer, I'd be …
A flavor chemist. Chemistry was my favorite subject in school, and I wanted to work in a food science laboratory and create new ways of creating foods and flavorings with natural and man made ingredients.
Which was your most precious experience on stage so far?
I think my most precious moment was having the chance to sing some of the role of Papageno on the San Francisco opera stage with a full house in the audience. It was a feeling unlike any other and I treasure it, as it was my first time singing on the stage of a major house.
… the most embarrassing moment?
Once I was in a production of «Joseph and the Amazing Technicolor Dreamcoat». There was a dance break, and in the show I had on the craziest wig. During the dance break, one of the dancers grabbed my neck in her choreography, and as she turned, she took my wig with her! And there I was: standing on stage in a bald cap. The entire audience burst into laughter. It was very fun though, I played it off very well. Something I will never forget.
… the biggest challenge?
Languages. Languages have always been a struggle for me. I work extra hard to make sure that I really understand my text and that things are pronounced as well as a native speaker would. I was once told the best advice by a colleauge that said: «Learn a new word in a different language everyday. This way, in a year, you would have learned 365 new words». When she put it like that, my struggle with languages became something that challenges me, but keeps me motivated to work hard and improve.
And what would be your biggest dream?
I'm not super sure what my biggest dream would be, to be honest. Being in this wonderful place like Zürich, is something a year ago I would have never imagined for myself. I have no idea what lies in front of me for the future, but im excited for the journey ahead.
Do you have a lucky charm or a ritual before going on stage?
Every night before a big performance, I use the small area in my bedroom and do a mini walk and talk, where I go through the motions and text of the show. It sounds crazy, but going to bed with a good feeling of confidence is key and helps me get a good night sleep for the next day.
My secret weapon to prevent hoarseness:
Tons and tons of sleep and not talking.
My idol:
Sam Ramey
Which opera character do you identify with the most and why?
Alfredo in «La Traviata». Although I am not a tenor, I am 100% a hopeless romantic. Someone who pursues not as a heroic chivalry act, but out of genuine love and affection. He loves deeply.
This song speaks out of the fullness of my heart:
«An die Musik» (Schubert)
Which is you favorite place in Zurich and why?
There is a little farm area on top of Sonnenberg past the Dolder called Adlisberg. It's the cutest place and it has a really good restaurant with great food. I absolutely love it here.
What is your favorite word in Swiss German?
«Öpfuchüechli»
Andrew Moore, bass baritone, comes from the USA. 
The twenty-five year old has been a member of the IOS since the 2O/21 season.
---
Irène Friedli,
Irène Friedli
Irène Friedli, Alt, ist in Räuchlisberg, Schweiz, aufgewachsen. Sie studierte an der Musikakademie in Basel, wo sie mit dem Solistendiplom abschloss. Sie ergänzte ihre Studien in der Interpretationsklasse von Dietrich Fischer-Dieskau in Berlin, nahm an Meisterkursen von Brigitte Fassbaender teil und bildete sich bei Helen Keller weiter. Sie gewann zahlreiche Preise bei internationalen Liedwettbewerben. Seit 1994/95 ist sie Ensemblemitglied des Opernhauses Zürich, wo sie u.a. als Suzuki, 2. und 3. Zauberflöten-Dame, Mercédès, Titelheldin in Ravels L'Enfant et les sortilèges, Elsbeth in Schlafes Bruder (UA), Lily in Harley (UA), Tisbe (La Cenerentola), Annina und Flora (La traviata), Flosshilde (Rheingold, Götterdämmerung), Polina, Hänsel, Marcellina (Le nozze di Figaro), Emilia (Otello) und Lucia (Cavalleria rusticana) zu hören war. 2012 gastierte Irène Friedli an der Opéra Bastille in Paris. Am Opernhaus Zürich war sie in letzter Zeit u.a. als Olga in Peter Eötvös' Drei Schwestern, als Marthe in Gounods Faust, als Margret (Wozzeck), als Lovis in Ronja Räubertochter von Jörn Arnecke, als Tasse und als Libelle in L'Enfant et les sortilèges, als 6. Blumenmädchen und Stimme aus der Höhe in Parsifal, als Mercédès in Carmen, als Gertrud / Knusperhexe in Hänsel und Gretel, als Annina in Der Rosenkavalier, als Clotilde in Norma, als Mutter / Andermutter in Coraline, als Kartenaufschlägerin in Arabella und als Amme in Boris Godunow zu hören. In der Uraufführung der Familienoper Odyssee sang sie Eurykleia/Mutter und in Girl with a Pearl Earring Tanneke.
Die Odyssee
13 Nov; 04, 07, 11, 16 Dec 2021; 16 Jan 2022
Cavalleria rusticana / Pagliacci
18, 21, 23, 26, 30 Jan 2022
Girl with a Pearl Earring
03, 07, 09, 16, 24, 29 Apr; 06, 08 May 2022
Arabella
08, 13, 15, 20 May 2022
Il pirata
01, 06, 10 Jun 2022
Alice im Wunderland
12, 27 Nov; 15 Dec 2022; 01, 02, 19 Jan 2023
La traviata
23, 26, 31 Dec 2022; 06, 08, 11, 15 Jan 2023
Jewgeni Onegin
10, 16, 19, 24 Feb; 01 Mar 2023
Lakmé
02, 08, 15 Apr 2023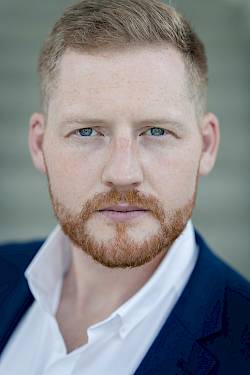 Thomas Erlank,
Thomas Erlank
Thomas Erlank stammt aus Südafrika. Er studierte Musik an der Universität von Stellenbosch (Südafrika) und Gesang am Royal College of Music in London bei Patricia Bardon. 2011 gab er sein Debüt als Solist in Steve van der Merwes Eleven – A Requiem for a Parent in der St. George's Cathedral in Kapstadt. Zu seinem Repertoire gehören u.a. Rollen wie Aeneas (Dido und Aeneas), Dr. Blind (Die Fledermaus), Acis (Acis und Galatea) und Il Podestà (La finta giardiniera). Beim Händel Festival in London sang er Lurcanio in Händels Ariodante. 2015 wirkte er in David Morins Dokumentarfilm Finding Messiah mit. Mit Werken von Mozart, Haydn und Händel war er u.a. in St. Martin-in-the-Fields, in der Cadogan Hall und beim Brighton Fringe Festival zu erleben. Von 2018 bis 2020 war er Mitglied des Internationalen Opernstudios und sang hier 2018/19 den Tenorpart in der Ballettproduktion Winterreise von Christian Spuck, Borsa in Rigoletto, Ambrogio in der IOS-Produktion Il barbiere di Siviglia am Theater Winterthur sowie den Conférencier in der Uraufführung Last Call von Michael Pelzel. In der Spielzeit 2019/2020 war er in Belshazzar, in der Zauberflöte und in Fidelio zu hören. Seit der Spielzeit 2020/21 gehört er zum Ensemble des Opernhauses Zürich und sang jüngst in Idomeneo, L'incoronazione di Poppea, Die Odyssee sowie in Dialogues des Carmélites und in L'Olimpiade.
L'incoronazione di Poppea
14, 17, 19, 22, 26, 29 Sep 2021
Die Odyssee
13, 28 Nov; 07, 11, 15, 26 Dec 2021
Dialogues des Carmélites
13, 17, 19, 25, 27 Feb; 03, 05 Mar 2022
L'Olimpiade
12, 13, 16, 19 Mar 2022
Tristan und Isolde
26, 29 Jun; 02, 06, 09 Jul 2022
La traviata
23, 26, 31 Dec 2022; 06, 08, 11, 15 Jan 2023
Salome
13, 17, 20, 26, 29 Jan; 03 Feb 2023
Monteverdi
26, 29, 31 May; 03, 09, 11, 25 Jun 2023
Die Zauberflöte
29 Apr; 05, 12, 17 May 2023
Il pirata
06, 10 Jun 2022
Eröffnungsfest Spielzeit 22/23
10 Sep 2022
Andrew Moore,
Andrew Moore
Andrew Moore, Bass-Bariton, studierte am Curtis Institute of Music in Philadelphia. Er war 2017 Finalist beim New Jersey State Opera Alfredo Silipigni Wettbewerb und sang im gleichen Jahr mit den New Jersey Chamber Singers die Baritonpartie im Requiem von Fauré. 2018 nahm er am Merola Opera Program in San Francisco teil, wo er u.a. beim Schwabacher Summer Concert und in The Rake's Progress sang. 2019 war er Teilnehmer der Metropolitan Opera National Council Auditions und erreichte das New England Region Finale, wo er mit dem Susan Eastman Encouragement Award ausgezeichnet wurde. Im gleichen Jahr sang er an der Santa Fe Opera in den Produktionen La bohème, Così fan tutte und Jenůfa. Seit der Spielzeit 2020/21 ist er Mitglied des Internationalen Opernstudios und sang hier u.a. Agata Scannagalli in Viva la mamma, Masetto in Don Giovanni sowie die Titelpartie in Die Odyssee.
Macbeth
09, 18, 20, 23, 26, 29 Mar; 01 Apr 2022
L'incoronazione di Poppea
14, 17, 19, 22, 26, 29 Sep 2021
Die Odyssee
21, 28 Nov; 04, 11, 15 Dec 2021; 08 Jan 2022
Le Comte Ory
31 Dec 2021; 07, 09, 14, 16, 20 Jan 2022
Don Giovanni
25, 28, 30 Jan; 05, 11, 18 Feb 2022
Tristan und Isolde
26, 29 Jun; 02, 06, 09 Jul 2022
Alice im Wunderland
20, 27 Nov; 09, 15 Dec 2022; 01 Jan 2023
La traviata
23, 26, 31 Dec 2022; 06, 08, 11, 15 Jan 2023
Salome
13, 17, 20, 26, 29 Jan; 03 Feb 2023
Roméo et Juliette
10, 13, 16, 22, 25, 28 Apr; 04, 07, 13, 18 May 2023
Lessons in Love and Violence
21, 25, 27 May; 02, 04, 08, 11 Jun 2023
Der Freischütz
28 Jun; 01, 06, 09 Jul 2023